The news that Covid-19 vaccines will soon be available to fight the pandemic has boosted the global oil markets. Demand has plummeted since the start of the pandemic. Organization of the Petroleum Exporting Countries (OPEC) projects 2020 oil demand to be 9.8 million bpd (barrels per day) lower than 2019. In 2020, OPEC cut production by nearly 10 million bpd while non-OPEC oil supply contracts by 2.5 million bpd. This cut has helped stabilize the commodity's price after the brief dip to negative price in futures contract earlier this year.
Looking at the coming year, global oil demand can start to recover in 2021 once the pandemic ends. In OPEC's Monthly Oil Market report, it projects demand to recover by 6.2 million bpd in 2021. Hence there's market expectation that OPEC members and Russia would start to raise the production capacity again. In last week's OPEC meeting, OPEC+ producers agreed to raise output by 500,000 barrels per day. This increase was smaller than expected as there was a concern they could raise by 2 million bpd. The cautious output increase is likely justified as it may take time to vaccinate a large portion of the population. Demand therefore may not bounce substantially until the second half of next year.
Oil (CL) Daily Elliott Wave Chart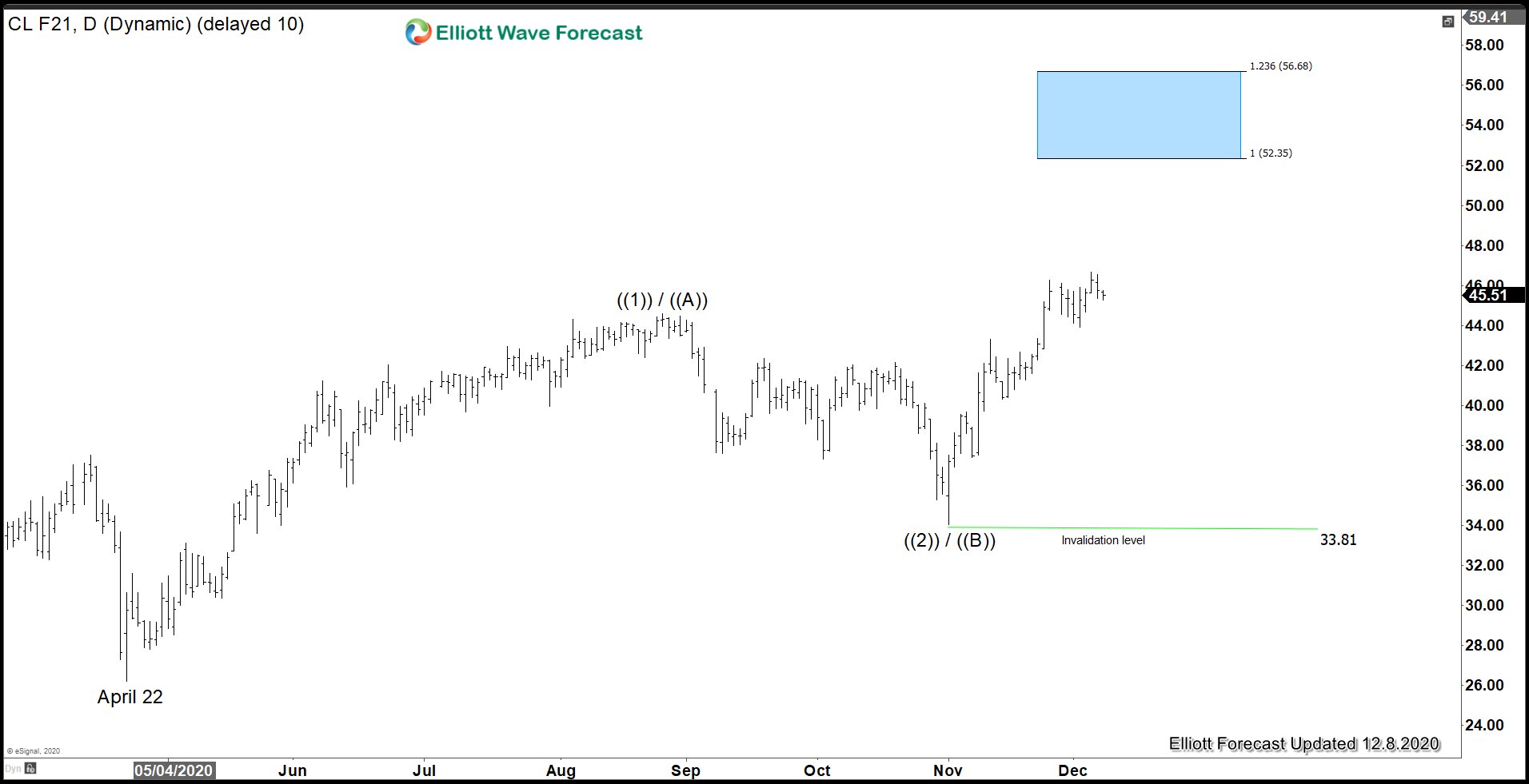 Oil Daily Elliott Wave chart above shows a higher high bullish sequence from April 22 low. The rally can either unfold as a 5 waves impulse or at least an ABC zigzag. Either way, the ideal minimum target for the third swing is a 100% extension to the first swing. That target area comes at 52.35 – 56.68. Dips therefore should continue to find support in 3, 7, or 11 swing against 33.81 in the first degree.
To get regular update on Oil or other commodities, forex, and Indices, sign up to the 14 days trial here –> FREE 14 days Trial
Back