Hello Traders. as we always do at Elliott Wave Forecast we believe in the one Market only concept. Back in 2017, we did a blog in which we mentioned that Silver was the smartest way to sell World Indices.
We do understand that the longest bull rally in the SPX is coming soon to the end. In the chart below, you can see that the cycle has not ended yet and can still extend into the 3186-3500 area. However, we have signs that the longest expansion or acceleration has already passed.
SPX Monthly Elliott Wave View 8/15/2019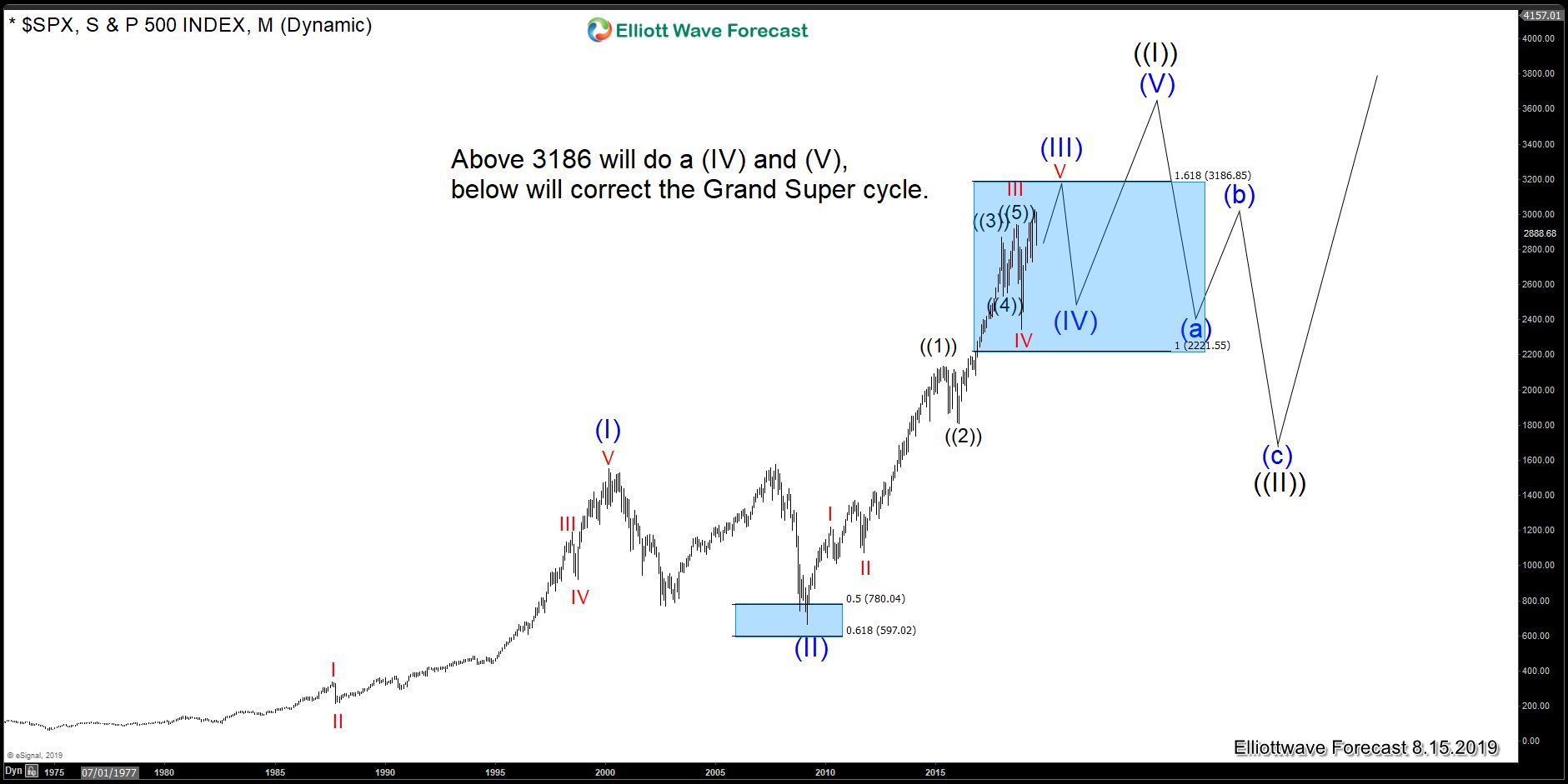 The SPX is within a blue box which goes from 2221 to 3186. If it goes above the 3186 area, which we believe can happen and SPX will become an impulse and do a wave (IV) and (V). However, that move will not be as strong as the cycle from 2009 low. Sooner or later based on the Elliott Wave Theory, after a 5 waves advance the Market will most likely do the biggest correction Humankind has ever seen.
The following chart shows the correction between Silver and SPX which is showing how much Silver rally within the period from 2000 to 2009 until its peak at 2011
Now we are in the early stage of a reaction higher from the weekly blue box in Silver. We should be trading in Silver around the 2003-2005 time period when the instrument started to create the first leg into the huge rally which should be the peak in SPX soon.
SPX vs. Silver Quarterly Chart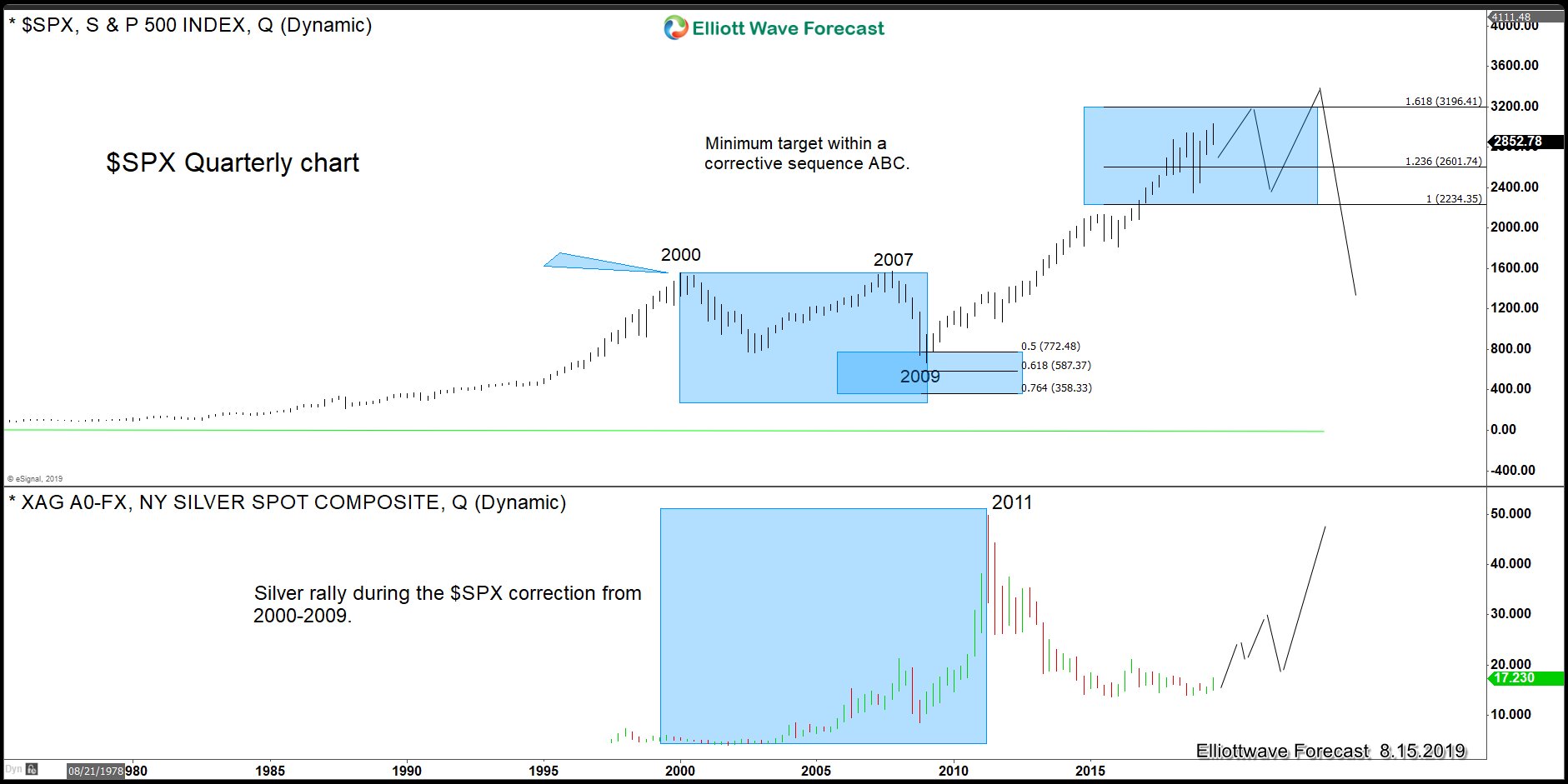 Silver reached the blue box, as we presented in the following chart. The lowest point is very close to the production cost of Silver and consequently, it is hard to see the instrument trading much lower.
We believe a nest is taking place and will be sideways around the lows for the next few years like it did in the early 2000s. Having a look at the current Silver price it seems like the rolling over into a big move has started and a move into a peak in the SPX can have started also.
Traders lack in the understanding of how important the selection of the right instrument to trade is and at Elliott Wave Forecast will never tell members to pick the top of in SPX but will guide our members to buy instruments which should trade in the same or equivalent direction with the right side tags, like Silver is in this case.
Silver Weekly Elliott Wave View 8/15/2019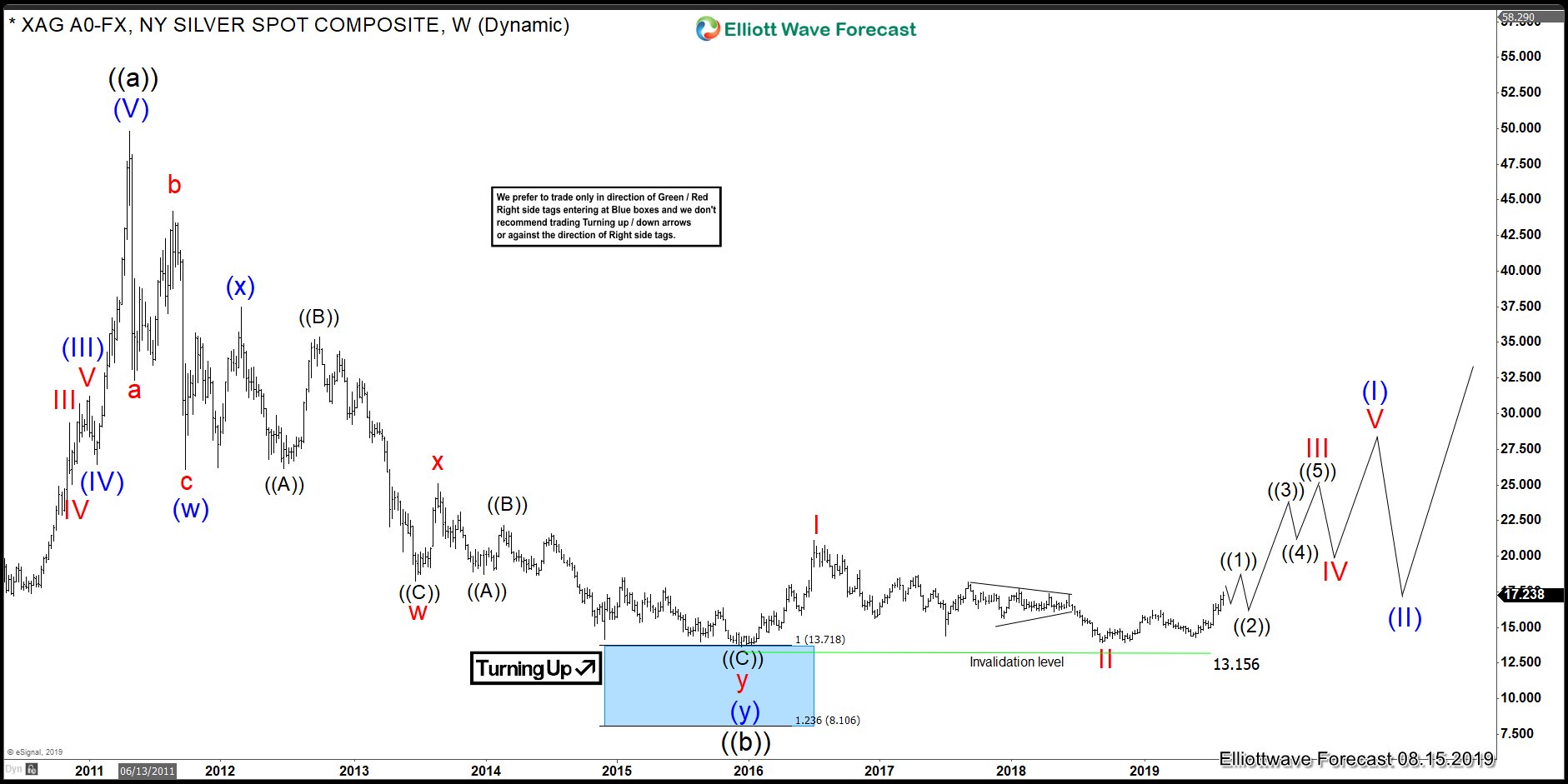 The Following video we explain the path for the SPX inline with the idea of Silver in the coming months/years.
Back