Nikkei Trade Video Clip from 10/30 Live Trading Room
In the Live Trading Room on 10/30, we told members to buy the dips in Nikkei in 3, 7, or 11 swing as it has incomplete bullish sequence and the target hasn't been reached in the Daily Chart. The Index made another leg lower during the day and we executed the long trade at blue box at 21865. Below is the video clip of the Live Trading Room where we explained to our members how to execute the trade and manage the risk afterwards.
Later that day Nikkei made another turn lower and members would be ready to buy the dips. In the Midday chart update, we provide our members with the updated charts and the blue box to buy: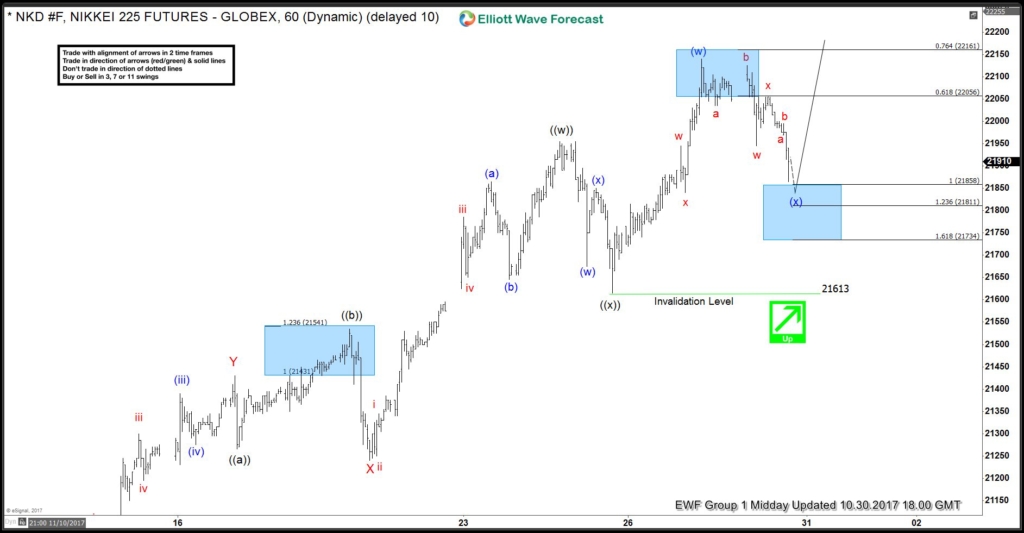 Below is the Live Trading Room journal for the Nikkei long trade

We reached our target the next day for 675 points profit. With 2% initial risk, this trade has given members 10% profit due to the excellent 5 to 1 Reward vs Risk ratio.
We hold Live Trading Room for Group 1 daily at 7 AM EST / 12 PM GMT. Live Trading Room Group 2 starts at 8 AM EST / 1 PM GMT. Join us everyday to get trading idea and learn how to execute trades using our technique of 3, 7, and 11 swing. Try our service 14 days  without any commitment. You will get access to Live Trading Room, Elliottwave charts for 52 instrument, live sessions, 24 hour chat room, and more today.
Back