Today, I am following up on the article I posted in May 2021, which was looking for Microstar to bottom imminently for the next leg higher.  You can view this article here
The stock has bottomed as expected, and has started to rally and show signs that the next leg higher is underway.  Here's the recent daily view showing expectations for higher extension to take place.
Microstrategy Elliottwave View: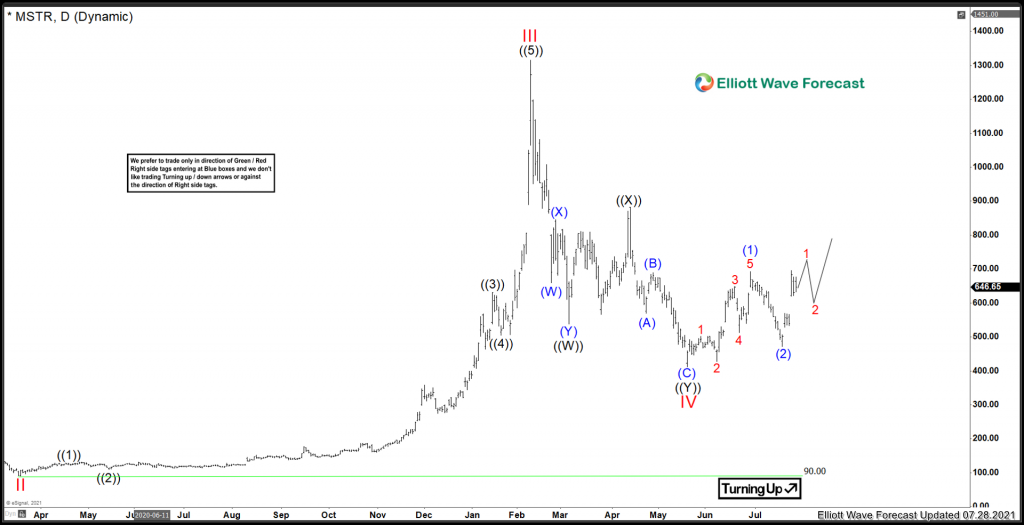 Microstrategy medium term term view from the low in set in May 2021.  The stock has rallied impulsively from the May 2021 low @ 411.58.  After that, a pullback in (2) took place and is favoured to be bottomed. The technical view on the rally from the low is a good example of a 5 waves move with momentum divergence at the peak of Red 5.  More on this is explained in the video below.
In conclusion, prices are now favouring to advance in another nest against the July 20/21 low.  This can be seen on the chart above in Red 1 and 2.  It is important to realize we do not like to sell this instrument.  As long as prices remain above Red IV low @ 411.58, further upside is favoured to take place.
Check out the video below, for a more in depth analysis of this instrument.
Microstrategy Video Blog Elliottwave View:
Risk Management
Using proper risk management is absolutely essential when trading or investing in a volatile stocks.  Elliott Wave counts can evolve quickly, be sure to have your stops in and define your risk when trading.
Improve your trading success and master Elliott Wave like a pro with our 14 day trial today.  Get Elliott Wave Analysis on over 70 instruments including GOOGL, TSLA, AAPL, FB, MSFT, GDX and many many more.
Back