FTSE 5.8.2018 Video
FTSE Super Cycle Sequence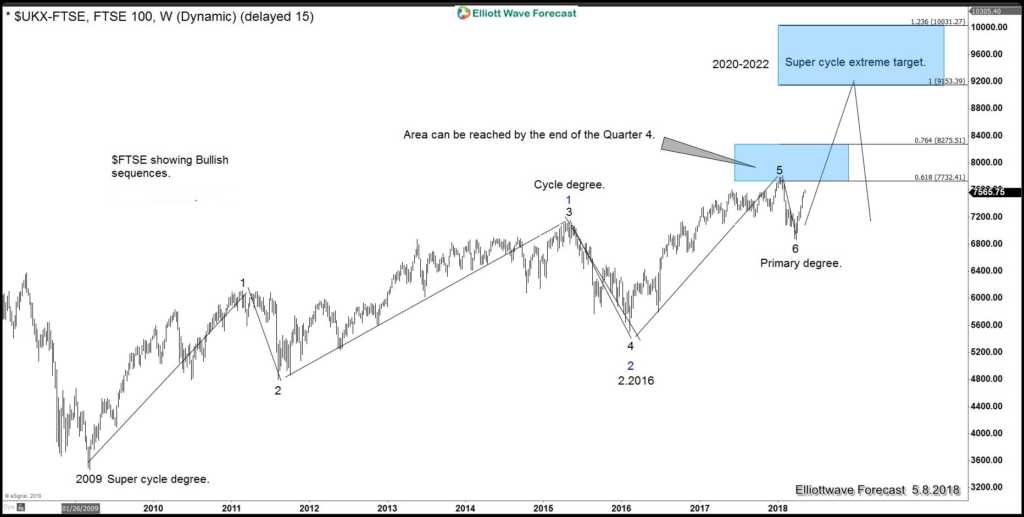 $ FTSE Index shows a 5 swing Primary degree sequence from 2009 low to 2018 high. A 5 swing is an incomplete sequence and needs to see at least another leg higher to end a 7 swing sequence. A 5 swing sequence is not the same as 5 waves impulse. Since the rally from 2009 low is corrective, the sequence of interest is 3-7-11 swing which applies to corrective structure. Corrective structure runs in 3-7-11 sequence which is based on the Lucas number.
$ FTSE started the sequence from 2009 low like most other World Indices. Up from there, $ FTSE rallied in 3 swing (corrective) and ended Primary degree swing #3 / Cycle degree swing #1 in 2015 high. The Index then corrects the rally from 2009 low. It ended the correction in Primary degree swing #4 / Cycle degree swing #2 on 2.2016 low. From 2016 low, we should see a similar rally equal in length to the rally from 2009 low to 2015 high.
With the break above 2015 peak, $FTSE is showing 5 swing sequence in Primary degree from 2009 low. Within corrective sequence, 5 swing is an incomplete sequence. FTSE therefore needs to see at least 1 more leg higher to finish 7 swing. Thus the question is not whether Indices are bullish or bearish. Based on the sequence, the right side is clear and it is Bullish. The question is whether FTSE has ended Primary degree swing #6 and whether the next Primary degree swing #7 has started.
4 Hour reaction looking impulsive
As the 4 hour chart above shows, the rally from 6867.06 low appears impulsive. As an alternate view, the 5 waves rally can be part of a FLAT from the lows at 2.9.2018. In this alternate view, the Index can then extend lower 1 more leg. However, due to how strong the rally is and how it almost breaks Primary degree cycle #5, an extension lower to the extreme 100% will just be a retest of the lows. It makes more sense to think that the correction and thus Primary degree cycle #6 has ended instead at 6867.06
If that's indeed the case, we expect all World Indices to make new all time highs and $FTSE can be leading the turn higher. We keep recommending members of www.Elliottwave-forecast.com not to sell the World Indices, but waiting for opportunities to get into a Multi year bullish cycle. The Following blog was done in early February 2018: https://elliottwave-forecast.com/stock-market/what-will-happen-to-world-indices-2020-2022/ and we show our view of another continuation higher. We believe in The Right Side and we have no doubt there's more upside in the World Indices.
Back