EURJPY Trade Video Clip from 9/14 Live Trading Room
We issued a trading recommendation to buy EURJPY on September 14th Live Trading Room (LTR). EURJPY was in wave ((x)) pullback as a zigzag (abc) at the time. We want to buy the dips when wave "c" ends and reaches equal to wave "a".  The initial entry is at 130.6 and stop loss is at 129.9 . After wave "b" is fully formed, we adjusted the entry to 130.85 and initial stop loss at 130.15. Below is the video clip of the trade recommendation:
EURJPY Trade from 9/15 Trading Journal
Below is the trading journal for EURJPY on 9/15 Live Trading Room. We bought it at 130.85, with initial stop at 130.15 and target 133.5 and excellent reward vs risk of 3.8 to 1. We reached our target of 133.5 on Sept 19 for a total profit of 265 pips
EURJPY 1 Hour Elliott wave Chart 9/14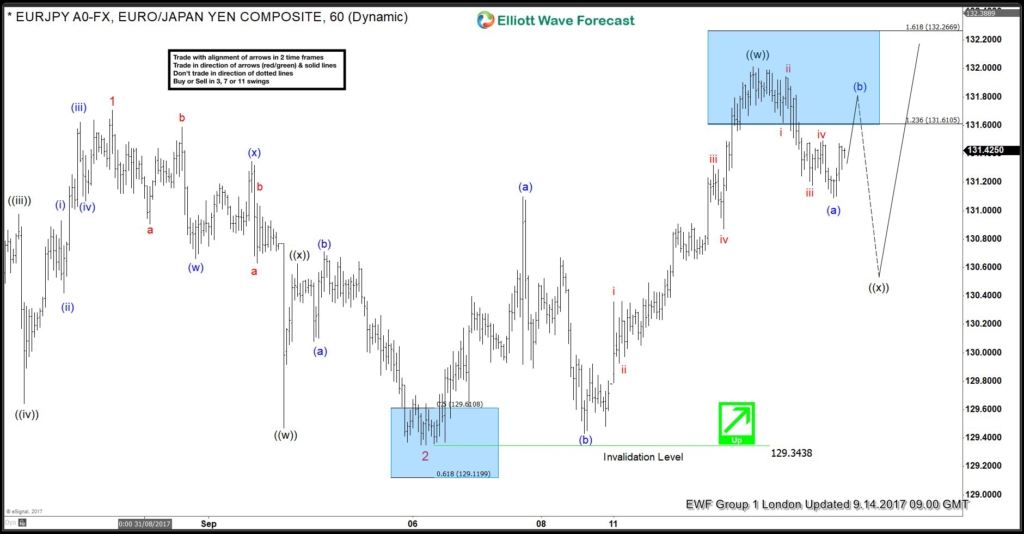 On Sept 14, we were looking to buy wave ((x)) pullback in 3 swing. The pair needed to correct cycle from 129.34 low as a zigzag. At the time, wave (b) was not yet complete so we used an estimate to buy wave (c) of ((x)) at 130.6 by assuming wave (b) of ((x)) has ended.
EURJPY 1 Hour Elliott Wave chart 9/15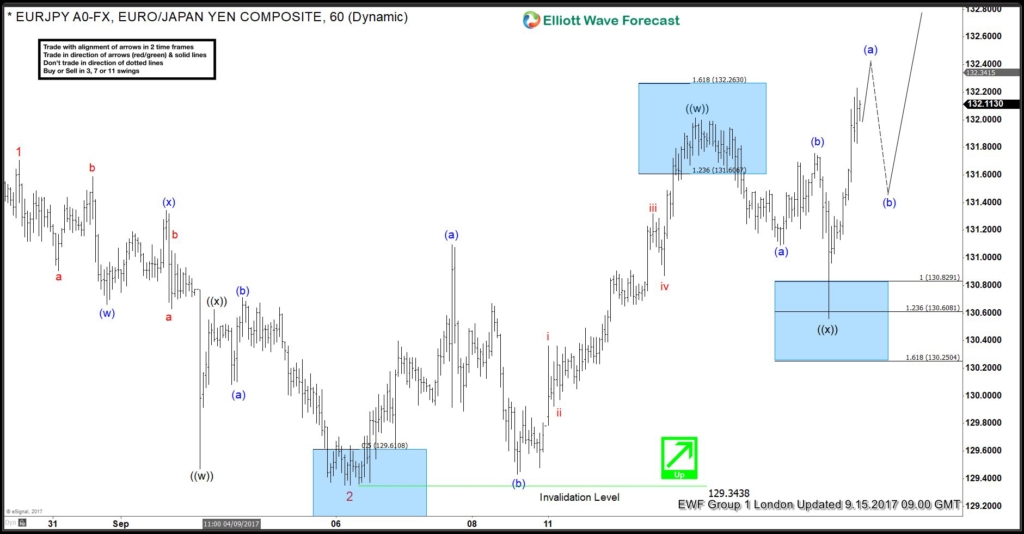 The following day, as wave (b) of ((x)) ended, we could measure 100% of (a)-(b) at 130.60 – 130.83. We bought wave ((x)) pullback at 130.85 and formed a risk free trade once pair started to rally in our favor. Trade reached our target of 133.5 on Sept 19 for 265 pips with a 3.8 risk to reward ratio.
We hold Live Trading Room for Group 1 daily at 7 AM EST / 11 AM GMT. Live Trading Room Group 2 starts at 8 AM EST / 12 PM GMT. Join us everyday to get trading idea and learn how to execute trades using our technique of 3, 7, and 11 swing. Try our service 14 days only for $9.99 without any commitment. You will get access to Live Trading Room, Elliottwave charts for 52 instrument, live sessions, 24 hour chat room, and more today.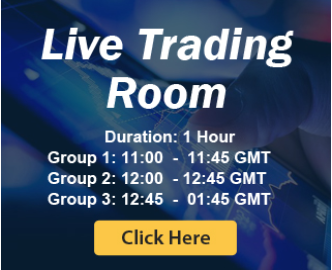 Back