On April 12th, 2016 the price of $CL_F took the important high at $41.72 (3/22)  and opened up possibility for further extension to the upside towards $51.00+ area. The video below is a short capture from the NY Live Analysis Session held on 4/15 by  EWF Founder & Chief Currency Strategist  Eric Morera.  He presented Elliott Wave count of $CL_F in 4 hour time frame calling for wave ((b)) pull back against the $35.23 low and further rally, targeting $45.06- $47.4 and eventually $51.00+ area.
The chart below is H1 update, from the same date April 15th, Asian Session.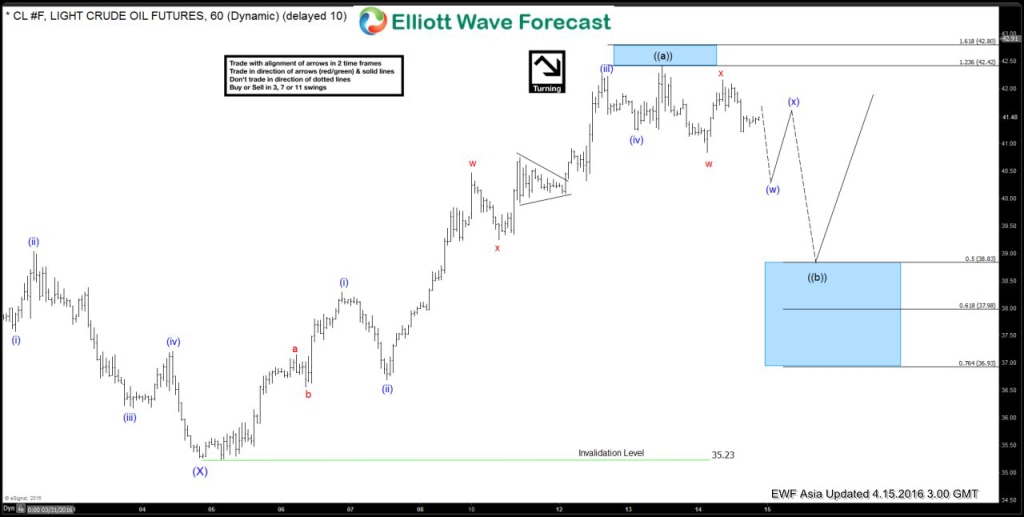 Wave ((b)) pull back reached blue box – 61.8 Fibonacci retracement level: $37.98 . The price found buyers there and turned higher as expected. At the time of writing this blog, $CL_F is trading around the $50.00 market, still short of the ideal target at $51.00 area but is getting there. Keep in mind that market is dynamic and the view could change in mean time. If you want to find out what's our current view of $CL_F,  you can find the new charts in the membership area of EWF.
Proper Elliott Wave counting is crucial in order to be a successful trader. If you want to learn more on how to implement Elliott Wave Theory in your trading, feel free to join us. You will get access to Professional Elliott Wave analysis in 4 different time frames,2 live webinars by our expert analysts every day, 24 hour chat room support, market overview, daily and weekly technical videos and much more…
If you are not member yet, use this opportunity and sign up now to get your Free 14 days Premium Plus Trial.
Welcome to Elliott Wave Forecast!
Back