Pan American Silver Corporation (ticker: PAAS) is a Canadian mining company with operations in Latin America. The company has mines in Mexico, Peru, Bolivia, and Argentina. It is the world's second largest primary silver producer worldwide it has the largest silver reserves with more than 550 million ounce reserve. The recent rally in Gold and Silver have helped the performance of the stock price. The company reported strong first quarter earning, but the second quarter can see a weaker result due to the closure of several of its minings from the Covid-19.
The next several years can potentially be a very supportive market for gold and silver due to the ultra loose monetary policies by central banks. In addition, the high gold-to-silver ratio at 99 to 1 (vs the average of 60 for the past 20 years) argues for the undervaluation of silver relative to gold. In the first quarter of 2020, the company produced 5.6 million ounces of silver with AISC (All-in sustaining cost) of $15.26 per ounce. It also produced 156,000 ounces of gold with $969 / ounce AISC. Net operating cash flow comes at $114 million
PAAS Monthly Elliott Wave Chart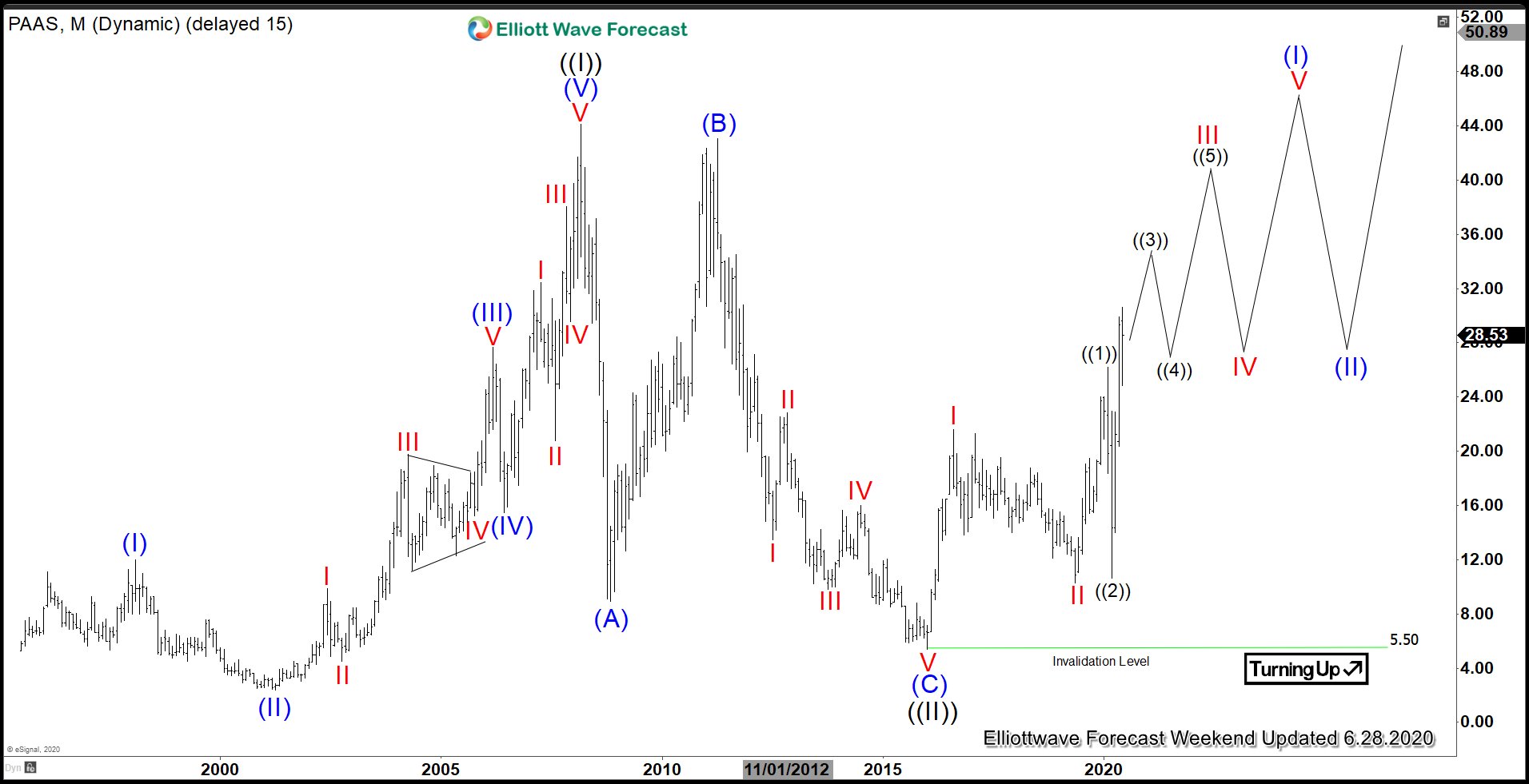 Monthly chart of PAAS above shows the rally to March 2008 high ended grand super cycle wave ((I)) at $44.1. The pullback in grand super cycle wave ((II)) ended at $5.38. Wave ((III)) is currently in progress and eventually expected to break above wave ((I)) at 44.1. Up from wave ((II)) low, wave I ended at $21.59, and pullback in wave II ended at $10.26. Expect the stock to continue higher in the coming years.
PAAS Daily Elliott Wave Chart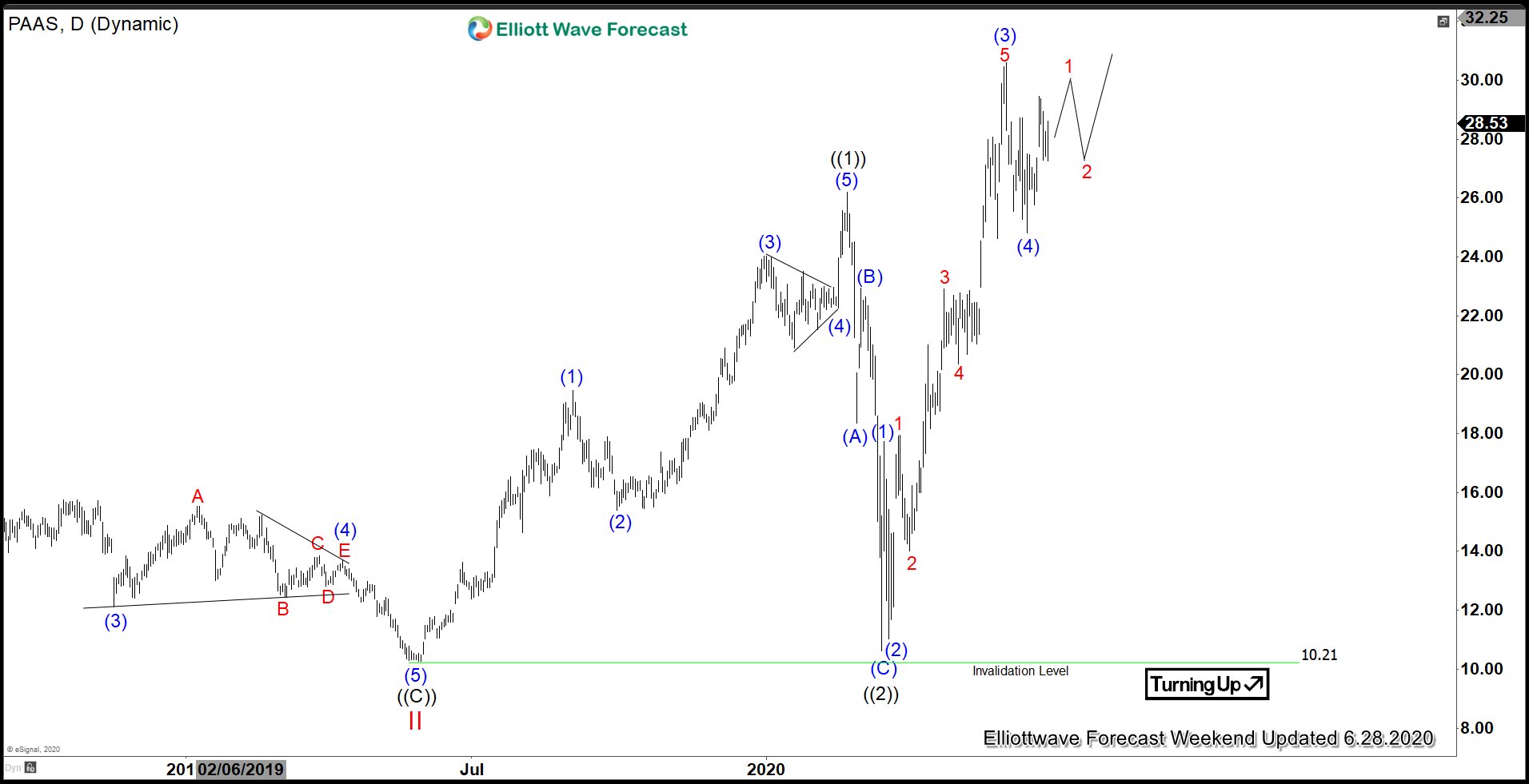 Daily Elliottwave chart of PAAS above shows that the stock dropped in March to retest wave II low at $10.26. The drop coincided with the selloff in global Indices as a result of Covid-19 breakout. However, the stock has recovered very fast and now trading above the pre Covid 19 level. The wave ((2)) March low of $10.61 should now be the floor for any dips in the stock. The rally up from March low is impulsive favoring more upside.
PAAS 4 Hour Elliott Wave Chart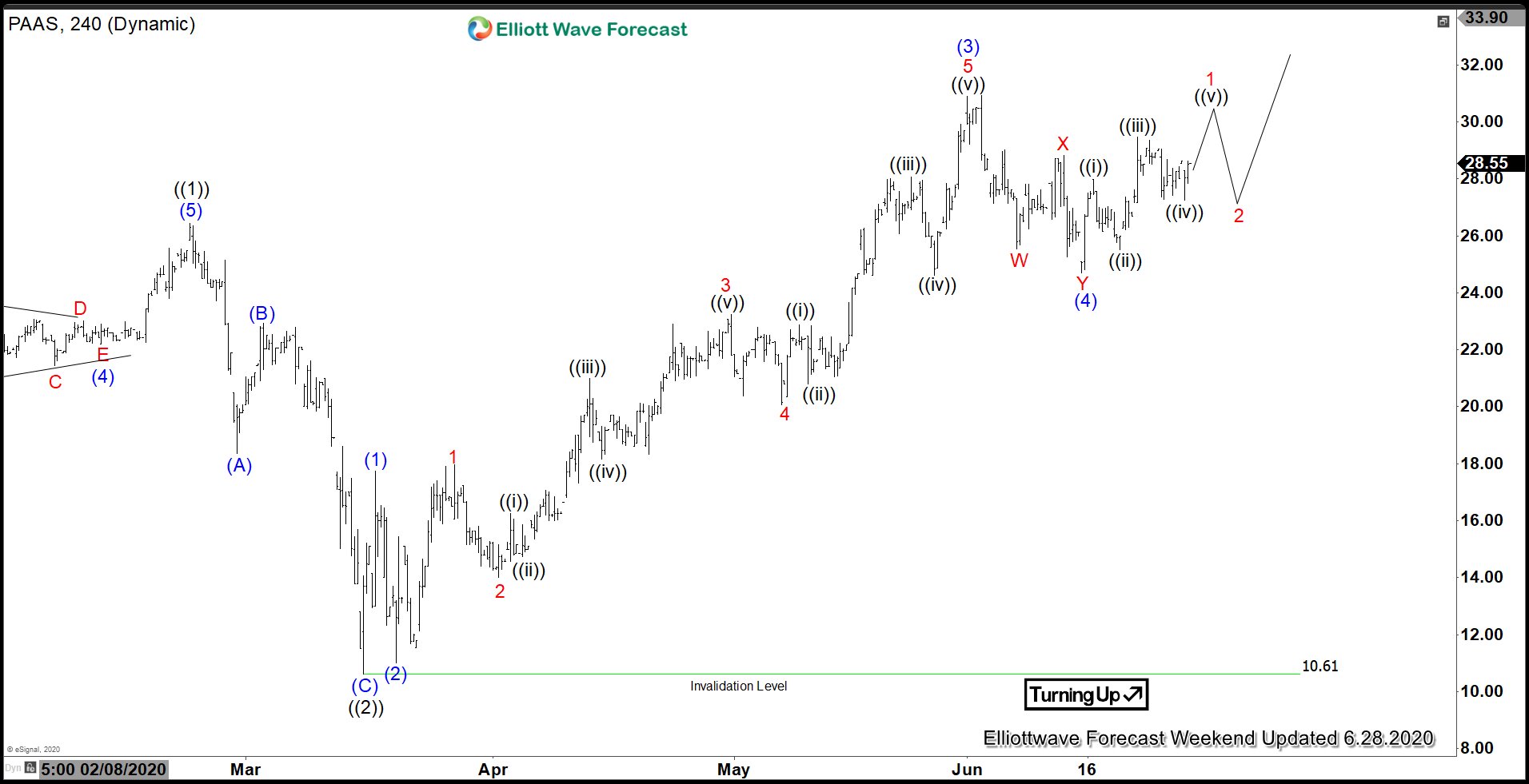 4 Hour chart of PAAS above shows that the stock bottomed on March 16 at $10.61. Since then, the stock has broken above wave ((1)) at $26.44, suggesting the next leg higher in wave ((3)) has started. While above wave (4) at $24.71, expect to see further upside before the stock ends wave (5) of ((3)). Afterwards, it should pullback in wave ((4)) before turning higher again.
If you'd like to see regular Elliott Wave updates on stocks, indices, forex, and commodities, feel free to check our trial –> 14 Days FREE Trial. We cover 72 instrument in 3 groups and provide regular updates in 4 time frames, live session, live trading room, and more.
PAAS Elliott Wave Video
Back