CHK have been in a tremendous downside trend since peak at 2011 and has already missed an opportunity for a turn. The instrument is showing a very technical decline in 5 waves since the peak at 02.02.2011 and it is showing in the following chart:
CHK Elliott Wave Analysis – Weekly Chart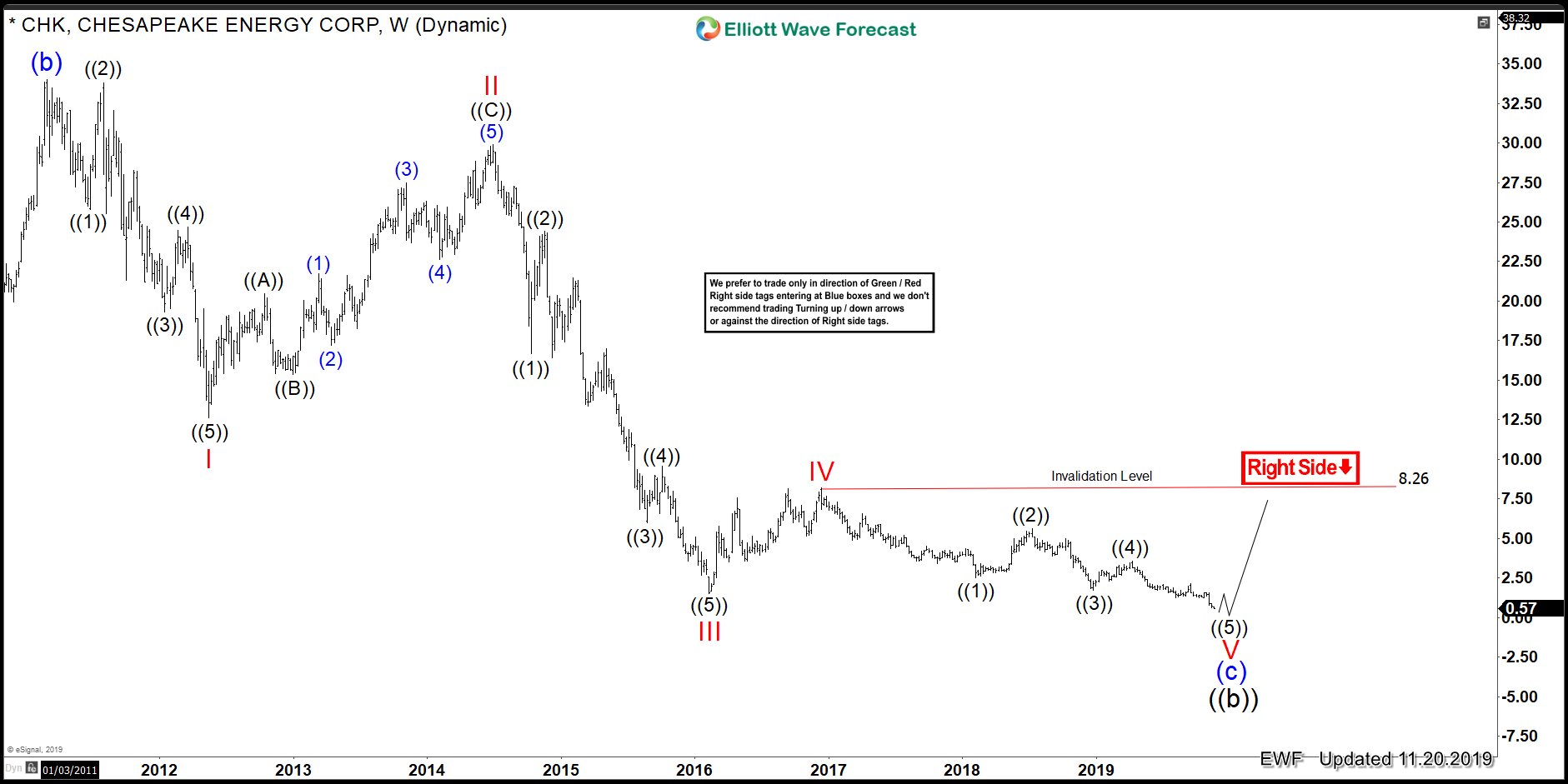 There is no question it is a 5 waves decline and that momentum is lacking which is an indication of a wave 5. We thought back in 2016 that the instrument had seen a low when Oil bottomed and turned higher. We at Elliottwave-Forecast do not claim to be perfect and we believe no body can forecast the Market perfectly. However, we follow a Technical system which consists of sequences, cycles, correlations, distribution and The Elliott Wave Theory, We forecast with something clear, do not force a bias and always be honest to the price action and the Market. At this moment, we believe the path and sequences in XOM are calling more downside still and all depends of how XOM will trade within the next few days or weeks. XOM is holding OIL to rally even when Indices are rallying and one more time is showing that the sequences and cycles rules above everything. We have been calling CHK lower since it took the lows of 2.2018 and consequently the bears gained control again and consequently, we have been looking for current areas. At this moment XOM is showing 5 swings since peak at 04.2019 with divergence which is key, the structure since peak is corrective and consequently needs to erase the divergence, the instrument should be trading into the $64.27-62.00 area soon and depending of how strong the downside will be ending will determine how weak CHK will be. Many traders believe that a forecast always has to work out and never will change, or once you presented a forecast, you can't change it even if you are right after the change. We believe and keep mentioning that forecasting is a process of continuous adjustments. A waver (trader) needs to accept when an idea doesn't work out and adjust, but a trader should never force a bias or fight the market. A trader needs to read the Market and adjust. Market always wins. In this case, XOM is ruling the energy sector and until the divergence is erased the sector will be weak. Watch the following video and understand our idea and the reason why. We are not claiming to be perfect, but we do understand how the market works and having a system which keep us at the right side is good enough to be profitable.
Back