AUDUSD rally from 12/23/2016 low is unfolding in 5 waves and the cycle from Dec 23 low is expected to complete soon and a 3 waves pullback at minimum can be seen. Watch the video, chart and commentary below:
AUDUSD Video
AUDUSD Chart and Commentary
AUDUSD rally from 12/23/2016 low (0.716) is unfolding in what looks like an impulse. An impulse is a 5 waves move where wave 1, 3 and 5 is subdivided into 5 waves. There is also a momentum divergence in wave ((v)) of 3, as well as a divergence in wave 5 of 3. Below is the 4 hour chart of AUDUSD
The pair is currently in wave 5 which has a subdivision of an ending diagonal. An ending diagonal is a special type of 5 waves move which appears as subdivision of wave 5 in an impulse. Ending diagonal is characterized by overlapping wave 1 and 4 and also by the wedge shape. The subdivision of an ending diagonal is 3-3-3-3. Below is the 1 hour chart of AUDUSD to see the subdivision of the ending diagonal more clearly
The cycle from 12/23/2016 low is therefore mature and could end any moment. It's risky to chase the strength in AUDUSD at this stage and once the pair ends the diagonal, expect the pair to do a strong pullback in 3, 7, or 11 swing to correct the cycle from 12/23/2016 low and could see 200 – 300 points correction back to around 0.73 – 0.74
If you are interested to learn more about our service, we invite you to take our 14 days risk free trial here –> 14 Day Trial  With the risk free trial, you can get access to our service without commitment, including: Professional-grade Elliott Wave forecast for 52 instrument in 4 time frames, Live Trading Room, Live Sessions, 24 hour chat room, and much more!
Elliott Wave Cycle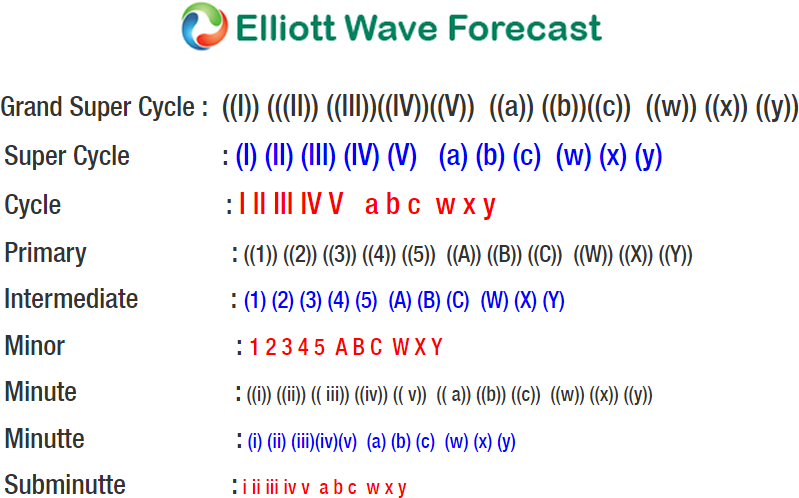 Back