The Corona trade had big gains for some companys.  Zoom has been of of many to benefit from the Corona Virus trade.  First, lets take a look at what they as a company:
"Zoom Video Communications, Inc. (stylized as zoom or simply Zoom) is an American communications technology company headquartered in San Jose, California. It provides videotelephony and online chat services through a cloud-based peer-to-peer software platform and is used for teleconferencing, telecommuting, distance education, and social relations.
Eric Yuan, a former Cisco engineer and executive, founded Zoom in 2011, and launched its software in 2013.  Zoom's aggressive revenue growth, and perceived ease-of-use and reliability of its software, resulted in a $1 billion valuation in 2017, making it a "unicorn" company.[7] The company first became profitable in 2019.  As a result, completed an initial public offering that year.
The company joined the NASDAQ-100 stock index on April 30, 2020. Beginning in early 2020, Zoom's software usage saw a significant global increase.  As a result of quarantine measures adopted in response to the COVID-19 pandemic. Moreover, its software products have faced public and media scrutiny related to security and privacy issues."
Firstly, this stock saw a peak in October 2020, lets take a look at the Elliottwave View and see where this stock can be headed in the future.
Zoom Elliott Wave Daily View: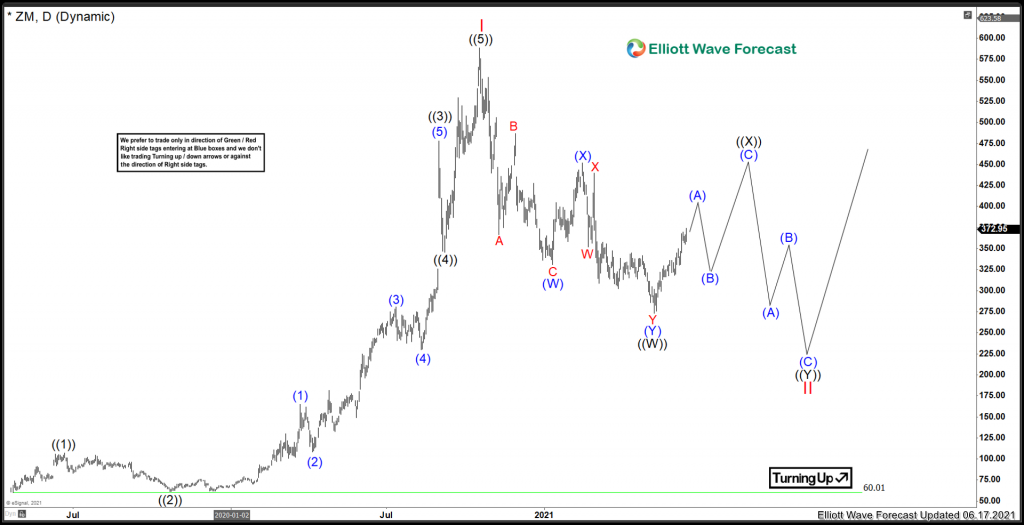 Long term term view from 4/20/2019 IPO lows of 60.61. Firstly, this stock is favoured to be correcting the whole cycle since that 2019 low (all time low).  Wave ((1)) is set at 107.34 in June 2019 and wave ((2)) at 60.97  in October 2019.  After that, an extended Black ((3)) took place, which peaked on 09/01/2020 at 478.  From there, Black ((4)) at found a low on 9/08/2020 @ 345.  After that, one final rally took place into Black ((5)) of Red I is favoured peaked  10/19/2020 at 588.84.
After the Red I peak, a fairly choppy decline has taken place for ((W)) which saw the stock price take a 50% drawdown and bottomed at 511.  Therefore, a large connector in ((X)) is favoured underway.  After ((X)) is complete, one more leg down can take place where Zoom can set a very long term low, and start a larger rally to the upside.
In conclusion, more downside is favoured to take place over the medium term cycles.  We don't like to trade middle areas, only like the trade the extreme areas in 3 7 or 11 swing.
Risk Management
Using proper risk management is absolutely essential when trading or investing in a volatile stocks.  Elliott Wave counts can evolve quickly, be sure to have your stops in and define your risk when trading.
Improve your trading success and master Elliott Wave like a pro with our free 14 day trial today.
Back