In this technical blog we are going to take a quick look at the $EURGBP 4 hour chart dated: 7th of November 2016. Pair since the October 7th peak (0.9224) was showing lower lows & lower highs, also was missing the extreme from the peak favored another push lower in the pair to happens to complete the 7 swing Elliott wave bearish swing sequence. It is important to note that W,X,Y in red has internal subdivision of (3,3,3) in each swing, which means all of the these 3 legs were corrective sequence in nature. Thus the idea was to selling the short term bounces in the pair labelled as wave (x) in blue in sequence of 3, 7 or 11 swings against (0.9048) for potentially downside target at (0.8778-0.8691) 100%-123.6% extension area from the peak.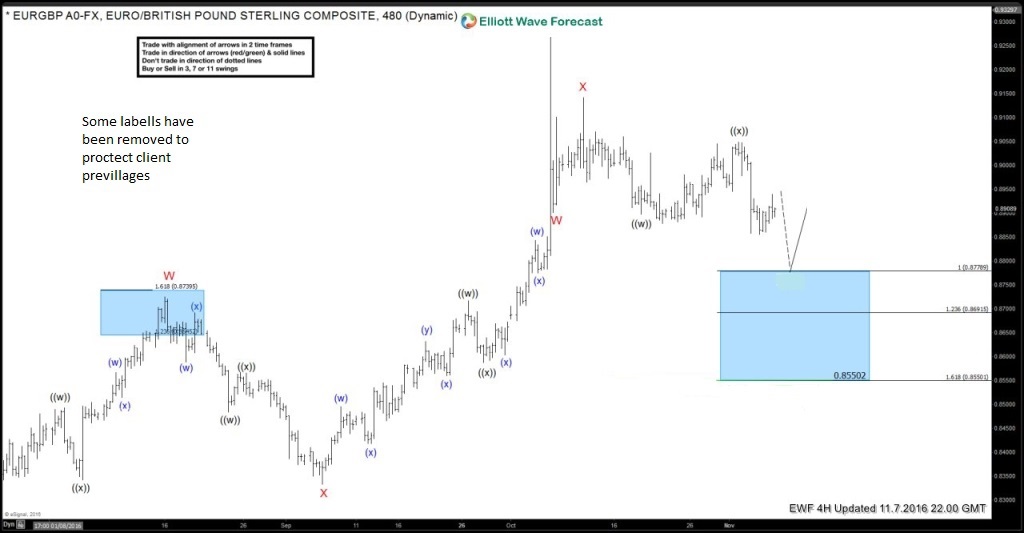 EURGBP 8th of November 2016 1 hour NY updated chart : suggesting the pair was doing a short term bounce in wave (x) in blue to correct the cycle from 0.9049 peak & (0.8970-0.9021) 100-161.8% extension area from the lows was expected to reach in 3 swings before pair found seller's again for potential downside target at 0.8778-0.8691 area or 3 swing pullback at least to allow member's to create a risk free position in the pair.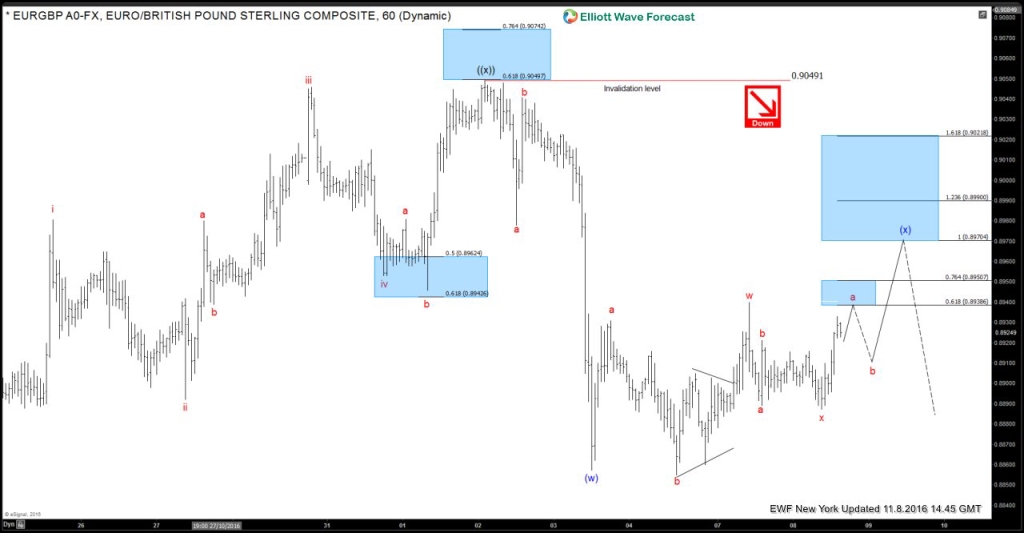 EURGBP 9th of November 2016 1 hour Midday updated chart :  Since then pair reached the selling area & formed the peak at 0.9023, which was the 161.8% extension area from the lows & turned lower as expected & reached our target area. Keep in mind chasing the weakness here could be risky now, although it keeps forming the lower lows & lower highs but the cycle from October 7th peak has already reached the extreme areas & pair soon needs to bounce in 3 swings at least.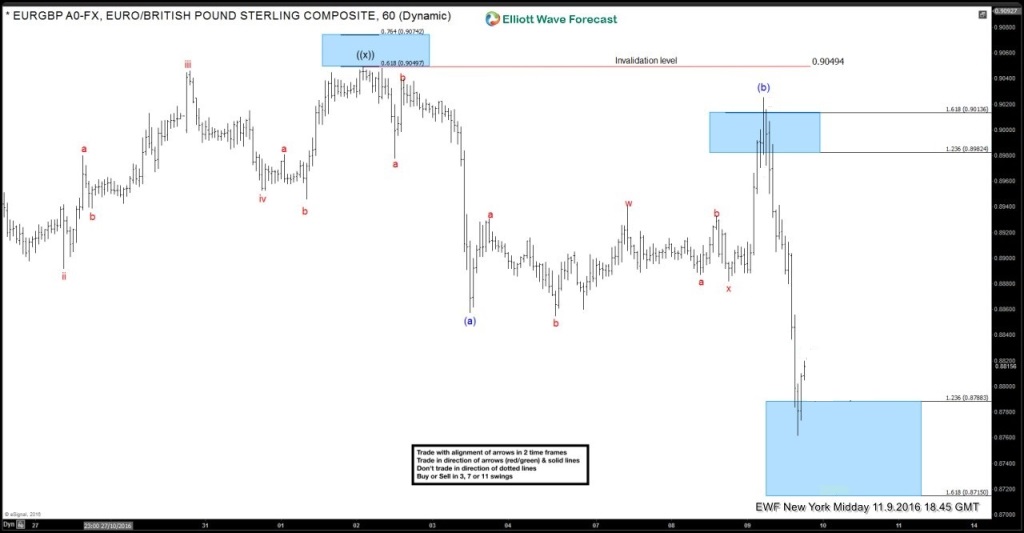 Proper Elliott Wave counting is crucial in order to be a successful trader. If you want to learn more on how to implement Elliott Wave Theory in your trading and to learn more about next trading opportunities in the Market, Try us for 14 days. You will get access to Professional Elliott Wave analysis in 4 different time frames, Daily Elliott Wave Setup Videos ,Live Trading Room and  2 live Analysis Session done by our Expert Analysts every day, 24 hour chat room support, market overview, weekly technical videos and much more. If you are not member yet, use this opportunity and Sign up now to get your (trial).
Back