On August 10th $EURAUD broke the previous low from April 21st @1.4425 , making the bearish cycle from the Febrtary peak still alive. Our Elliott Wave analysis suggested for at least another big swing lower below 1.44037 low, so we recommend our members to avoid buying the pair and keep selling the rallies against the 1.56456 peak. In this technical blog we're going to take a quick look at past Medium-term EURAUD charts presented to clients of www.elliottwave-forecast.com to see how we guided our members through the cycles and movements of this forex currency pair.
$EURAUD 08.24.2016 480 minute chart: Our view is bearish against the 1.5645 peak, however the pair has potential to make the double in wave (X) toward 50-61.8 fibs zone @ 1.50524-1.51903( blue box) before proposed big swing lower  takes place. In short term we expect X pull back first.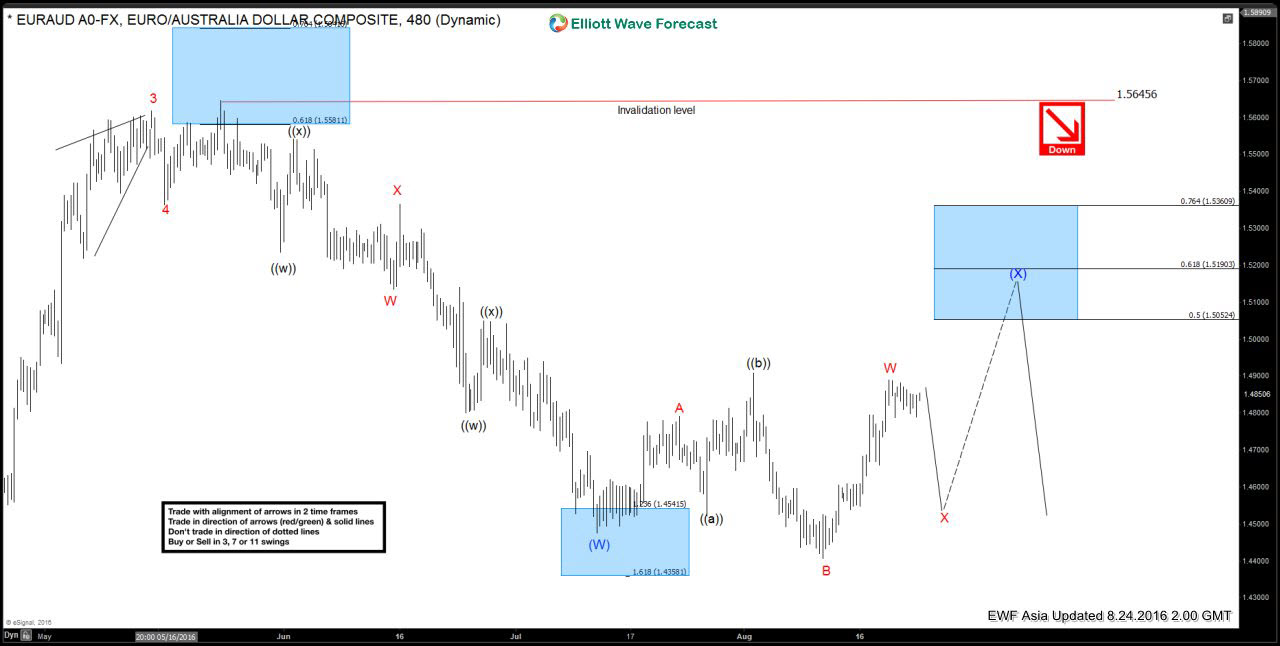 $EURAUD Weekend update 9.3.2016 Proposed X red pull back is in progress , approaching 50-61.8 fibs area @ 1.4648-1.4590 where it's expected to complete, and ideally turn higher in wave Y red toward potential sell zone.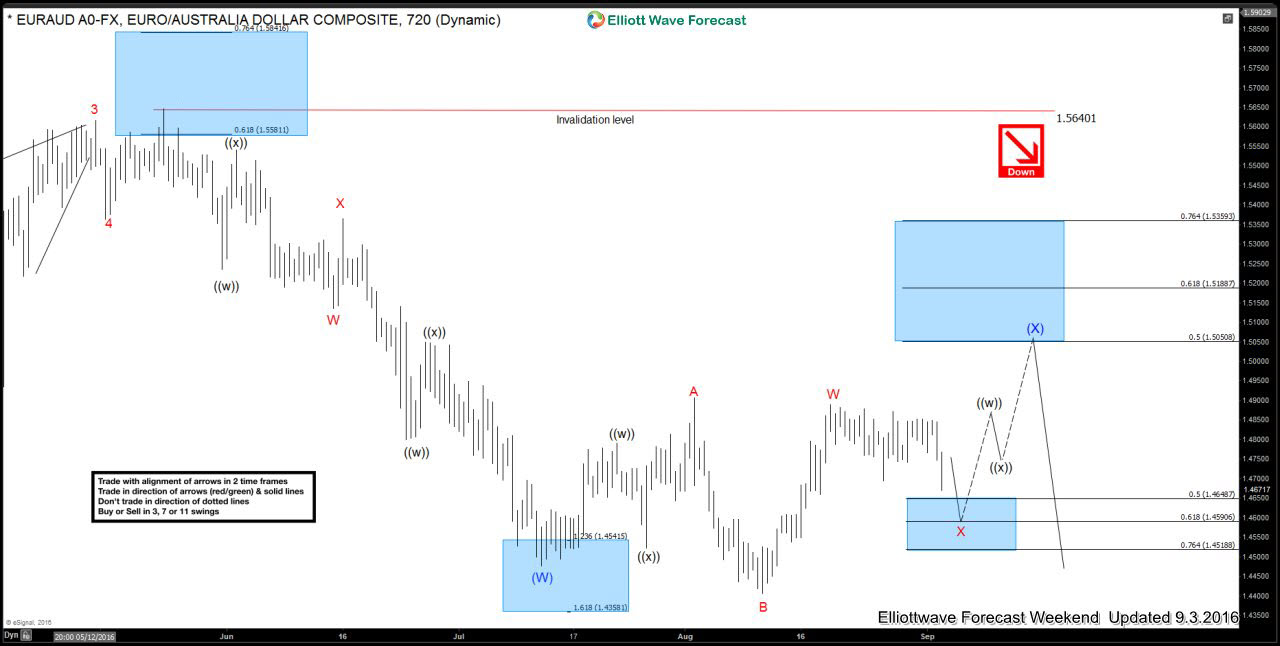 $EURAUD 9.22.2016 The pair made double as expected, reached proposed technical area and declined from there. Members who made entries at 50-61.8 fibs, already have short positions risk free. The pair is now expected to bounce and make ((x)) correction against the wave (X) blue peak before decline resumes again.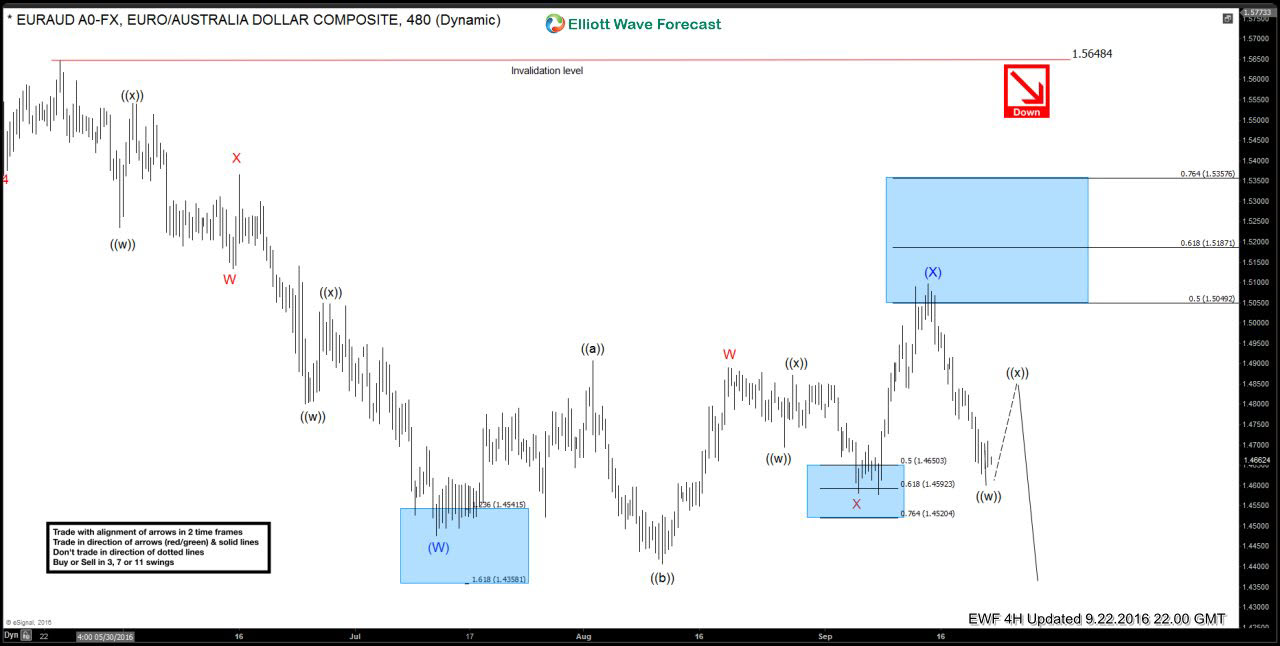 $EURAUD 10.12.2016. Wave ((x)) recovery ended at 1.4779 high and the pair gave us new short term low, looking for further weakness toward 1.43052-1.41927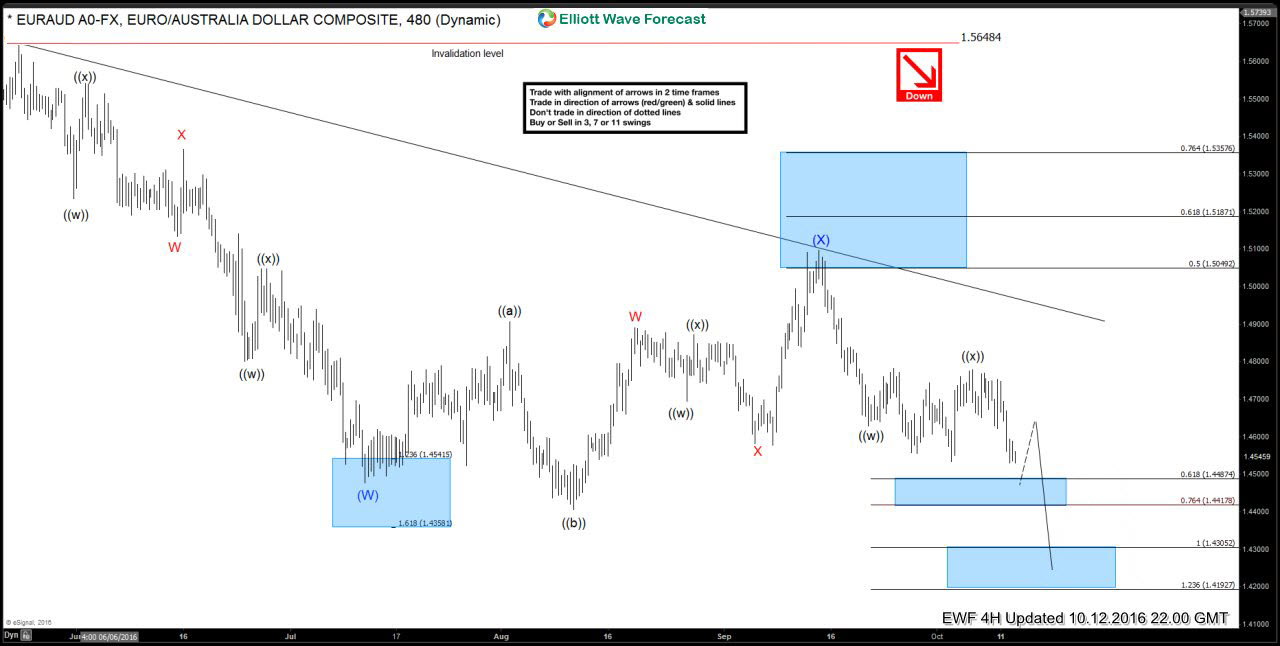 $EURAUD 10.19.2016 target area is reached. Note: Some labels have been removed on the chart in order to protect clients' privileges. If you're interested in the future path of $EURAUD, you can find new Elliott Wave analysis in the membership area of EWF. ( If not a member yet, all you have to do is to Sign Up for Free 14 Days Trial )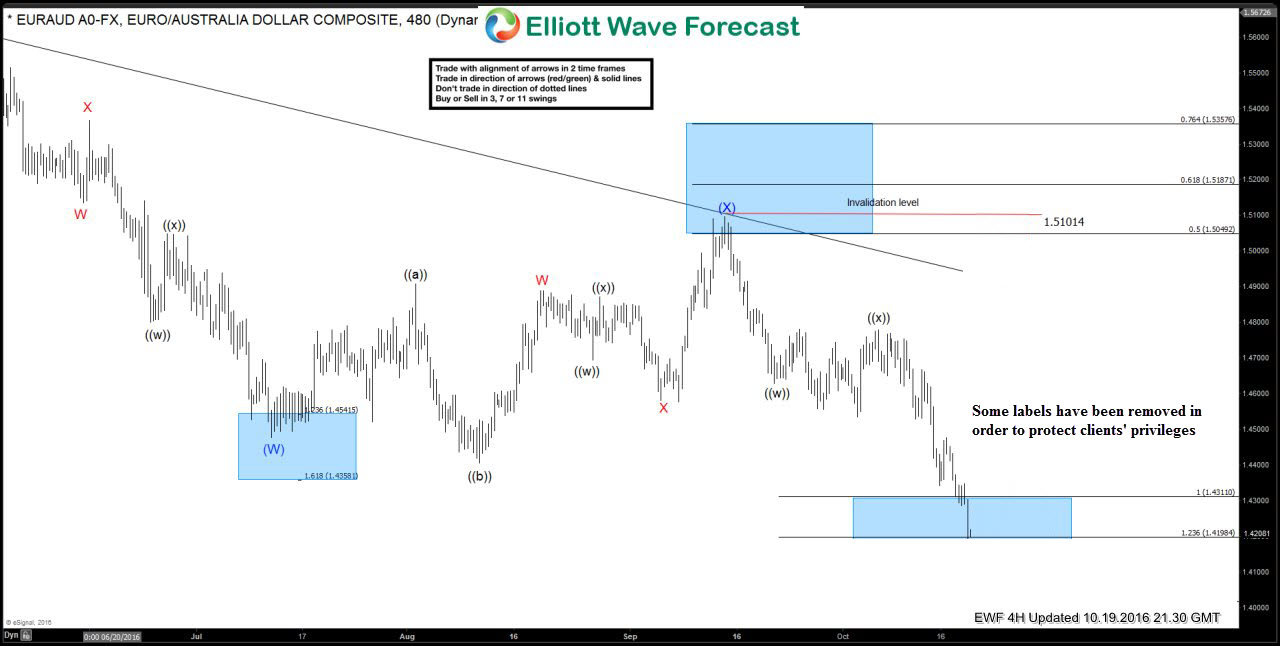 Success in trading requires proper risk/money management, so does understanding of Elliott Wave theory, Cycle and Correlation analysis.
Through time we have developed a very respectable trading strategy which defines Entry, Stop Loss and Take Profit levels with high accuracy and allows you to make position Risk Free, shortly after taking it, protecting your account. If you want to learn all about it and become a professional Trader, sign up now and get 14 DAYS FREE TRIAL .
You will get access to Professional Elliott Wave analysis in 4 different time frames, Strategy of the Day/Week Video, Live Trading Room, 2 live Analysis Session done by our Expert Analysts every day, 24 Hour Chat Room support, Market Overview, Weekly technical videos and much more…
Welcome to Elliott Wave Forecast!

Back