Hello fellow traders. In this technical blog we're going to take a quick look at another nice trading example of ES_F.  The video below is a short capture from the ES_F Strategy of the day video 01/10/2017 published in members area of www.elliottwave-forecast.com
ES_F strategy:
S&P 500 E-mini futures is showing an incomplete bullish swing sequencs in the cycle from the 11/09 2016 low. It remains bullish against the December 30th low and looking for more strength to complete the cycle.  As Hendra explained in the video, we were expecting futures to make another short term leg down, to reach important tech zone at 2256.5-2252.3. Due to a proposed bullish sequences and Elliott Wave structure we advised members to avoid selling and keep buying the dips. Strategy was entering long positions at 2256.5-2252.3 against the 2245.6 level. The futures found buyers at the mentioned area and then made new low at 2248.45. Although we got decent rally from buying zone, the price continued sideways for a while. Even though longs got risk free when we got the bounce from 2256 area but later it made another low to 2248 which stopped out the longs from 2257 but it was a buy again in the newly defined buying area between  2249.62 -2244.38 as shown in the 1 Hour chart below. Eventually, on January 24th ES_F  made new high above 01/06 peak and continue the rally toward 2297.5 area which was 100% extension of the 1st leg up from 12/30 low and was an area for longs to book profits.
ES_F Strategy of the day video capture
ES_F 1 Hour chart 1/12/2017
1 Hour Elliott Wave chart from 1/12/2017 showing the 2nd buying area between 2249.62 – 2244.38 which did produce new highs and reached a target of 2297.5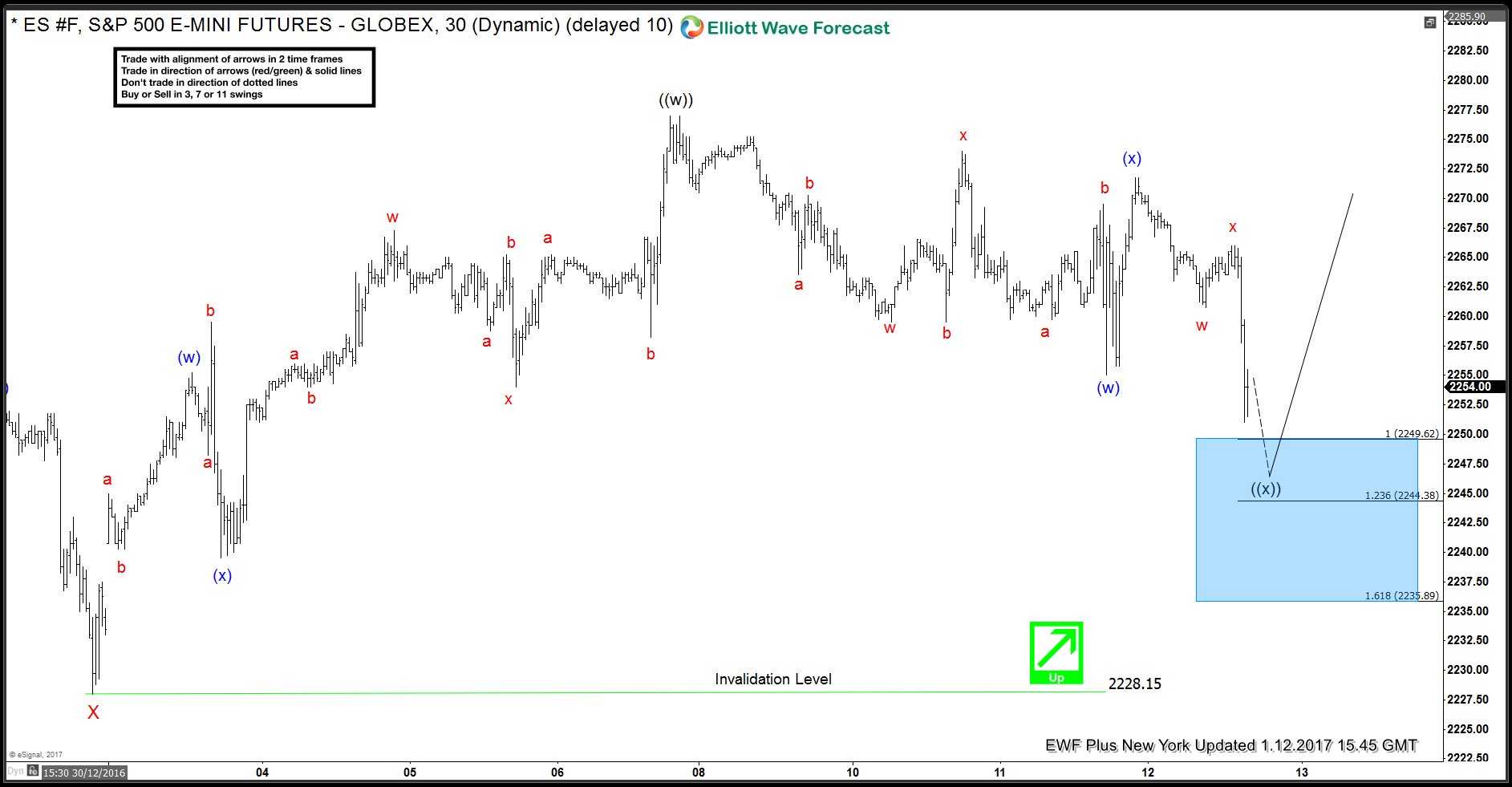 Keep in mind market is very dynamic and the view could have been change in a meant time. If you're interested in new Elliott Wave analysis  of ES_ F you can find Elliott Wave analysis in the membership area of EWF.  If not a member yet,  Sign Up for Free Trial now and get new trading opportunities. 

Elliott Wave Forecast
Through time we have developed a very respectable trading strategy which defines Entry, Stop Loss and Take Profit levels with high accuracy and allows you to make position Risk Free, shortly after taking it. If you want to learn all about it and become a professional Trader, join us now for Free.
.

Back