The EV sector has has a very lucrative 2020. Xiaopeng stock has risen from a low of 17.11 to a peak of 78.00 and seems to be correcting the cycle from the all time low. This chart has lots of potential for future gains. Lets take a look at the company profile below:
"Xpeng was co-founded in 2014 by Henry Xia (Xia Heng) and He Tao, former senior executives at GAC Group with expertise in automotive technology and research and development. Initial backers included: the founder of UCWeb and former Alibaba executive He Xiaopeng (now Chairman of Xpeng), and Lei Jun, the founder of Xiaomi. Prominent Chinese and international investors included Alibaba, Foxconn and IDG Capital. A further funding round in 2018 saw Alibaba's vice president Joseph Tsai join the corporate board of Xpeng.
Xpeng's subsidiary in the United States, XMotors.ai held a permit for testing self-driving cars from the California Department of Motor Vehicles starting in September 2018. The permit was revoked in February 2020 due to Xpeng's failure to submit a disengagement report.
Xpeng started production of its first model, the Xpeng G3 SUV, in November 2018. It launched the G3 in December 2018 at the 2018 Consumer Electronics Show in Las Vegas.
Its second model, the P7, a four-door electric sedan, premiered in April 2019 at the 2019 Auto Shanghai show and started deliveries to customers in June 2020."
Although there is not much data on the chart from the IPO, I believe there is enough to analyze the Medium term view, lets dig in!
Xiaopeng Elliottwave View: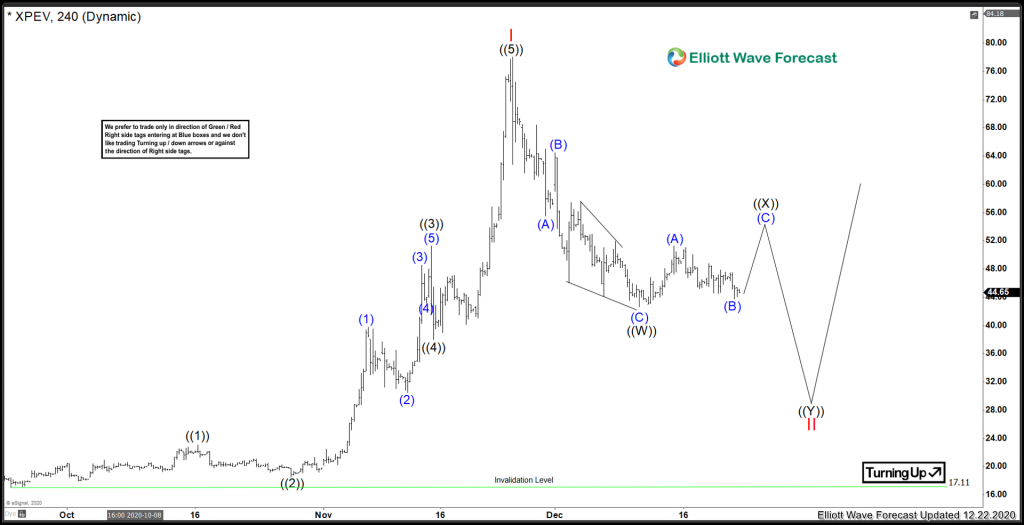 Medium term term view from the all time low in September 2020.  There is a  5 waves impulse that peaked on 11/22/2020 @ a high of 78.00.  This peak comes with divergence in momentum RSI.  This is a common occurrence with impulsive waves. After Red I peaked, the stock has been in a steady downtrend ever since.  The low in black ((W)) never reached equal leg of blue (A) and (B).  It did find a low between the 50% to 61.8% retrace of the all time low to the recent high.  This is an area where a wave 2 can find support.  It is possible that Red II is already set, but since prices did not reach equal leg. So further downside in a double correct may take place.  Currently, expecting a Blue (C) of ((X)) to take place before further downside.
In Conclusion, this stock has the possibility of already setting a low in Red II. Take not that the momentum has been strong to the upside.  However,  allowing for further downside in the possibility of a double correction is still possible.
Risk Management
Using proper risk management is absolutely essential when trading or investing in a volatile stocks.  Elliott Wave counts can evolve quickly, be sure to have your stops in and define your risk when trading.
Improve your trading success and master Elliott Wave like a pro with our 14 day trial today.  Get Elliott Wave Analysis on over 70 instruments including GOOGL, TSLA, AAPL, FB, MSFT, GDX and many many more.
Back