Consumer Staple Sector (XLP) is Underperforming
Consumer Staples Select Sector SPDR ETF (XLP) is a basket of 34 companies in the consumer staple sector from the S&P 500. The fund's holdings are nearly all large-caps. This sector usually shows comparative strength during period of market turmoil. They have also been a popular choice for income because they have good track record and high dividend. This is more so especially in ultra-low interest rate environment in the past 8 years. However, it's no longer the case now as the Federal Reserve continues to raise rates and bond yields approach 3%
XLP is now down 17% since the beginning of the year. It's the worst performing sector in the market by a large margin. More than 75% of consumer staple stocks are in red this year, such as General Mills Inc (GM), Procter & Gamble (PG), and PepsiCo (PEP).

On April, XLP lose 3% due to the big hit in the tobacco industry. Philip Morris (PM) dropped 16% after it reported less than expected cigarette shipment and sales in Japan market was struggling. Shares of Procter & Gamble Co (PG) also dropped to 52-week low after disappointing third quarter report on higher transportation and commodities cost.
XLP Long Term Chart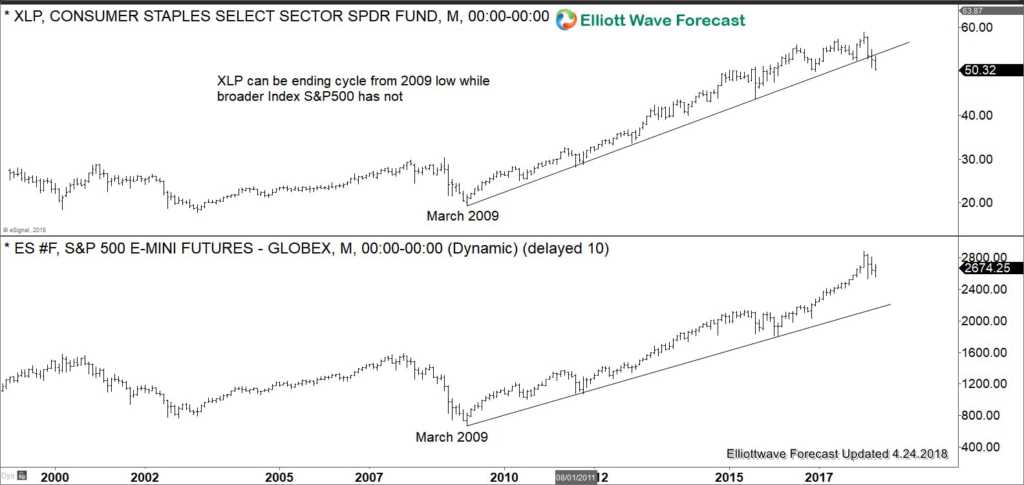 An overlay of XLP Consumer Staple Sector and broader market represented by S&P 500 e-mini Future (ES_F) shows that they both formed low on March 2009. We can see that XLP rally has been lagging compared to the broader market since year 2016. Today, XLP broke the trend line channel from March 2009 low while ES_F has not. This suggests under-performance in the consumer staple sector relative to the broader market.
XLP Bearish Sequence from Jan 29, 2018 high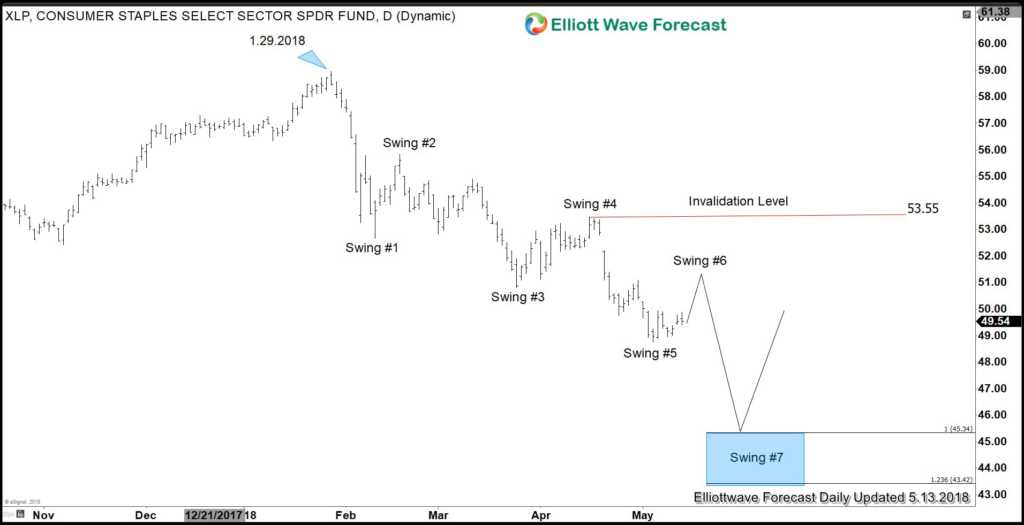 On April 6, we wrote an article "Trade War's Uncertainty May Limit Market's Strength" and highlighted three sectors with bearish sequence: XLP (Consumer Staple Sector), XLV (Healthcare Sector), and XLF (Financial Sector). XLP is showing an incomplete bearish sequence from Jan 29, 2018 high, favoring further downside to $43.4 – $45.34 area.
For further Elliott Wave technical analysis, take our 14 days FREE trial to get updates to Elliott Wave charts for 78 instrument, access to trading signal, 24 hour chat room, live sessions and more. Welcome to EWF
Back