Walgreens Boots Alliance (NASDAQ: WBA) is the second-largest pharmacy store chain in the United States. The drugstore chain will be listed in the Dow Jones Index replacing General Electric and a lot of expectation for the stock price to rise in future has come up recently following that news.
We believe the market is ruled by technical aspect and the news is an after-fact event to drive the market into the pre-determined direction, that's why understanding the nature of the market is key for traders which have nothing to do with fundamentals or events.
Taking a look at the technical Elliott wave monthly chart of WBA, the stock is only showing 3 waves from all time lows which ended at 2015 peak $97 and down from there it did 3 swing pullback which reached 100% area $62.29 from where it's expected to resume the rally higher in wave (V) or at least bounce in 3 waves. The expected move higher in WBA would take it toward $105 – $119 area and it will become an impulsive 5 waves move to the upside making new all time highs.
Walgreens Monthly Chart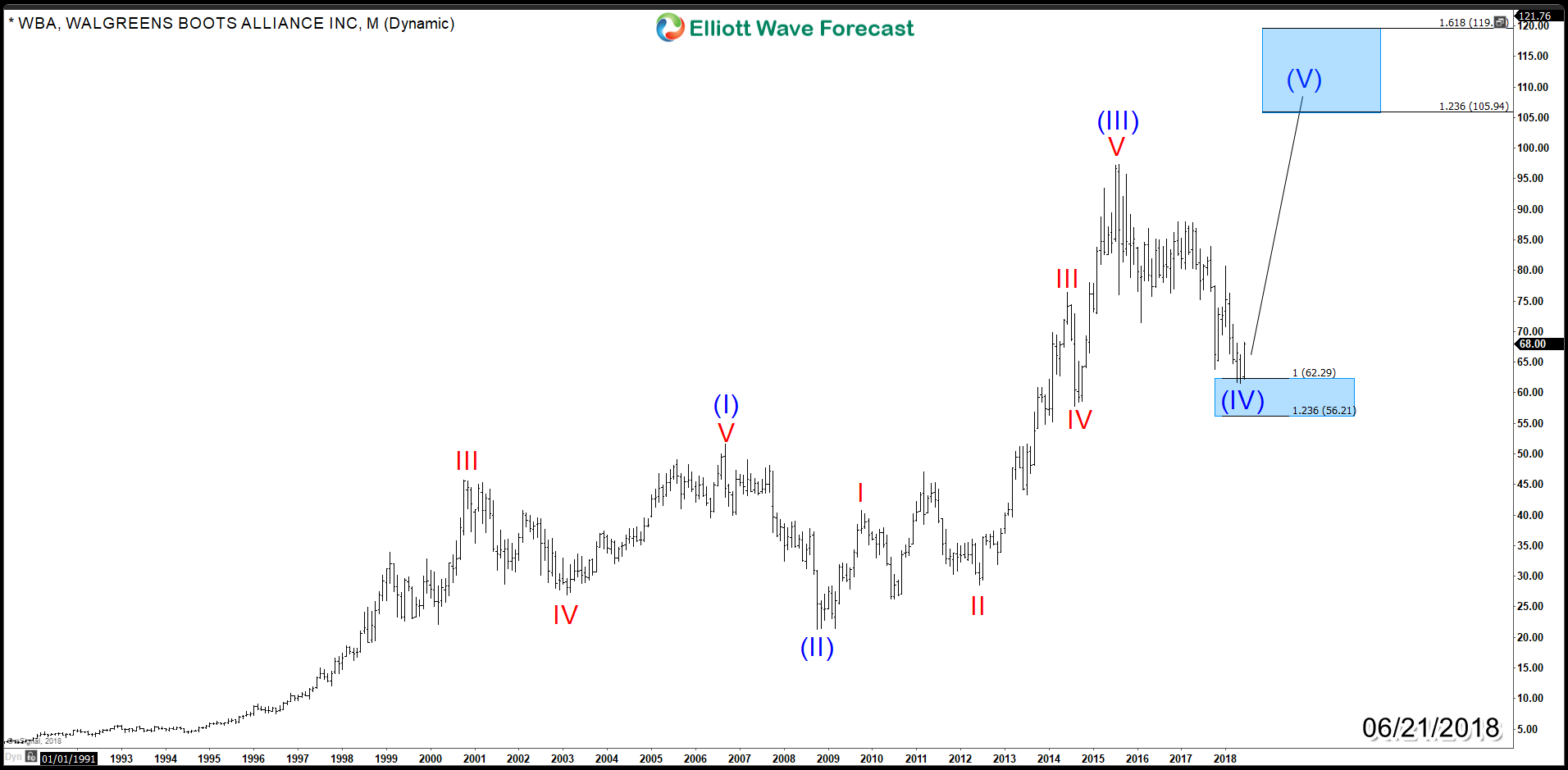 Recap:
Walgreens technical picture is supporting the stock to rally higher after it ended the correction in wave (V), so the stock being added to the Down Jones index is only going to fuel the expected move to upside which will represent a good long term investment opportunity for the coming months.
---
For further insights about the Stock Market try our services 14 days to learn how to trade our blue boxes using the 3, 7 or 11 swings sequence. You will get access to our 78 instruments updated in 4 different time frames, Live Trading & Analysis Session done by our Expert Analysts every day, 24-hour chat room support and much more.
Back