Virgin Galactic is an American spacieflight company providing suborbital flights to space tourists. With reservation price of $450'000, in November 2021 there were as many as 700 active reservations. The company aims to see 3 launches per month starting 2023. Founded 2004 and headquartered in Mojave, California, USA, Virgin Galactic is a part of Russel1000 index. One can trade it under the ticker $SPCE at NYSE.
Virgin Galactic Weekly Elliott Wave Analysis 05.29.2022
The weekly chart below shows the Virgin Galactic stock $SPCE traded at NYSE. From the all-time lows, the stock price saw an initial cycle higher in wave (I) of super cycle degree towards the all-time highs on February 2021 at 62.80. Within that larger cycle, the red wave III shows an extension beyond 2.618 as related to the wave I. The sideways price action from February 2020 to January 2021 might be seen as an Elliott wave triangle in wave IV.
From the all-time highs in February 2021, a correction lower in wave (II) has unfolded as a regular flat being 3-3-5 structure. First, 7 swings of red wave a have seen a low in May 2021 at 14.27. One should note that 7 swings are technically the same as 3 swings. Then, 3 swings of red b have provided a connector wave towards 57.51 high. From there, red wave c lower is showing 5 waves of an impulse. It has reached already 9.00-0.00 equal legs extension area. On its own, wave c can still extend deeper. However, based on world indices, we call the wave c already finished on May 2022 at 5.14. While above there, a new cycle in wave (III) might just have started.
Investors and traders can be looking to buy Virgin Galactic from 9.00-0.00 area targeting 67.86-106.64 area and even beyond.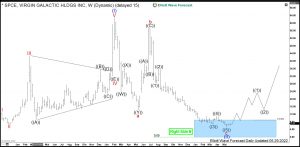 Get more insights about Stocks and ETFs by trying out our services 14 days . You'll learn how to trade the market in the right side using the 3, 7 or 11 swings sequence. You will get access to our 78 instruments updated in 4 different time frames, Live Trading & Analysis Session done by our Expert Analysts every day, 24-hour chat room support and much more.
Back