The last time I covered this stock (article here) I was looking for a bit more upside to take place before pulling back.  The market decided the larger pullback was happening sooner than anticipated.  So lets take a look at the new view.
It should be noted that there are some company events taking place this month, notably, the $TYDE share dividend spin off.  This event is happening later this month and may be providing a catalyst for the coming weeks ahead.
Vinco Ventures Ellliottwave View: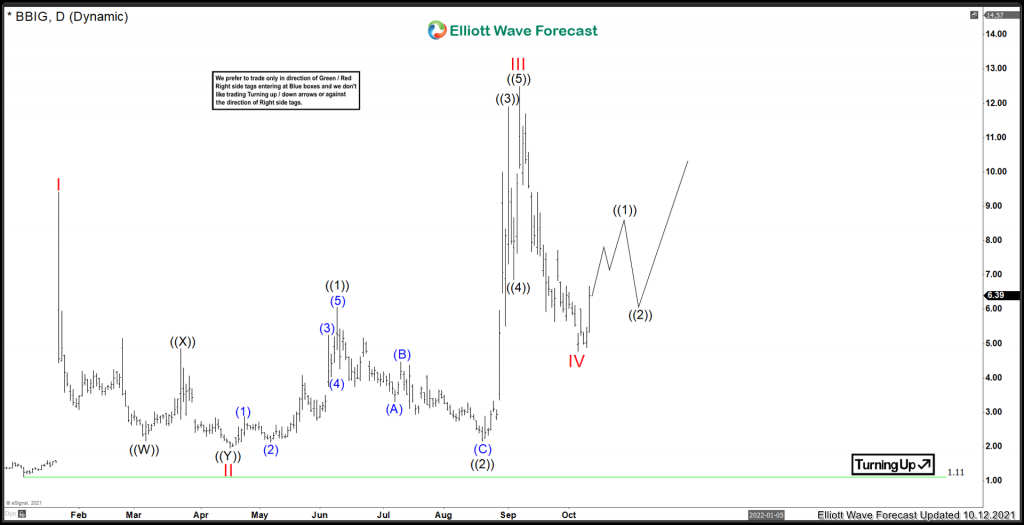 The view remains largely the same for Vinco Ventures, as the last time I looked at the chart.  The bigger change is that a larger pullback has taken place in Red IV.   The IV low is favoured to be set on Oct 6/2021 @ 4.77 low.  Right now, a 5 waves move higher into ((1)) is favoured to take place.  Currently the advance from the Oct 6 low is favoured to be in the middle of a wave 3 advance.  After ((1)) and ((2)) are set the stock should be ready for a larger wave ((3)) higher.
With these meme stocks, it is important to expect extreme volatility, and to use correct position sizing.
Risk Management
Using proper risk management is absolutely essential when trading or investing in a volatile stocks.  Elliott Wave counts can evolve quickly, be sure to have your stops in and define your risk when trading.
Improve your trading success and master Elliott Wave like a pro with our 14 day trial today.  Get Elliott Wave Analysis on over 70 instruments including GOOGL, TSLA, AAPL, FB, MSFT, GDX and many many more.
Back