Verizon Communications Inc., commonly known as Verizon, is an US American telecommunications giant. Founded in 1983 as Bell Atlantic, it is a result of the break up of the Bell System into seven regional Baby Bells. Headquartered in New York, USA,  Verizon is a part of DJIA, S&P100 and S&P500 indices. One can trade it under the ticker $VZ at NYSE.
Verizon Monthly Elliott Wave Analysis 07.27.2022
The monthly chart below shows the Verizon stock $VZ traded at NYSE. From the all-time lows, the stock price has developed a grand super cycle in black wave ((I)) towards the all-time highs on October 1999 at 64$. Hereby, the middle part in red wave III of blue wave (III) shows a separation which is a typical feature of an impulse wave.  From the October 1999 highs, a correction lower in black wave ((II)) has found its bottom in October 2008 at 21.56 low. From there, a new cycle within wave ((III)) has started and is currently in progress. The target for wave ((III)) will be 85.66-125.31 area and possibly higher.
A closer look on the wave ((III)) reveals that Verizon develops an initial nest before acceleration higher can take place. Hereby, wave (I) of super cycle degree has ended in December 2019 at 62.22. From the highs, a pullback in wave (II) should find support in 3, 7, 11 swings above 21.56 lows. Then acceleration higher in wave (III) of ((III)) should take place.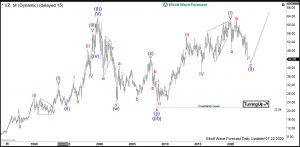 Verizon Weekly Elliott Wave Analysis 07.27.2022
The weekly chart below shows in more detail the pullback in blue wave (II). It shows 3 swings either as a regular flat or as an Elliott wave zigzag pattern. Hereby, the 3rd swing should be in 5 waves. First, the cycle in red wave a has ended in March 2020 at 48.84 lows. From there, a bounce in connector wave b has printed a top in November 2020. From there, the price has broken the 48.84 lows opening up a bearish sequence. The minimum target has been reached, but the pattern looks incomplete. The ending diagonal can still see more downside within waves ((3))-((5)) of red wave c.
Investors and traders can be looking to buy Verizon in pullback from 48.60-40.32 area for long-term strength or for a bounce in 3 waves as minimum. The target for wave (III) will be 62.22 and higher.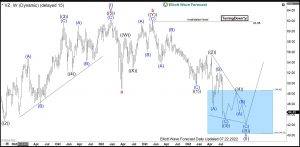 Get more insights about Stocks and ETFs by trying out our services 14 days . You'll learn how to trade the market in the right side using the 3, 7 or 11 swings sequence. You will get access to our 78 instruments updated in 4 different time frames, Live Trading & Analysis Session done by our Expert Analysts every day, 24-hour chat room support and much more.
Back