U.S. stock market surged as November Nonfarm Payroll came out strong at 266,000. Unemployment rate also fell to 3.5%, which is at 50-year low since 1969. The result smashed the consensus expectation of 185,000.  Stocks leaped higher after the blockbuster number as the US economy is firing on all cylinder. There was initially some concern as the ADP report on Wednesday was disappointing. However, the Friday's job report squashed any lingering worry about imminent US recession.
US Nonfarm Payrolls Dec 2016 – Dec 2019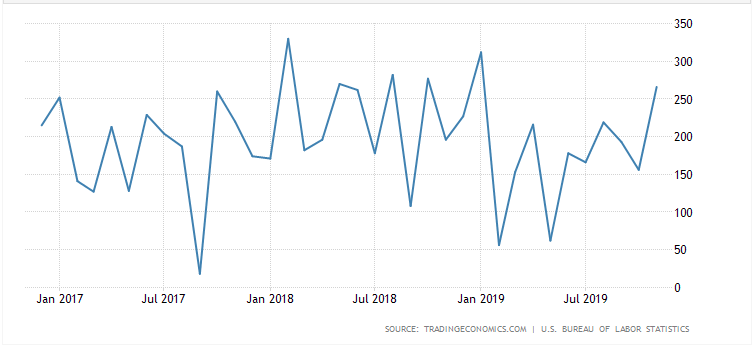 For the Fed, the blockbuster number should signal that jobs remain strong to sustain the expansion. For President Trump, it likely reduces the urgency for a trade deal with China despite possible tariff increase on December 15. The ongoing US and China trade war has not negatively impacted the US labor market in any material way. It's true that the return of General Motors workers from lengthy strikes partially inflate the number. However, other sectors such as health care, leisure and hospitality, and business service also gained. In addition to the solid gains in November, there was a higher revision from previous two months job totals.
US unemployment Rate at 50 year low since 1969
The chart above shows how impressive the job number and unemployment rate is. Average hourly earnings also slightly beat expectation at 3.1% vs 3.0%.
U.S. Stock Reacted Higher – S&P 500 (SPX) Bouncing Strongly from the Blue Box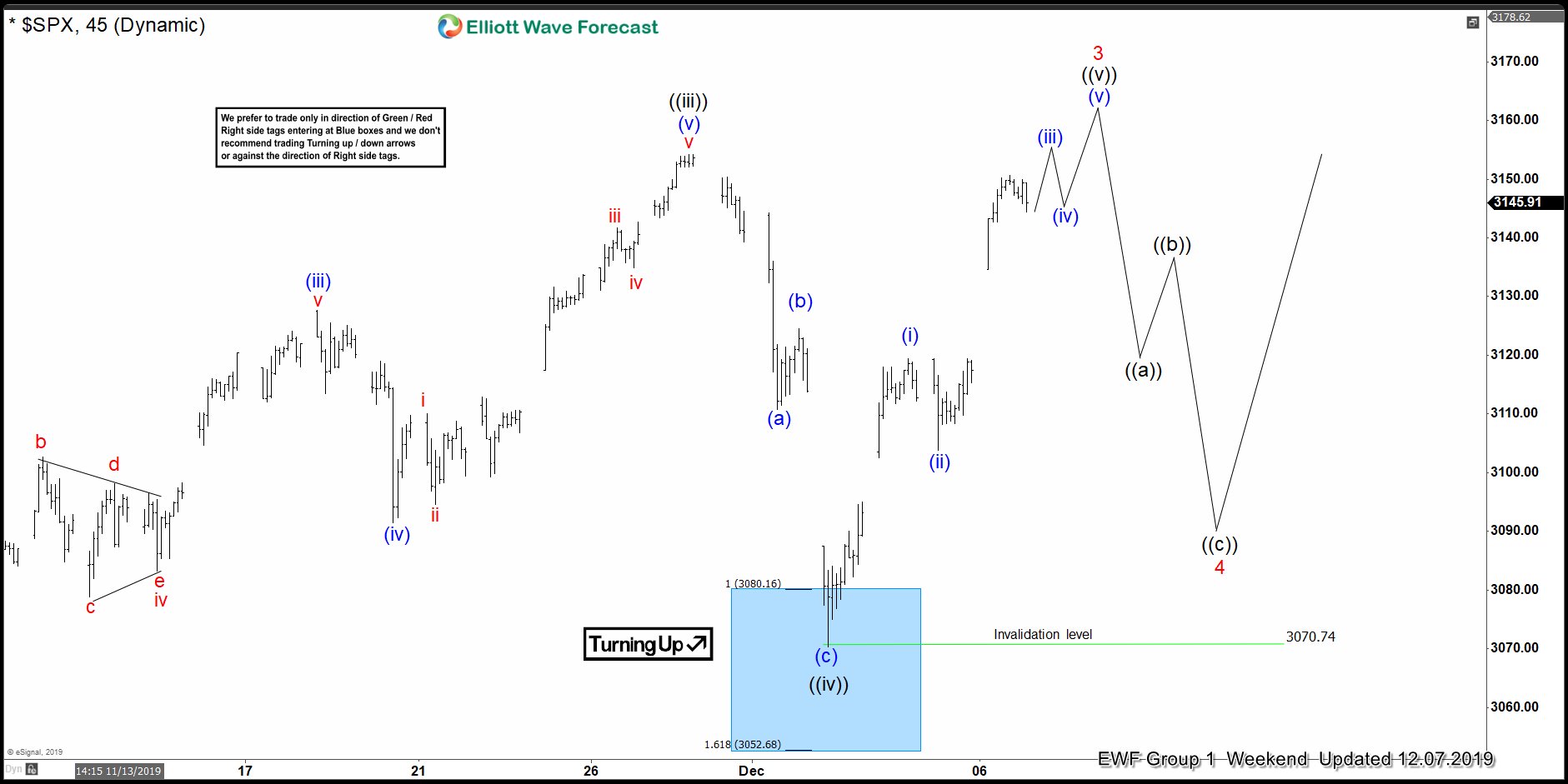 S&P 500 last week did a 3 waves pullback in the form of a zigzag Elliott Wave structure. The Index then rallied strongly after ending at the blue box inflection area where wave (c) of ((iv)) is equal to wave (a) of ((iv)). The Index now should continue to extend higher in wave ((v)) of 3. Afterwards, it should pullback in wave 4 which still remains supported in 3, 7, or 11 swing for more upside.
Russell 2000 (RTY_F) shows Bullish Sequence from Dec 2018 Low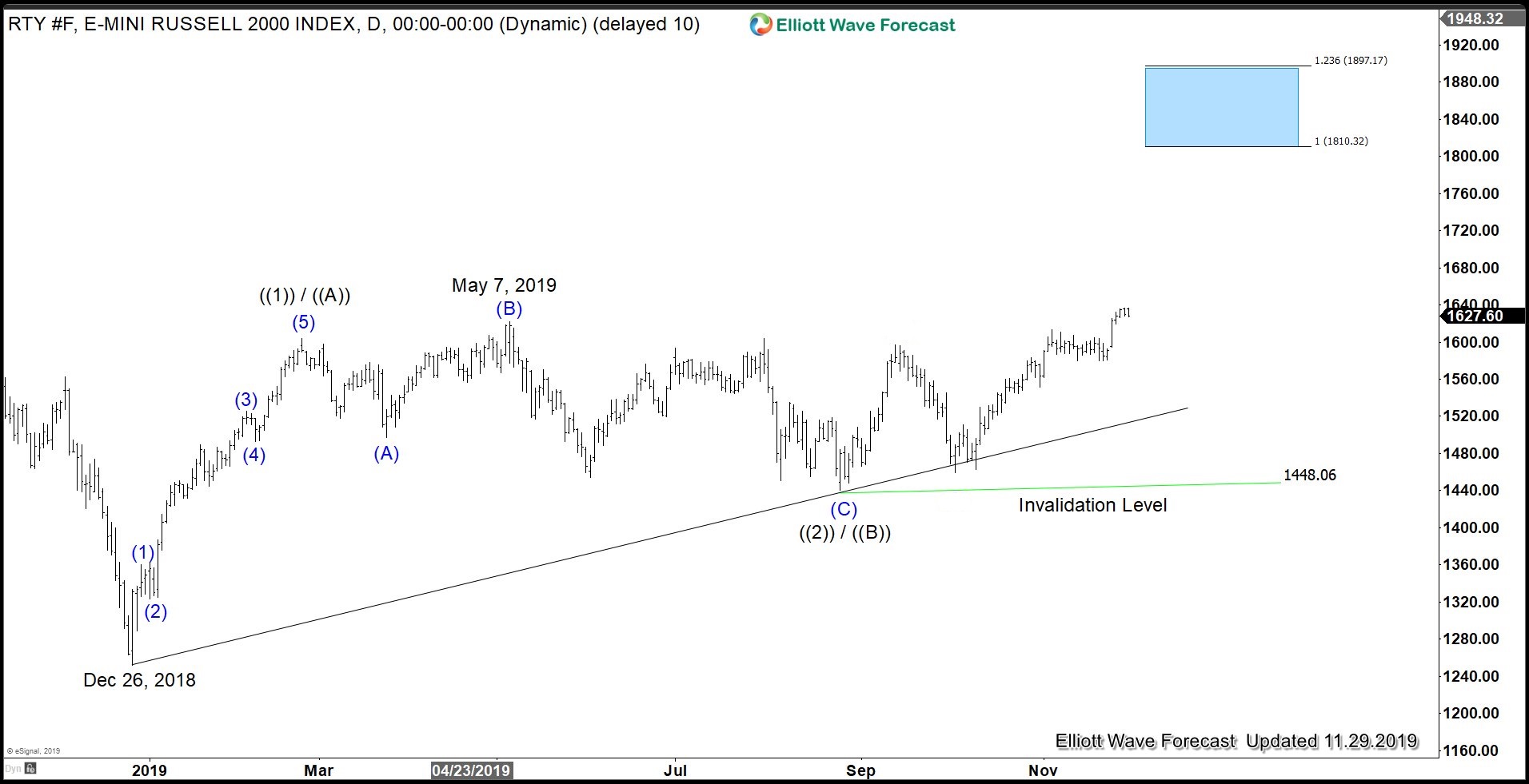 In our previous article "Global Indices should remain resilient despite geopolitical threat" we highlighted the bullish sequence in Russell 2000 above.  The break above May 7, 2019 high two weeks ago opened a bullish sequence from December 26, 2018 low, favoring further upside in the Index.
For further technical updates in US Indices, stocks, forex, or commodities, please join us 14 days for Free –> 14 Days FREE Trial. We provide regular Elliott Wave chart update, live sessions, Live Trading Room, and more in our service.
Back