SportsWear Market Analysis
When people talk about Sportswear , you will always hear either Nike or Adidas as they are the most used brands in the world despite other known names like Puma , Asics or Converse . Nike established it self as the world's leading innovator in sports related footwear, clothing, tools and accessories beating Adidas which is the largest sportswear manufacturer in the European Continent . However in 2014 , Under Armour ( American sports clothing and accessories company ) managed to surpassed Adidas by U.S. sales to claim the No. 2 spot in the sportswear market behind Nike which put a lot of pressure on Adidas that finally managed last year to reclaim it's second spot in U.S with impressive gains in sales and operating profit .
The leader Nike (NYSE: NKE) and the new challenger Under Armour (NYSE:UAA) had a rough 2016, at least in terms of share price performance compared to Adidas (NASDAQOTH:ADDYY) which managed to close at +64.5% . Nike down -16% is the Dow's worst performer for last year and Under Armour closing at -30% was its worst 1 year decline so what can we expect from these companies for the coming year 2017 and which one is better for investing ?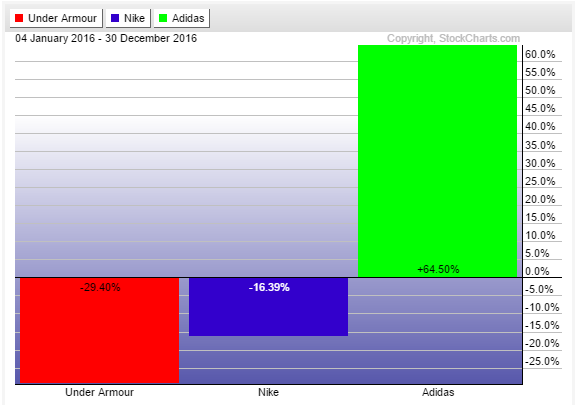 Nike & Adidas has always been far larger companies than Under Armour , but the move to the top-list putt the young company under the spotlight with a lot of expectation . During 2016 , the company managed to sign huge agreement & contract with NCAA , MLB & NASL which will boost the company for the next 10 to 15 years so despite a disappointing performance , Under Armour remains on track to reach its goal of $7.5 billion in sales by 2018 which represent annualized growth of about 23.5% putting it ahead of Nike & Adidas . Consequently I'm favoring UAA for a stronger recovery and better performance for the coming years and to confirm this view we need to take a look at the technical picture .
Under Armour ( UAA ) Elliott Wave Analysis
The monthly chart is showing that UAA is still correcting the cycle from 2009 low and currently doing a double three correction ( WXY ) from the peak explaining the poor performance in the last 2 years . The pullback can still reach 50%-61.8% area of the rally around $27.22 – $21.12 , so unless the company goes broke , the stock should at least bounce in 3 waves against 2015 peak if not resuming the bullish trend for new highs .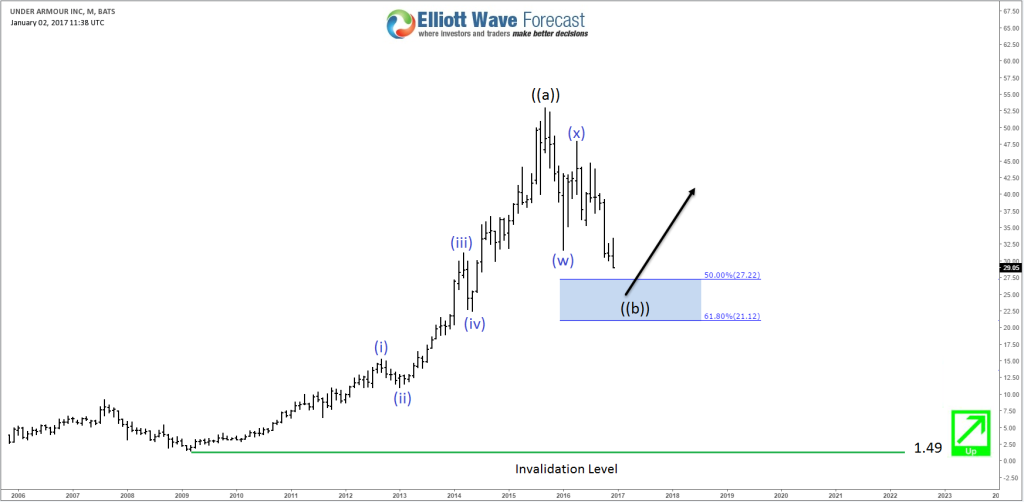 The tricky part about the correction is that it can take many different form of structures . In this case the equal legs area from the peak coming at $26.53 – $21.42 could either end the whole correction from the 2015 peak or just bounce in the second connector wave (x) against last year peak before doing another leg lower as a triple three ( WXYZ ) . But in both cases a bounce is expected to happen from the inflection area .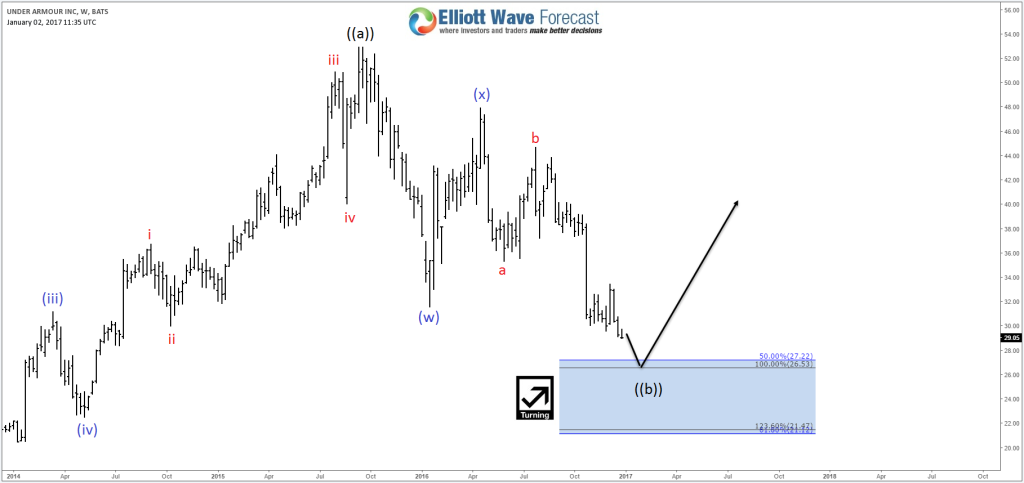 An alternative scenario is proposing that UAA could be doing a Flat from 2015 peak and currently is only ending wave iii of (c) which mean the coming bounce won't be that strong as the stock still need another 5th leg lower before ending wave ((b)) when the larger bounce should happen .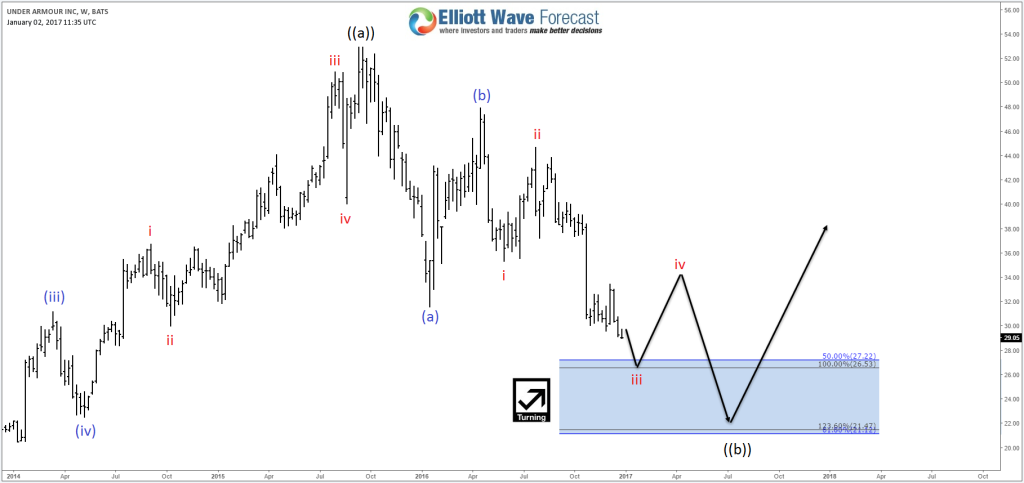 Recap
Having a negative year in the stock market doesn't necessary mean that the company is doomed as healthy corrections happens all the time which is how the market works .  So the Sportswear sector will keep growing each year with the giants Nike & Adidas leading the pack but Under Armour is ready to make the big move so it's better to watch it closely as the company has a better growth prospects in the coming years .
If you enjoyed this post, feel free to read other articles at our Technical Blog and also check our Chart of The Day . For further information on how to trade forex, indices, commodities and stocks using Elliott Wave technique ,  try us 14 days for FREE . You will get access to our Professional Elliott Wave analysis in 4 different time frames, Daily Elliott Wave Setup Videos , Live Trading Room and 2 Live Analysis Session done by our Expert Analysts every day, 24 hour chat room support, Weekly Technical videos and much more so if you are not a member yet, use this opportunity and sign up to get your FREE trial .
Back