The Star Group Inc. NASDAQ:TSG is Bullish in the Weekly, the reason we recommend keep buying the dips for extension higher.
Starting with the company's profile. The Stars Group Inc. provides technology-based products and services to the global gaming and interactive entertainment industries. The company owns & operates gaming and related interactive entertainment businesses under the PokerStars, PokerStars Casino, BetStars, Full Tilt, StarsDraft, the PokerStars Championship, and PokerStars Festival live poker tour brands. Known as Amaya Inc, the Inc. founded in 2004, changed names in August 2017 and headquartered in Montréal Canada.
TSG Bullish in the Weekly
Starting with the Weekly chart. The stock will create a bullish incomplete sequence from the ((b)) lows at 9.65 when break above the recent peak at 20.30's. Then we will be looking for the next move towards the 22's – 24's zone; the 61.8% – 76.4% extension of the first swing in W.
Dips from that area should be bought in 3, 7 or 11 swings. The 9.65 lows is the invalidation area and target the next equal legs – 1.236% extension to the 26.55 – 29.10 area to complete wave (I).
TSG Bullish in the Daily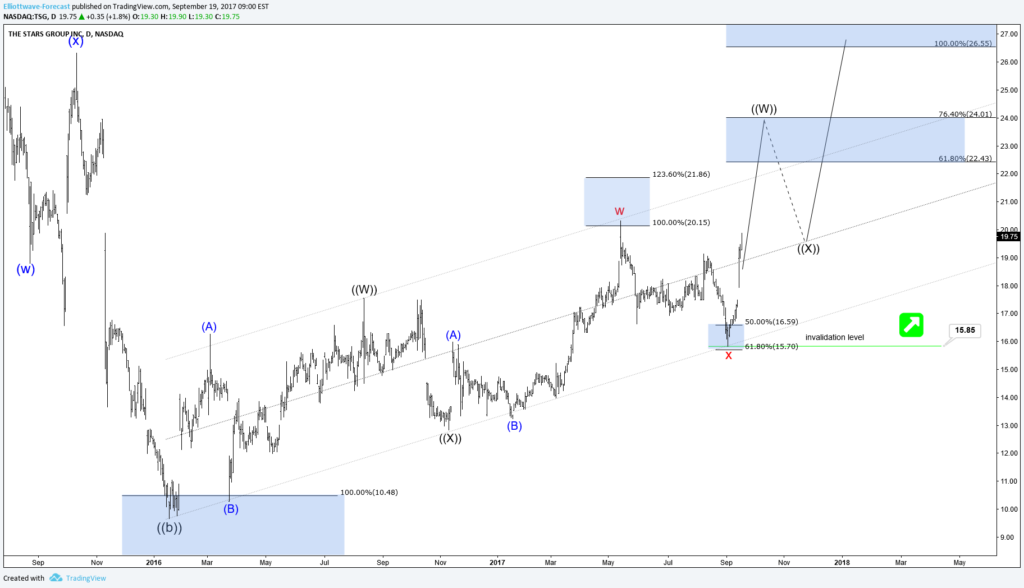 TSG Bullish in the DailyIn the Daily time frame the stock looks very strong as well. According to Bloomberg.com, The Stars Group Inc. Announces Additional $75 Million of Debt Prepayment Sep 15, 17
The Stars Group Inc. announced that it will prepay without penalty an additional $75 million under its second lien term loan using cash on the balance sheet and cash flow from operations. -Following this prepayment, The Stars Group will have repaid $115 million of its second lien debt thus far in 2017, resulting in a total reduction in annual interest expense of approximately $9.5 million, and reducing the principal balance of the second lien term loan to $95 million.
At this stage we would like to see an extension above the w red highs at 20.30's. Above the 20.30's, short cycles validation for the extension up in the 7th swing from the ((b)) lows. Short Term dips in the 4 Hour and 1 Hour time frames should be bought after 3 7 or 11 swings for the first target to the 61.8% – 76.4% extension.
Around the 22's 24's TSG should do a pull back in ((X)) to give us the opportunity to enter again the Long side. Target the weekly extension to the equal legs – 1.236% zone.
If you would like to learn how to trade the 3 7 or 11 swings or would like to fine tune the trade in the lesser degree time frames we are almost certain you will enjoy our new plan covering 13 Stocks & 13 ETFs. We provide Daily Technical Analysis in the Weekly, Daily, 4 Hours and Hourly time frame.  Trading opportunities, Live Sessions and many more.
Limited time only: 14 Days Trial for $9.99
Back