What do you get when you combine a Chinese based online game operator, with Bitcoin mining? You get a powerful trending stock called The9! This stock is currently on a high momentum run.  Before we move further, lets take a look at the company profile:
"The9 Ltd. is a Shanghai-based online game operator which had the exclusive licence to operate and distribute World of Warcraft in China (launched in June 2005, it has since become the largest online game), a licence it secured after successfully aiding Webzen Games with the distribution of Mu Online in China. However, in April 2009, Blizzard said that the licence has been moved to NetEase.com.
Recently, the company has announced the purchase of Bitcoin Mining machines, entering into the Crypto space.  After taking delivery of all machines purchased, it will have a total of 800PH/S mining power "
The chart is acting fairly clean, lets dig in!
The9 Elliottwave View: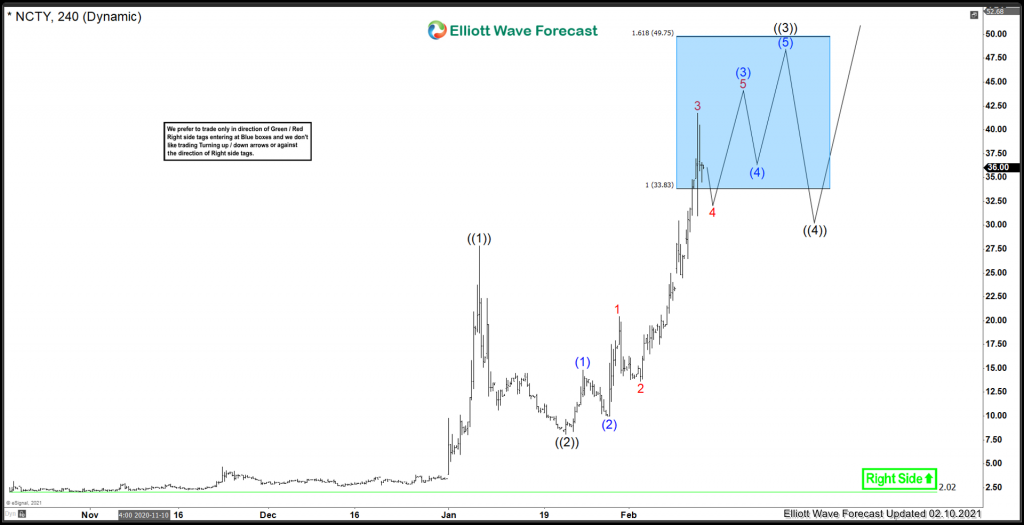 Since there isn't really a lot of data to work with this is just a medium term term view from the low set at 2.02 in October 2020.  NCTY was in a sideways consolidation before surging to a wave ((1)) peak set at 27.82 on Jan 7, 2021. After that, a sharp decline resulted in a 70% decline from the peak, which formed the wave ((2)) low.  From that wave ((2)), the instrument began to form a series of nests.  After the nests were set a very impulsive rally followed.  Presently, it is favoured that red 3 has peaked in the extreme area for a pullback in red 4.
There are many more swings to complete the sequence to the upside but the extreme area is where buyers and sellers may start to fight.  This can cause pries to be a little choppy.  With this said, the 161.8 extension area at 49.75 could be an area where ((3)) peaks for a correction in ((4)).  The9 is following Bitcoin fairly accurately, so keep an eye on the Bitcoin also for clues as to where this instrument may be headed.
Risk Management
Using proper risk management is absolutely essential when trading or investing in a volatile stocks.  Elliott Wave counts can evolve quickly, be sure to have your stops in and define your risk when trading.
Improve your trading success and master Elliott Wave like a pro with our free 14 day trial today.  Get free Elliott Wave Analysis on over 70 instruments including GOOGL, TSLA, AAPL, FB, MSFT, GDX and many many more.
Back