American Express

There was no market crash after the US Election results , " Trump Rally " that's what everybody is calling it as US indices and US Dollar surged higher doing the best rally that market have seen in years with many instruments hitting new all time highs like ( SPX & DJIA ) and others making multi-years new highs . It's almost green all over the stock market and investors are still hungry for more gains , so with the flow of money popping everywhere the financial sector saw it's largest 2-week gain since Aug 09 with bank stocks outperforming any other post-election period for a first term president .
American Express Co. ( NYSE:AXP ) shares made a new 52-week high managed to recover the loss seen early this year , AXP which represents 2% of the XLF ( Financial Select Sector SPDR Fund ) is only up +6.8% for this year which isn't much compared to other financial corporations that managed +20% and some of them like JP Morgan & Berkshire Hathaway is hitting new all time highs .
The weekly chart of AXP showing that the stock is still correcting the cycle from 2014 peak 96.24 and currently reaching an extreme area ( 73.16 – 84.86 ) where it should be ending 3 swings from February low 50.27 and starts pulling back to correct that cycle . Then depending of the nature and speed of the first 3 waves correction we could be able to identify the next path for the stock : either resuming higher as a double three or triple three to continue the upside move or it has ended the recover and starting the next leg to the downside .
To summarize the situation , American Express shares is still looking weak even after the strong breakout made since last month because it's now entering the dangerous area where investors should be looking to take some profits after this nice rally across the stock market so it's better to be safe then sorry .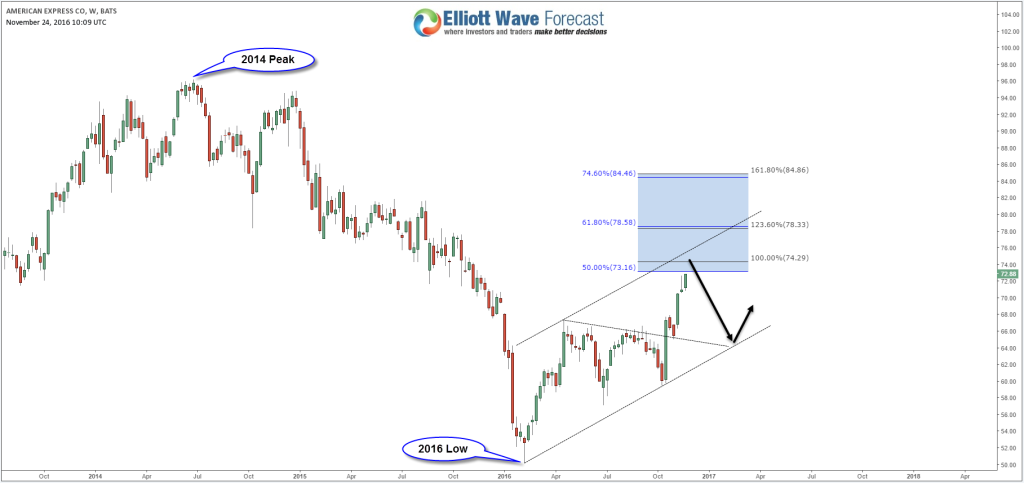 For further information on how to find levels to trade forex, indices, and stocks using Elliott Wave and the 3 , 7 or 11 swings technique,  try us FREE for 14 days. You will get access to Professional Elliott Wave analysis in 4 different time frames, Daily Elliott Wave Setup Videos , Live Trading Room and 2 live Analysis Session done by our Expert Analysts every day, 24 hour chat room support, market overview, weekly technical videos and much more so if you are not a member yet, use this opportunity and sign up to get your FREE trial . If you enjoyed this article, feel free to read other diversified articles at our Technical Blogs and also check Chart of The Day .
Back