Stoneco LTD ticker symbol: STNE is a provider of financial technology solutions that Warren Buffet recently inducted in Berkshire Hathway's (NYSE: BRK-A)(NYSE: BRK-B) holdings. The company went public in October 2018 with an initial IPO price of $24 per share. The stock, Since than rallied 110% & now soaring 55% since this year's peak seen at 4/02/2019 ($45.62) with current price floating at $28.51.
The recent plunge appears to be triggered by a move from a rival company ITAU UNIBANCO SA (NYSE: ITUB) a large Brazilian bank, said that it will begin to advance credit card payments to small and medium-sized merchants. Itau's card-processing unit will pay merchants in just two days, which is much faster than the 30-day industry standard. This could certainly put pressure on other payment processors in the Brazilian market, including StoneCo. And after today's drop, it's still up by more than 45% year to date, so it's not surprising that potentially negative news is producing a big pullback.
Technical Side
Now let's take a look at the technical side of the market, in which we will going to analyze the recent Decline from 4/02/2019 peak ($45.62). The cycle from October 2018 IPO lows ended Super Cycle degree wave (w) as zigzag structure. Down from there, Super Cycle degree wave (x) remain in progress as zigzag structure & has managed to reach 100%-161.8% Fibonacci extension blue box area of cycle degree wave a-b at $28.58-$22.12 area. And soon buyers are expected to appear in this blue box area looking for another extension higher or should produce a big 3 wave bounce at least.
STNE Elliott Wave Analysis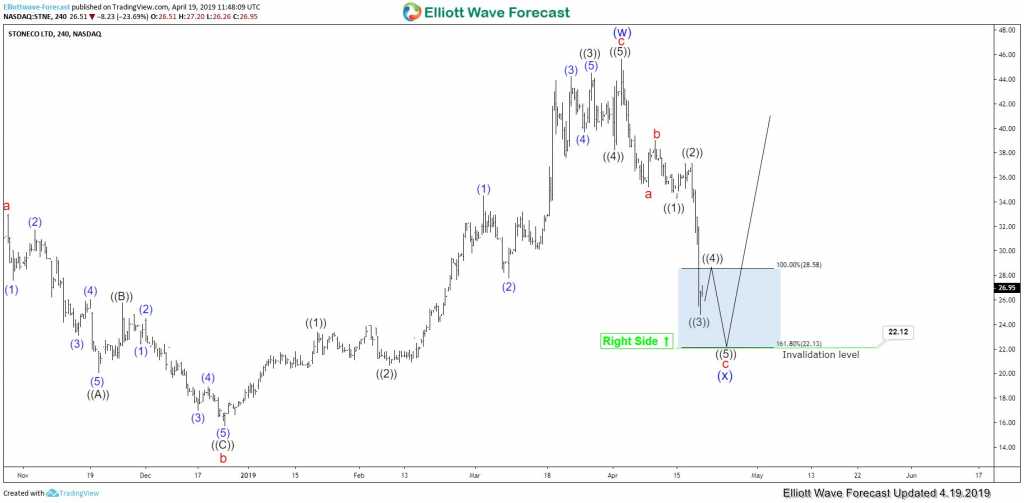 Alternatively, the above-mentioned area could end just wave "w" which would result in 3 waves bounce to correct the decline from the peak before making another 3 swings lower. Break below 161.8 Fibonacci extension at $22.12 would suggest a decline from the peak would turn into 5 waves and break below $22.12 should still be wave 3 from the peak.
STNE Alternate Elliott Wave Analysis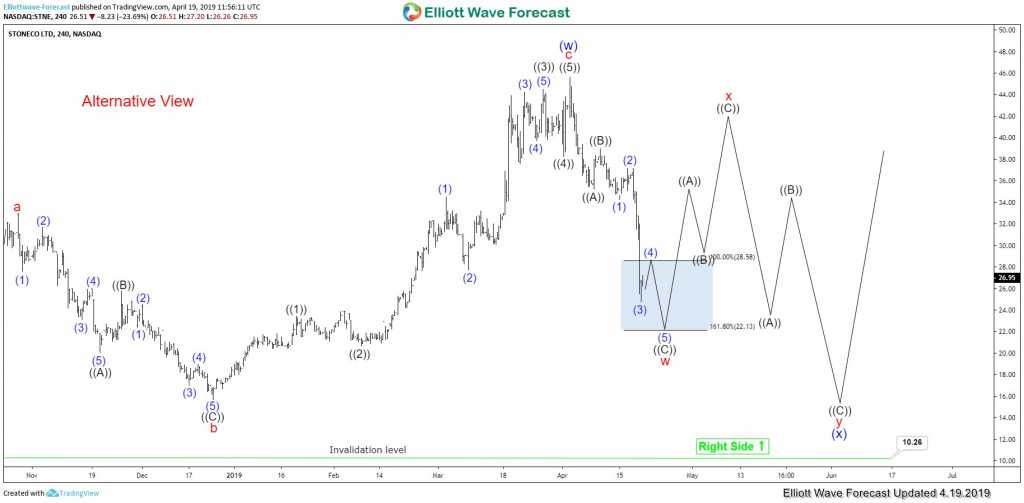 Keep in mind that the market is dynamic and the view could change in the meantime. Success in trading requires proper risk and money management as well as an understanding of Elliott Wave theory, cycle analysis, and correlation. We have developed a very good trading strategy that defines the entry. Stop loss and take profit levels with high accuracy and allows you to take a risk-free position, shortly after taking it by protecting your wallet. If you want to learn all about it and become a professional trader. Then join our service by taking a Free Trial.
Back