SunPower Corporation (NASDAQ:SPWR) is the biggest commercial solar company in the U.S. The energy company designs manufactures and delivers high-performance solar electric systems worldwide for residential commercial and utility-scale power plant customers.  Its high-efficiency solar modules and a commercial solution called Helix makes solar projects turnkey for installers, helping businesses, schools, and municipalities across the country save money by going solar.
Renewable Energy industry is booming due to climate change, so EVs, wind, and solar energy are all booming around the world and plenty of companies are growing along with them. Tesla is the names that comes to mind first, pushing EVs, energy storage, and solar forward with its grand ambitions.  First Solar and SunPower have actually installed more solar, reducing greenhouse gas emissions in the electricity sector.
Solar energy is playing an increasingly important role in how the world is powered. Over the past five years, despite the drop in the costs to produce oil and natural gas, twice as much capital has been invested in developing renewable / clean energy than fossil fuels on a global basis which shows how much the trend is shifting in Greens favor.
U.S. solar installations rose 8% hitting another record versus a year ago to 2,387 MW, or enough to power 391,000 homes. Utility solar led the way with 1,387 MW, 437 MW comprised commercial installations, and 563 MW of residential solar was installed.
U.S. Solar Installations 2017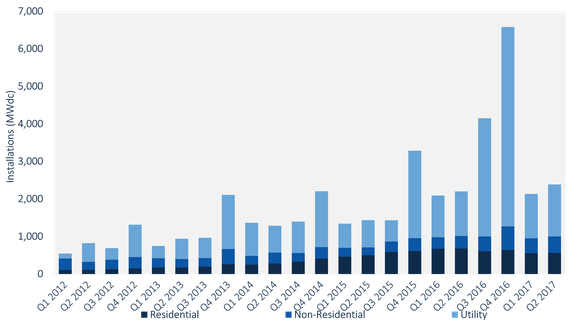 Utility solar, which still accounts for over half of the U.S. solar market, is facing an overall decrease in installations as the record pace of 2016 subsides but in the short term it's facing a rush of installations before potential tariffs imposed by the Trump administration that could make utility solar less economical the moment they're announced. First Solar relies almost entirely on utility-scale projects and recently its stock surged +20% after the company reported third-quarter 2017 results with revenue jumping 59.6% to $1.09 billion and Net income was up 36.7%.
The residential solar market that has been dominated by Tesla's SolarCity, Sunrun and Vivint Solar is going through a major transition as large old markets like California, Massachusetts, New York, and Maryland all experience declining rooftop solar and SEIA and GTM Research is expecting a 3% drop in residential solar installations by end of this year.
Commercial solar is is the winner here, as commercial customers continue to be of growing importance for the solar industry in the U.S. Large companies are choosing to buy solar energy from developers that install projects on both rooftops as well as utility-scale projects. Installations in the commercial segment jumped 31% from a year ago to 437 MW.
SunPower have long been a leaders in the solar industry and it's been investing in new technology that's already leading the industry. However it's stock price has declined 85% in the recent 3 years !! So when is the right time to invest in the largest commercial solar company in the U.S ?  How can we read the current price weakness using Elliott Wave theory ?
SunPower SPWR Daily Chart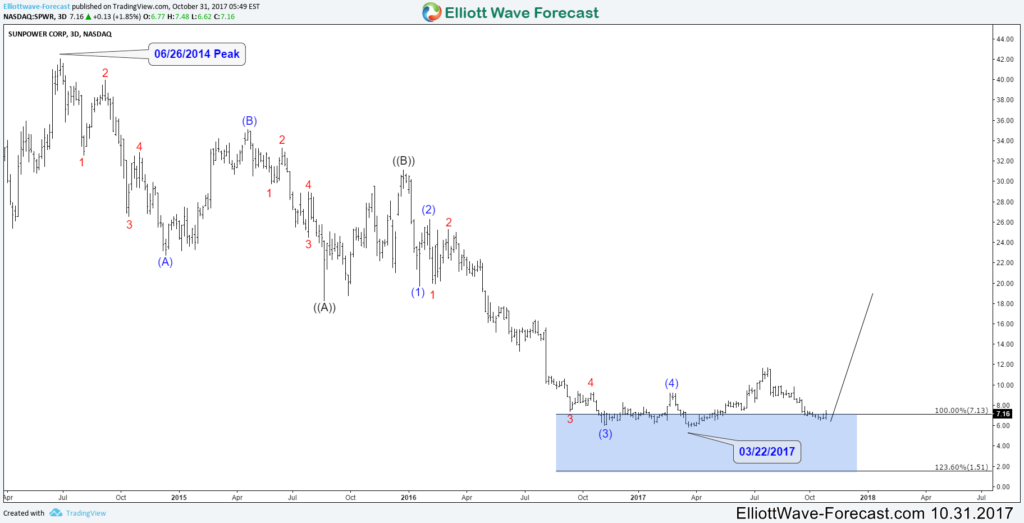 The decline from 2014 peak unfolded as 3 waves Flat structure which is a corrective sequence in the market. SPWR reached equal legs area $7.13 – $1.51 where it ended that cycle at 03/22/2017 low and it's now expected to bounce higher toward 50% – 61.8% of the decline coming around $23.9 – $28.2.
SunPower SPWR 4H Chart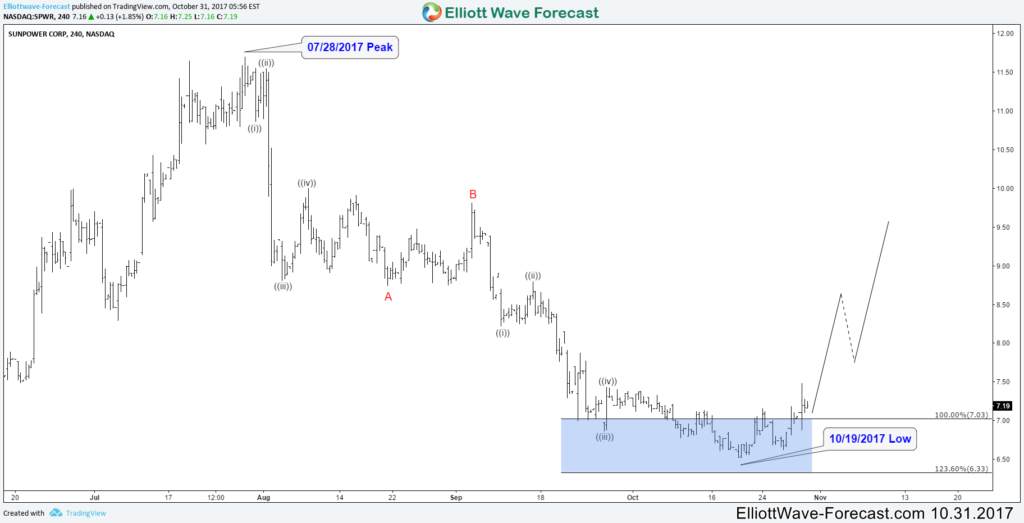 The recent drop from July peak was another 3 waves corrective structure "ZigZag" which already reached the target area at equal legs $7.03 – 6.33. Up from there, we expect SPWR to resume the rally higher or bounce in 3 waves at least.
Recap
2017 is a record year for solar energy globally. In the U.S, there is currently high demand for solar panels as installers stockpile solar modules ahead of potential import tariffs so we can see the stock price of leading company like SunPower rising significantly as the move is technically expected to happen during the next coming months.
---
We launched a new plan covering 26 Stocks & ETFs , so if you're interested in getting more insights about the Energy Sector then take this opportunity and try our services 14 days  for Free to learn how to trade forex, indices, commodities and stocks using our blue boxes and the 3, 7 or 11 swings sequence. You will get access to our 78 instruments updated in 4 different time frames, Live Trading Room and Live Analysis Session done by our Expert Analysts every day, 24-hour chat room support and much more.
Back