Many Indices traders have heard about the phrase "Sell in May and go away". We at Elliottwave-Forecast.com only trade based in the technicals  do not use any Fundamental criteria or news events in our forecast. We trade based in Cycles, Sequences, Correlations and Elliott wave. We Identify extremes in Price and also time and provide members with Ideas and areas where a turn in the Market is expected to occur. The Market is made up of sequences of Degrees or cycles which don't run forever. Many Elliott wave traders use the term Social mood but we do not, we believe in Price and Time instead. Currently, we are seeing the price of $AAPL reaching an extreme which we agree should come with many traders chasing the long trade at this levels and a very bullish market sentiment. We can see in the Weekly chart of Apple below that since the lows at 4.2013, stock did a cycle degree 5 waves advances into the peak in 4.2015, this cycle lasted 106 weeks, afterwards the Instrument dropped in 3 waves lower into 2.2016 and since then it has been doing another advance similar to the initial advance from 4.2013 lows. When we look at the price action, we can draw the following conclusions:
AAPL Weekly Chart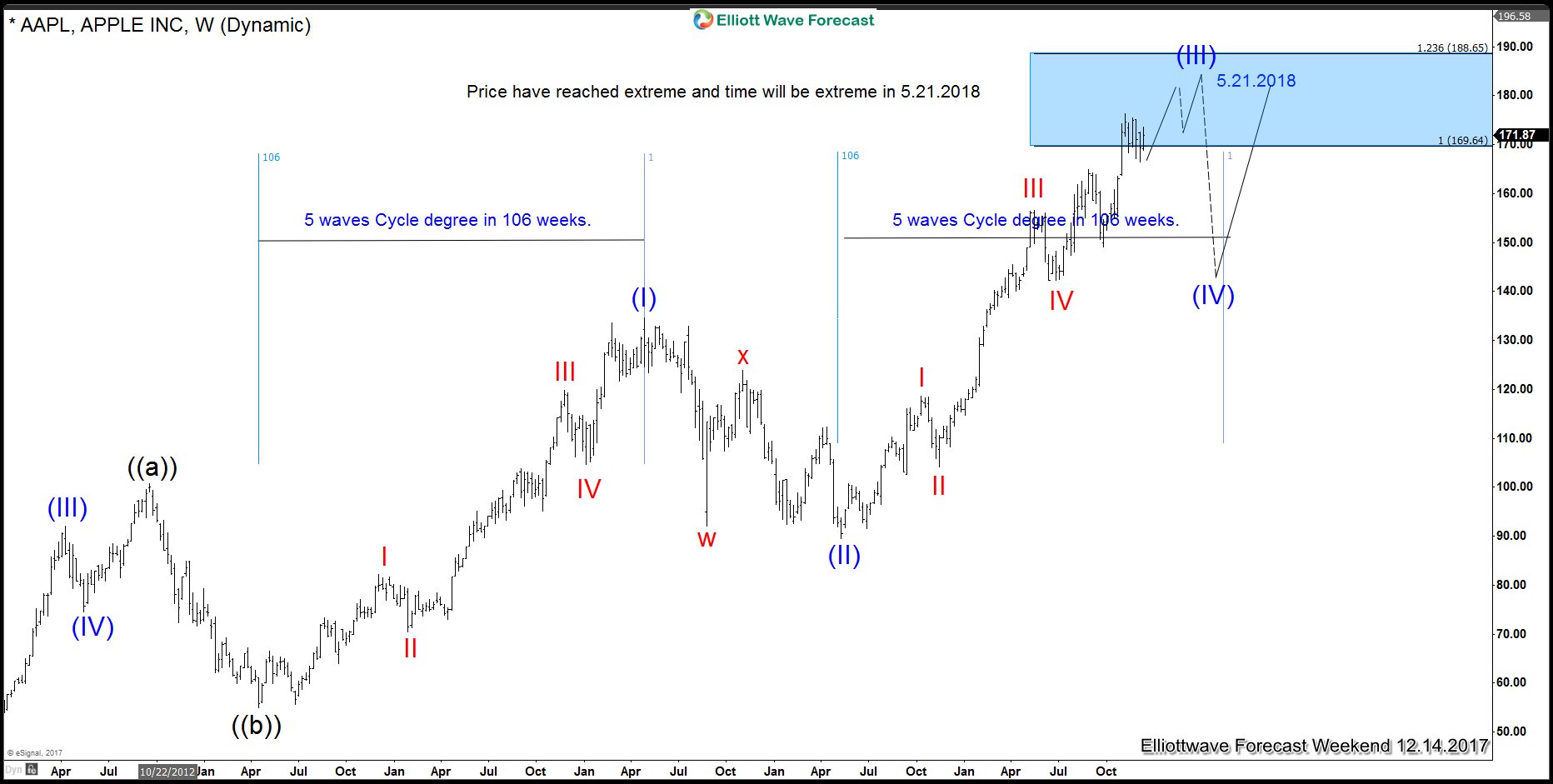 Both advances are the same degree, which in Elliott wave Theory is called the CYCLE degree.
Both advances are in 5 waves, which should provide a momentum divergence at the end of the cycle.
Both advances have reached the 100% Fibonacci extension at 169.64
Both advances should be equal in time on 5.21.2018.
After this conclusion, we need to be aware that the Price is in need of another high and the Market can take profit before the 5.21.2018 which is the perfect peak in time, but we need to understand that the Market in 2018 looks like will sell in May, just looking at $AAPL and the price action since 2013. Like we said early, many traders always say "Sell in May and go away" without any real backing of that claim. However, looks like it could happen in 2018 as we could get an extreme both in Price and Time which could make that phrase come true.
Back