SAP SE  is a multinational corporation which is well known as a producer of the enterprise software being used in managing business operations and customer relations. Founded in 1972 and headquartered in Walldorf, Germany, the company's most famous product is the enterprise resource planning (ERP) software. The company is a part of both DAX40 and of SX5E indices. One can trade under the ticker $SAP in Frankfurt and New York.
In the initial article from May 2020, we have forecasted a recovery from the fall of February-March 2020. We were right. The stock price has made a new all-time high in September 2020 at 143.32. Now, a large consolidation is taking place. Hereby, we see a correction of the October 2002 cycle. It provides, therefore, an opportunity to enter the market at interesting price.
SAP Monthly Elliott Wave Analysis 07.14.2022
The monthly chart below shows the SAP stock $SAP traded at XETRA. From the all-time lows, the stock price has developed its first significant push higher in wave (I) of super cycle degree. This impulsive move up has printed a top in September 2000 at 77.50. From the peak, the wave (II) has provided a consolidation of the stock price in 3 waves lower as a zigzag correction towards the October 2002 lows at 9.92. That level became the starting point of a larger move to the upside. The rally higher is the wave (III) of the super cycle degree. It has lasted for 18 years and has ended in September 2020. As a matter of fact, it reveals a clearly visible Elliott wave impulsive wave structure. Now, it is the preferred view that the wave (IV) is correcting the cycle in wave (III).
Within the blue wave (IV), the red wave a has ended in November 2020 at 89.93, the connector higher in red wave b higher has found a top in November 2021 at 129.74. From there, the red wave c has broken the 89.93 lows while opening up a bearish sequence. The price is expected to drop towards 76.39 at least to end the correction in wave (IV). Then, a new cycle in blue wave (V) should start.
Investors and traders can be looking to buy SAP from 76.39-43.28 area targeting 159.38-185.03 area for the next 2-5 years.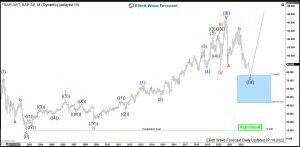 Get more insights about Stocks and ETFs by trying out our services 14 days . You'll learn how to trade the market in the right side using the 3, 7 or 11 swings sequence. You will get access to our 78 instruments updated in 4 different time frames, Live Trading & Analysis Session done by our Expert Analysts every day, 24-hour chat room support and much more.
Back