The Corona Virus has had its toll on the marketplace in general. But some select names have rallied sharply off the March 2020 lows, Penn National Gaming is one of those names.  Not only has Penn rallied from a low of 3.75 to a high of 40.46.  But it has made a new All Time High in the process.  Lets take a look at the company profile:
"Penn National Gaming owns, operates or has ownership interests in 41 gaming and racing properties in 19 states and video gaming terminal operations with a focus on slot machine entertainment. We also offer live sports betting at our properties in Indiana, Iowa, Michigan, Mississippi, Pennsylvania and West Virginia. In total, Penn National's properties feature approximately 50,000 gaming machines, 1,300 table games and 8,800 hotel rooms. In addition, the Company operates an interactive gaming division through its subsidiary, Penn Interactive Ventures, LLC, which launched iCasino in Pennsylvania and, through strategic partnerships, operates online sports betting in Indiana, Pennsylvania and West Virginia."
I am sure by now, most of you have heard of Barstool Sports founder, Dave Portnoy.  Who has also started the DDTG (Davey Day Trader Group), and has one of the more colourful personalities in the trading sphere these days. Penn National Gaming also has a 36% stake in Barstool Sports.  Lets take a look at the Elliott Wave view of Penn, it is counting clean and shows a possible opportunity for a long position in the near future.
Penn Elliott Wave Long Term View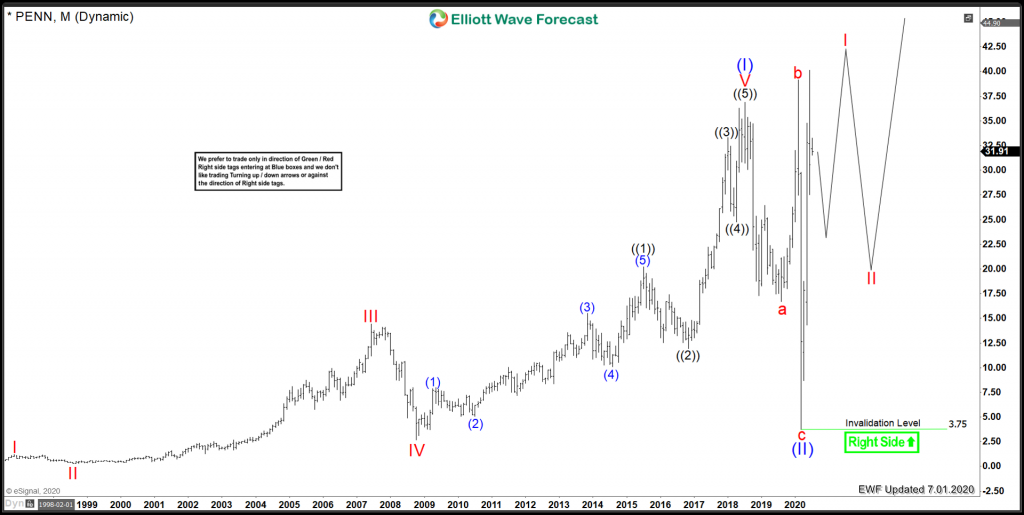 On a longer term view, Penn shows a complete 5 waves sequence into the 2018 peak.  From the Blue (I) top in 2018, Penn is favoured to have set a flat correction structure for Blue (II), which bottomed in March 2020 with the rest of the general market.  It has since gone to make new all time highs off that low which gives it a bullish sequence.  In the longer term view, a Red I high is favoured to materialize in the months ahead, before a deeper retrace for Red II.  Before that happens though, there is opportunity for a long side trade.  Lets take a look at the 4H view below.
Penn Elliott Wave 4H View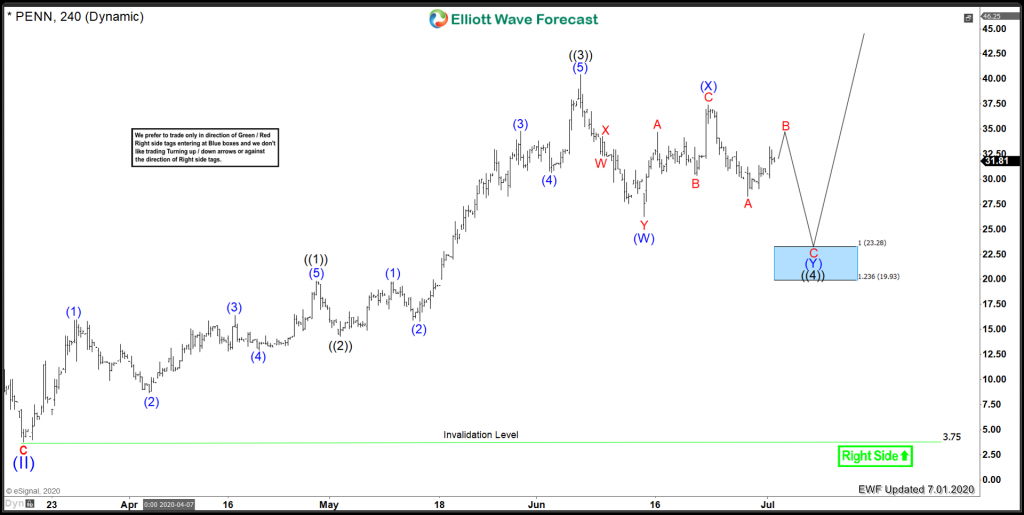 Medium term term view from 3/18/2020 lows of 3.75. Wave ((1)) is set at 19.83 on 4/29/2020 and wave ((2)) at 14.31 on 5/04/2020.  After that, an extened Black ((3)) took place, which topped on 6/05/2020 at 40.46.  After that, it is favoured that Penn is currently in progress of a Black ((4)) before heading higher.  There is an equal leg extreme blue box area from 23.28 to 19.93.  That is an area where a bounce may occur in 3 waves at least.  After Black ((4)) is set, it is favoured for prices to head to new all time highs.
In conclusion, Penn is favoured to decline a little bit more to the extreme area before heading higher in ((5)) of Red I.  As it stands now the sequence is calling for one more high before a larger degree pullback may take place in Red II.
Risk Management
Using proper risk management is absolutely essential when trading or investing in a volatile stocks.  Elliott Wave counts can evolve quickly, be sure to have your stops in and define your risk when trading.
Improve your trading success and master Elliott Wave like a pro with our free 14 day trial today.
Back