The Corona Virus has had its toll on the marketplace in general. But some select names have rallied sharply off the March 2020 lows, Overstock is one of those names.  Overstock has managed to rally from a low of 2.53 in March 2020 to a recent high of 40.90, with plenty more upside left in the sequence.  Lets take a look at the company profile:
"Overstock.com, Inc. is an American internet retailer headquartered in Midvale, Utah. Overstock.com was originally founded in 1997 by Robert Brazell as D2: Discounts Direct. Two years later, it was sold to Patrick M. Byrne who renamed it Overstock.com. The company initially sold exclusively surplus and returned merchandise on an online e-commerce marketplace, liquidating the inventories of at least 18 failed dot-com companies at below-wholesale prices. The company continues to sell home decor, furniture, bedding, and many other goods that are closeout merchandise; however, it also sells new merchandise."
Lets take a look at the Elliott Wave view of Overstock, it is counting clean, and has an incomplete bullish sequence to the upside.
Overstock Elliott Wave 4H View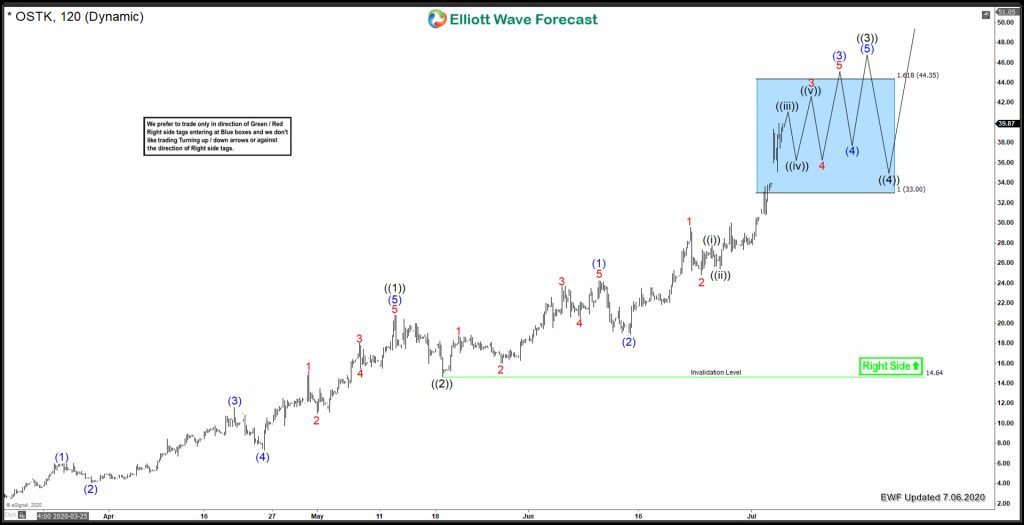 OSTK has been public since 2002, and has recently in March 2020 set new all time lows.  This has reset the count for a clean slate, and Overstock is off to an amazing start in this post COVID world.
Medium term term view from 3/18/2020 lows of 2.53 Wave ((1)) is favoured set at 20.85 on 5/12/2020 and wave ((2)) at 14.64 on 5/18/2020.  After that, some nesting has taken place. Blue (1) and (2) of ((3)) are favoured to be set at 24.23 and 18.80 respectively.  After that, Red 1 and 2 of Blue (3) of ((3)) favoured to be set at at 29.60 and 24.81 respectively. After that more nesting in ((i)) and ((ii)) has taken place with the heart of the 3rd wave advance underway.  There is an equal leg extreme blue box area from 33.00-44.35.  This is an area where buyers may start to take profits from the advance that has taken place.  With that said, there is an incomplete bullish sequence.
In conclusion, Overstock is favoured to continue the rally into a wave ((3)) top. After that, a pullback in ((4)), then a final rally in wave ((5)) is still favoured to take place.  More upside is needed to complete the sequence before a larger degree top can be realized.  As it stands now the sequence is calling for more upside, with the ball firmly in the bulls court.
Risk Management
Using proper risk management is absolutely essential when trading or investing in a volatile stocks.  Elliott Wave counts can evolve quickly, be sure to have your stops in and define your risk when trading.
Improve your trading success and master Elliott Wave like a pro with our free 14 day trial today.
Back