Novavax, Inc. is an US American biotechnology company. Founded in 1987 and headquartered in Gaithersburg, Maryland, USA, it is a part of Russel1000 index. Investors can trade it under the ticker $NVAX at NASDAQ as well as $NVV1 at XETRA. Before 2020, the company has developed vaccines to counter such diseases like Ebola, influenza, respiratory syncytial virus (RSV) and others. During 2020, Novavax has redirected the efforts on development and approval of Nuvaxovid vaccine for COVID-19.
Even though the Novavax' engagement in the vaccine development is of high public attention, the stock price is in a steady decline from the highs of February 2021. Right now, we see the stock price entering the inflection area. In this article, we present our technical analysis and the outlook.
Novavax Mobthly Elliott Wave Analysis 04.24.2022
The monthly chart below shows the Novavax stock $NVAX traded at Nasdaq. From the all-time lows, the stock price is showing a nesting price action. First, one can see an Elliott wave motive wave pattern within blue wave (I) of super cycle degree. It has ended on October 2001 at 311 highs. From there, a pullback in wave (II) has provided a slow consolidation ended in November 2019. During 18 years, the stock price has lost 99% of the value.
From the lows of November 2019, a new cycle in blue wave (III) has started. The first stages of that impulsive advance have been discussed in the initial article in April 2020. The price has broken within red wave I towards the new all-time highs. Hereby, red wave I has printed its top at 331.68 on February 2021. From there, pullback in red wave II is taking place. Investors and traders obtain a great opportunity to buy Novavax expecting an accelration higher within red wave III.

Novavax Daily Elliott Wave Analysis 04.24.2022
The daily chart below shows in more detail the consolidation process within wave II. The red wave II unfolds as an Elliott wave double three pattern being 3-3-3 structure.  Hereby, black waves ((W)) and ((X)) have already finished, wave ((Y)) is in progress and is reaching towards 100% extension area of the wave ((W)).
Investors and traders can buy the stock from 63.51-3.54 area. From there, $NVAX should accelerate in the red wave III of the blue wave (III) towards 331.68 and higher.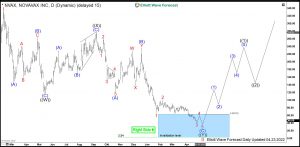 Get more insights about Stocks and ETFs by trying out our services 14 days . You'll learn how to trade the market in the right side using the 3, 7 or 11 swings sequence. You will get access to our 78 instruments updated in 4 different time frames, Live Trading & Analysis Session done by our Expert Analysts every day, 24-hour chat room support and much more.
Back