Nokia is a Finnish multinational telecommunications, consumer electronics and information technology company. Founded 1865, it is headquartered in Espoo, Finland. Investors can trade it under the ticker $NOKIA at Nasdaq Nordic OMX and at Euronext Paris. The company is a part of Euro Stoxx 50 (SX5E) index. Also, one can trade Nokia under the ticker $NOK in US in form of ADRs.  Today, Nokia is employing more than 100'000 people, it is doing business in more than 130 countries and it is the world's third-largest network equipment manufacturer.
In the initial article from October 2020, we have forecasted a rally for the coming years. Indeed, from October 2020 to January 2022 the price has advanced by 60% from 3.60 to 5.77. Currently, short-term pullback provides an opportunity to enter the market for an acceleration higher. Here, we provide an update.
Nokia Monthly Elliott Wave Analysis 03.02.2022
The monthly chart below shows the Nokia shares $NOKIA traded at Nasdaq Nordic OMX Exchange. From the July 2012 lows at 1.30, the stock price has developed a cycle higher in wave I towards 7.86 highs on April 2015. After the primary impulse higher, a double three correction lower in wave II has ended on March 2020 at 2.06.
From the March lows, a new cycle in wave III of (I) may have started to the new highs. Break of 7.86 highs would confirm that. As of right now, $NOKIA might be finishing the initial nest consisting of black waves ((1)-((2))) within the red III. Soon, acceleration higher within wave ((3)) of III should take place. The target for wave III is 8.66-12.72 area and even higher.
Nokia Daily Elliott Wave Analysis 03.02.2022
The daily chart below shows the $NOKIA shares price action in more detail. From the March 2020 lows at 2.06, the stock price has advanced in a black wave ((1)) towards January 2022 highs at 5.77. The pattern is a leading diagonal. From the January top, a decline in 7 swings is currently in progress. We see a lower low which is called a short-term bearish sequence. Therefore, more downside is expected. The pullback in black wave ((2)) should find buyers from 4.34-3.72 blue box area. There, an acceleration higher within black wave ((3)) of red wave III should take place.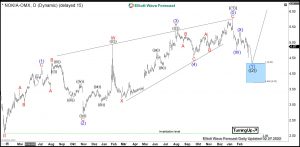 Get more insights about Stocks and ETFs by trying out our services 14 days . You'll learn how to trade the market in the right side using the 3, 7 or 11 swings sequence. You will get access to our 78 instruments updated in 4 different time frames, Live Trading & Analysis Session done by our Expert Analysts every day, 24-hour chat room support and much more.
Back