$NKD_F Nikkei Correcting Cycle Up from 2/12/2016
The Nikkei Index has a bullish daily sequence and trend however it currently is correcting the cycle up from the 2/12/2016 lows in 3, 7 or 11 swings. For now and due to other correlated markets structures we will presume this will be a 7 swing declining pullback. Up from the 2/12/2016 lows the index ended the daily cycle at 24200 on 1/23/2018. This can be seen on the attached daily chart shown below. Referencing the 4 hour chart, from the 1/23/2018 highs the index is showing a clear 5 swings lower thus far.
Nikkei Elliott Wave Analysis: Daily View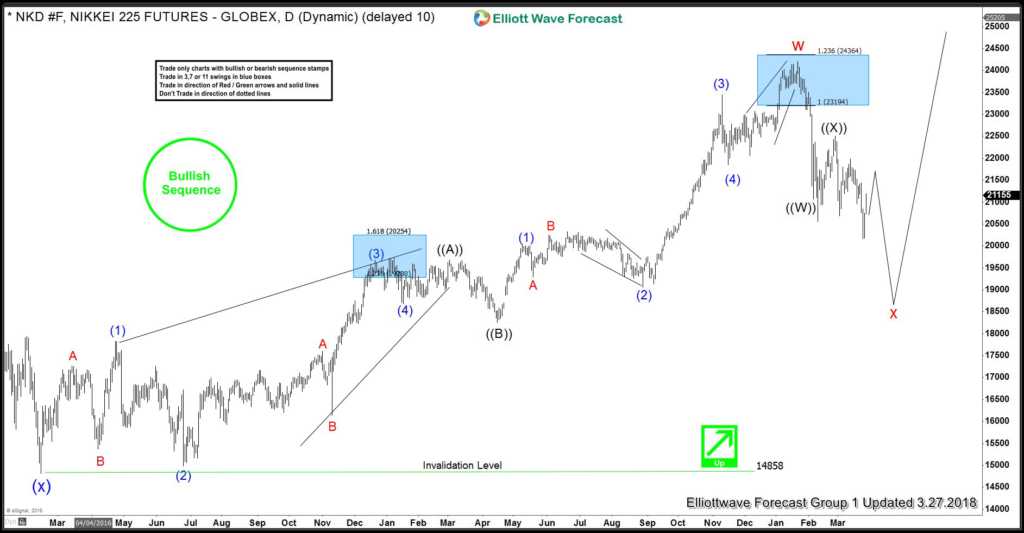 Nikkei Elliott Wave Analysis: 4 Hour View
The beginning of the decline was a double three (3-3-3) structure in the black wave ((W)). The ensuing bounce in the leg (A) in blue ended the cycle from the 1/23/2018 highs. Afterward of that bounce the index declined again into another low.  The cycles suggest that new low in the blue (B) was part of a 3-3-5 expanding flat structure. That ended with a five wave leg (C) on 2/27/2018. At that point there were the three swings lower in ((W)). The whole structure of the ((X)) wave flat counts as the fourth swing.
From the Elliott Wave ((X)) highs of 2/27/2018 the index did another three swing decline in the blue wave (W) that ended on 3/23/2018. That low represents the 5th swing. This brings us to the current juncture. Shown on the 4 hour chart where the bounce in the red W suggests the blue (W) has ended the cycle lower from the 2/27/18. This part of the sequence lower is so far undefined due to both the red W and red X have to be in place to measure an extension area for the red Y. (not shown). That will complete the three swing subdivision of the blue wave (X) which represents the 6th swing being in progress.
The aforementioned blue wave (X) ideally will have a clear red W & X to get a projected target that should continue to show it will fail below the larger degree connector ((X)) highs from 2/27/2018. As long as that happens and the index breaks back below the 3/23/2018 lows to confirm, the extension area for the 7th swing of the daily correction will come in at 19360-18617.
Thanks for looking and feel free to come visit our website. Please check out our services Free for 14 days and see if we can be of help.
Kind regards & good luck trading.
Lewis Jones of the ElliottWave-Forecast.com Team
Back