The last time I covered Nine Energy Services was back in April 2022.  At the time, the stock was looking like more upside was favoured.  Before we get into the charts, lets get a refresher on this company:
"Nine Energy Service, is a nimble completions company with experience in major North American basins and abroad, and a deep commitment to serving clients with smarter, customized answers and world-class resources. Nine is dedicated to qualifying what you want to accomplish, and then developing solutions that fit your project, your budget, and your goals. We believe in being a partner to our client, thinking outside the box and accomplishing what others cannot.
Nine is a leading completion services provider that targets unconventional oil and gas resource development across all North American basins and abroad. Nine brings years of experience into play with a new breed of a company dedicated to helping our clients reach their goals in the most efficient and cost-effective way."
Lets take a look at the chart from April:
Nine Energy Services April 2022: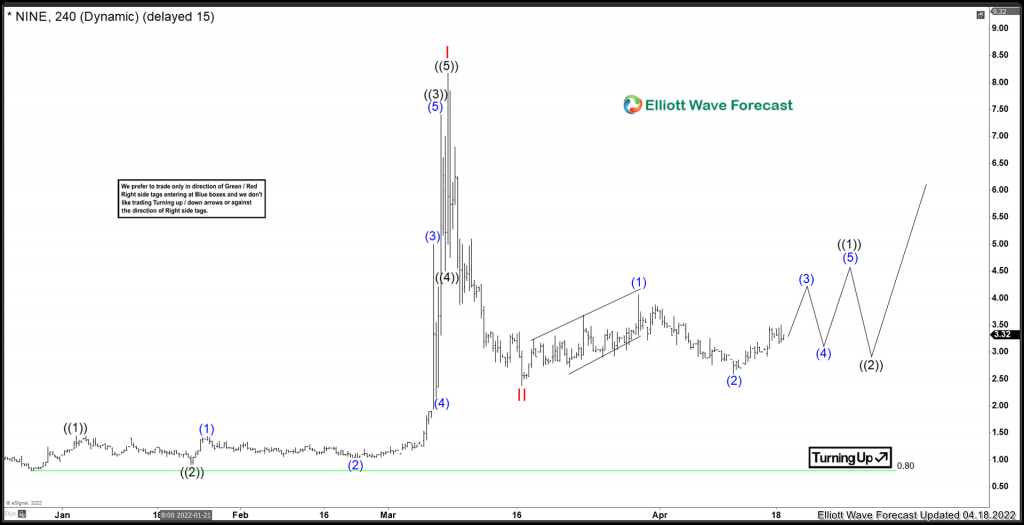 At the time, it did look like the bottom was set, however, in the "middle area" it is important to wait for confirmation.  Sometimes, the market was to do a double correction, which in this case, took place.  The stock prices did invalid that Red II low, lets take a look at the current idea.
Nine Energy Services June 2022: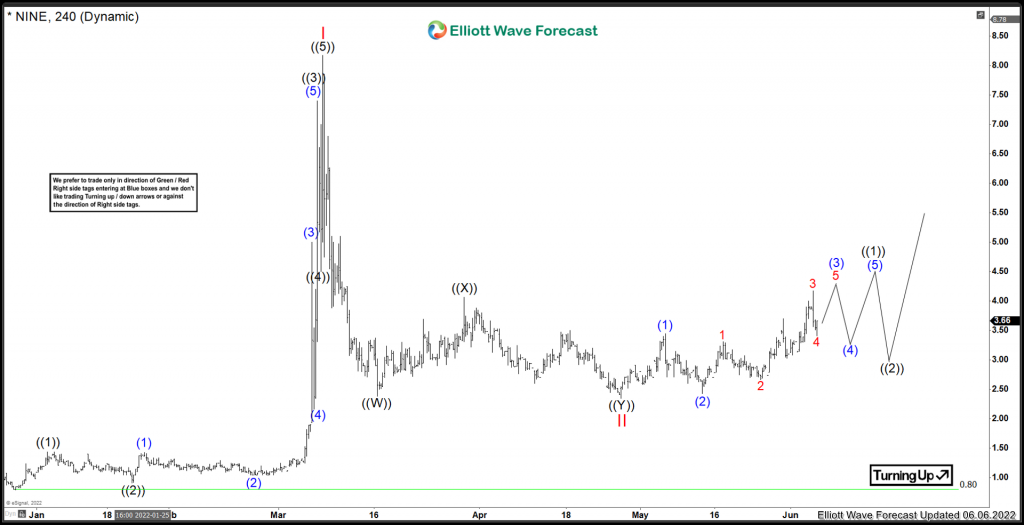 Medium term term view from the low set Dec 28/2021 @ $0.80.  Nine is a technically clean chart off that low.  Initially, the stock formed a nest in ((1)) ((2)) and blue (1) (2) off that low.  After that, Nine broke out into a wave 3 of 3 advance.  This took the stock from a low of $1.04 at (2), to a peak of $8.17 at the ((5)) of Red I high.  After that, a sharp pullback has taken place while profit taking has occurred.  Red II is favoured to have struck a low at 2.35 on April 27/2022.  From there, a a choppy advance in ((1)) is favoured to be underway with a few swings left to play out.  As long as the recent low at Red II remains intact, the next leg higher is favoured to be underway.
Risk Management
Using proper risk management is absolutely essential when trading or investing in a volatile stocks.  Elliott Wave counts can evolve quickly, be sure to have your stops in and define your risk when trading.
Improve your trading success and master Elliott Wave like a pro with our 14 day trial today.  Get Elliott Wave Analysis on over 70 instruments including GOOGL, TSLA, AAPL, FB, MSFT, GDX and many many more.
Back