Nikola has had quite a stellar 2020. With the stock price running from 10.31 to a high of 97.41 within the span of a few months, there is a lot of eyes on Nikola.  They are a zero emissions vehicle manufacturer, using hydrogen cell technology.  Lets take a look at the company profile below:
"Nikola Corporation is an American zero emissions vehicle production founded by Trevor Milton in 2014, based in Phoenix, Arizona, where it has its research and development operations and corporate offices. In March 2019, Nikola acquired a 389-acre parcel in Coolidge, Arizona, for US$23 million, with future state and local tax breaks. Nikola said in 2019 that they expected the truck factory to start construction in 2020. To start building trucks in 2021, and be able to build 35–50,000 trucks per year by 2023.[9]
In March 2020, Nikola announced its plans to merge with VectoIQ Acquisition Corporation (ticker VTIQ) a publicly traded special purpose acquisition company run by former General Motors Co. executive Steve Girsky.  This resulted in the combined company being listed on the NASDAQ exchange with the NKLA ticker symbol.  Nikola's stock began trading on June 4, 2020, a day after the merger was completed. By June 9, the shares had more than doubled since they began trading, as investors continued to bet on the growth potential of electric transportation. Nikola executive chairman Trevor Milton tweeted in early June that the company would begin taking reservations for the pickup truck, the Badger, on June 29."
There is not much data on the chart, so one does need to be more cautious taking trades on such a young chart.  However, the chart does count technically clean.  Lets take a look at the Elliottwave view below.
Nikola 4H Elliott wave View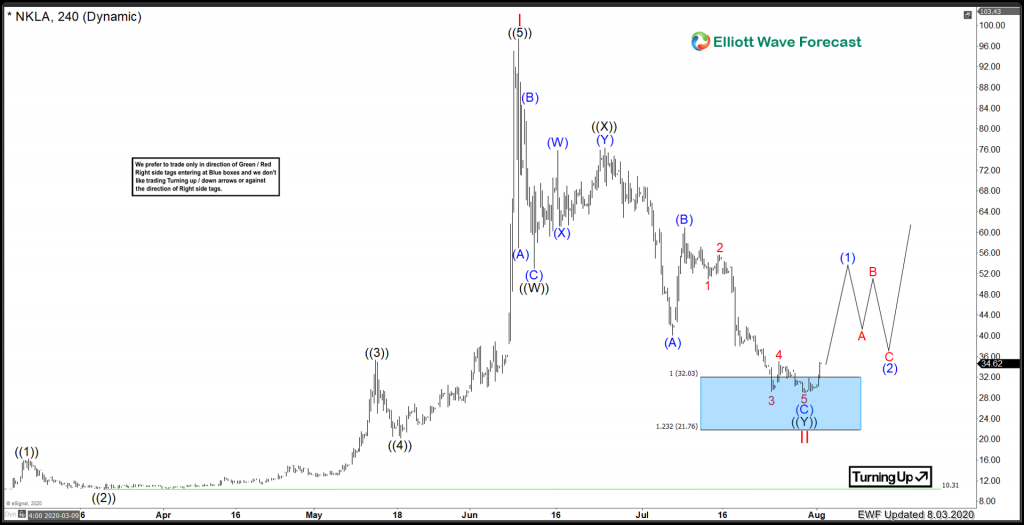 Medium term term view from the March lows. Wave ((1)) is set at 16.25 on 3/05/2020 and wave ((2)) at 10.31 on 3/19/2020.  After that, Black ((3)) took place topped on 5/13/2020 at 23.38, and ((4)) at 20.20 on 5/18/2020.  After that, Nikola experience an extended ((5)) of Red I which topped on 6/9/2020 at 97.41.  Presently, it is favoured that Nikola has possibly set a bottom 7/30/2020 at a low of 29.00.  Price action today suggests that the bottom could be set within the blue box extreme area.  However it is still possible to get one more low to complete the correction.  But at this point, it is getting very extended to the downside, and risk is high for sellers. At this time with the Data present, it is favoured the bottom is set for Red II.
It is favoured for Nikola to form an initial 5 waves impulse up off the low for Blue (1), and then pullback in Blue (2) before heading higher.
In conclusion, Nikola is favoured to advance higher in a Red II advance.  First, is favoured for Nikola to form an initial 5 waves impulse up off the low for Blue (1). After that, pullback in Blue (2) then advance in (3) of black ((1)).  Black ((1)) can be favoured to top around previous high of Red I.
Risk Management
Using proper risk management is absolutely essential when trading or investing in a volatile stocks.  Elliott Wave counts can evolve quickly, be sure to have your stops in and define your risk when trading.
Improve your trading success and master Elliott Wave like a pro with our free 14 day trial today.
Back