In this technical blog, we will look at the past performance of 1 hour Elliott Wave Charts of the Nifty index. In which, the decline from April 2022 high ended in a higher degree wave ((Y)) at 15183.40 low. And made a bounce higher in wave ((X)). The bounce from the lows unfolded in a corrective sequence & managed to reach the Elliott wave hedging area. When buyers & sellers get agreed on a similar direction in 3 swings at least. So we advised not to buy the index at this stage because sellers were expected to appear within the blue box area. Looking for a 3 wave reaction lower at least. We will explain the structure & forecast below:
Nifty 1 Hour Elliott Wave Chart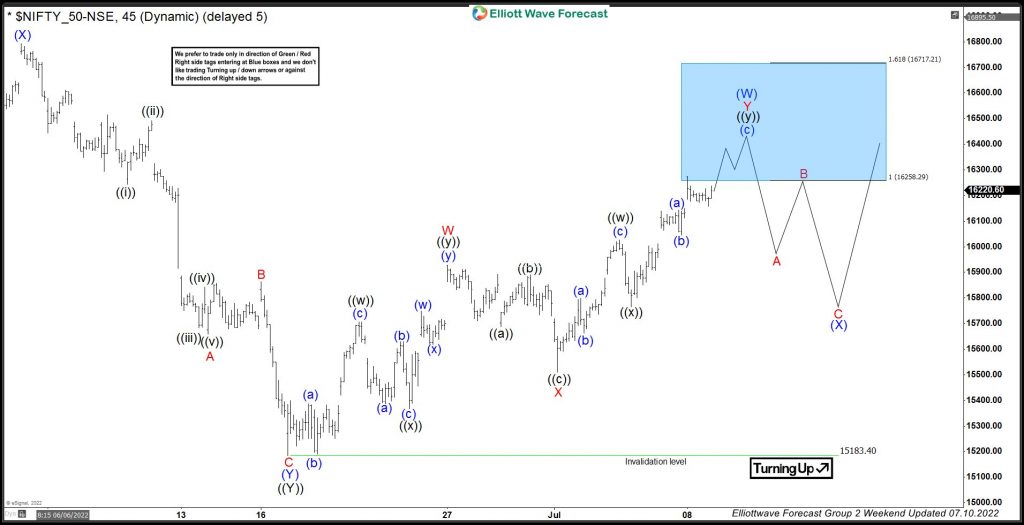 Here's 1 Hour Elliott wave chart from the 7/10/2022 Weekend update. In which, the bounce from the lows unfolded as a double three structure where wave W ended at 15927.45 high. A pullback to 15511.05 low ended in wave X. Then started the Y leg higher towards 16258.29- 16717.21 blue box area from where sellers were expected to appear. Looking for a 3 wave reaction lower at least as per Elliott wave hedging.
Nifty 1 Hour Elliott Wave Chart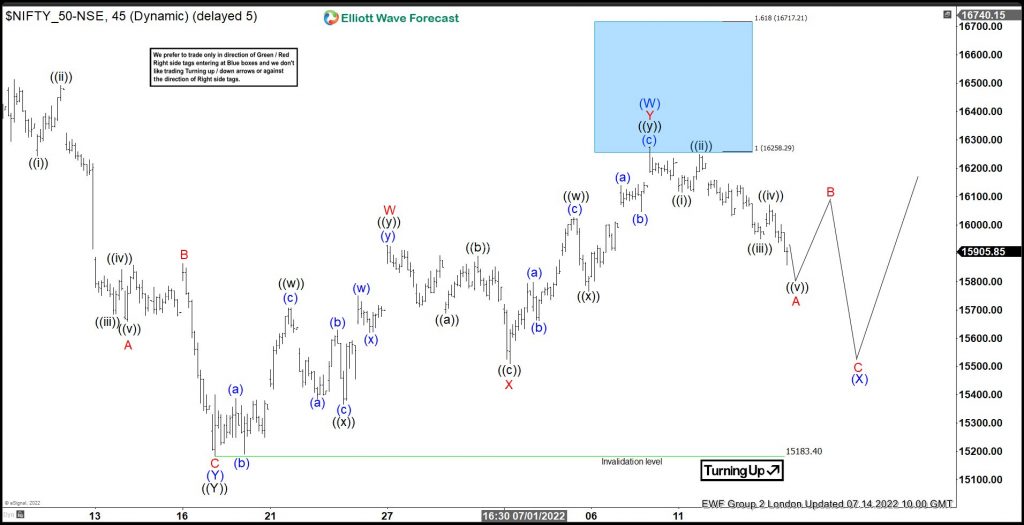 This is the Latest 1hr view from the 7/14/2022 London update. In which the index is showing a reaction lower taking place from the blue box area allowing shorts to get into a risk-free position shortly after taking the position. As the index has already managed to reach the 50% Fibonacci retracement area of the Y leg at the 15893.90 level.
If you are looking for real-time analysis in Nifty along with the other indices then join us with a 14-Day Trial for the latest updates & price action.
Success in trading requires proper risk and money management as well as an understanding of Elliott Wave theory, cycle analysis, and correlation. We have developed a very good trading strategy that defines the entry.
Stop loss and take profit levels with high accuracy and allow you to take a risk-free position, shortly after taking it by protecting your wallet. If you want to learn all about it and become a professional trader. Then join our service by taking a Trial.
Back