The novel corona virus forces government around the world to implement various mitigation measures to flatten the contagion curve. Some of the popular introduce social distancing where people must stay at home as much as possible. Others introduce stricter measures such as lock down in Italy, where residents can only go out of home for valid reasons such as buying groceries or going to doctor. Covid-19 pandemic essentially has resulted in school, entertainment event, and business closures all around the world.
All these measures affect many companies and stocks negatively. However, that doesn't mean every stock and industry is negatively affected. One industry which is relatively doing well is streaming business. Netflix is one such company and it's the world's largest streaming company. As people spend a significant amount of time at home, streaming services experience a surge in demand. AT&T said Netflix data traffic reached all-time highs. Netflix had to reduce the quality of the streams in Europe and Canada to lessen the load on the internet. With 1,500 TV shows and over 4,000 movies to choose from, people has many options to watch.
Netflix without doubt should benefit from an increase in subscribers, but it will likely reduce the creation of the original content due to the pandemic. The stock has currently outperformed the current market sell-ff due to an increase in demand for their products and services. While other companies will experience a drop in the revenue, Netflix should continue to see robust growth in the upcoming fiscal year.
Netflix (NFLX) Daily Elliott Wave Chart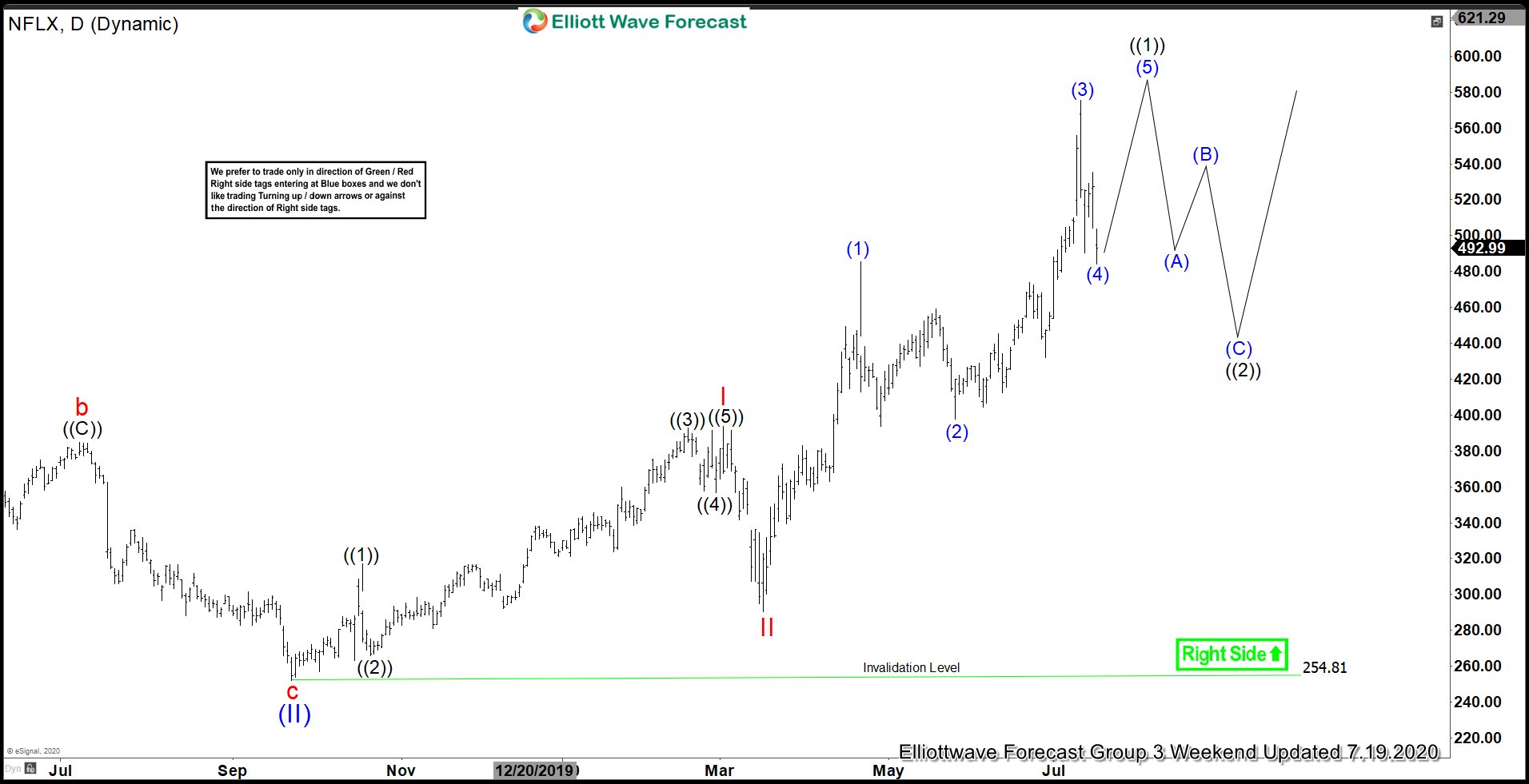 Rally from September 24, 2019 low in Netflix is proposed to be unfolding as a 5 waves impulse in a nest where wave ((3)) of III is currently in progress. Dips should continue to see support in 3, 7, or 11 swing for more upside.
To get further updates in Netflix or other stocks, forex, and commodities, feel free to take our Free Trial –> 14 days FREE Trial. 
Back