The EV sector has been on fire in 2020 and Li Auto has been no different. Li Auto stock has risen from a low of 14.31 to a peak of 49.26 and appears to be close to completing the correction against the all time low. This chart has lots of potential for future gains. Lets take a look at the company profile below:
"Li Auto was founded in 2015 by CEO and Chairman Li Xiang, for whom it's named. The company is backed by China's largest consumer services app Meituan and Bytedance, which owns short-video app TikTok.
Unlike most other electric vehicle makers, Li Auto specializes in plug-in hybrid vehicles (PHEVs), which can be powered by either gasoline or electricity. The hybrid powertrain compensates for China's sparse EV-charging infrastructure and serves as a better gateway for weaning consumers off of petrol-powered cars. Since shipping its first model in late 2019, the company sold around 10,000 units.
Li Auto has vehicle manufacturing, engineering, and design services located in Changzhou, Jiangsu Province with corporate headquarters and research and development located in Beijing.
Li Auto raised $1.1 billion in an IPO on Nasdaq on July 30, 2020, valuing the five-year-old electric vehicle maker at around $10 billion. The Beijing-based firm was part of a wave of Chinese EV manufacturers joining the American stock market. The merger came at a time when Chinese stocks are facing greater scrutiny in the U.S."
Lets dig into the charts!
Li Auto Elliottwave View: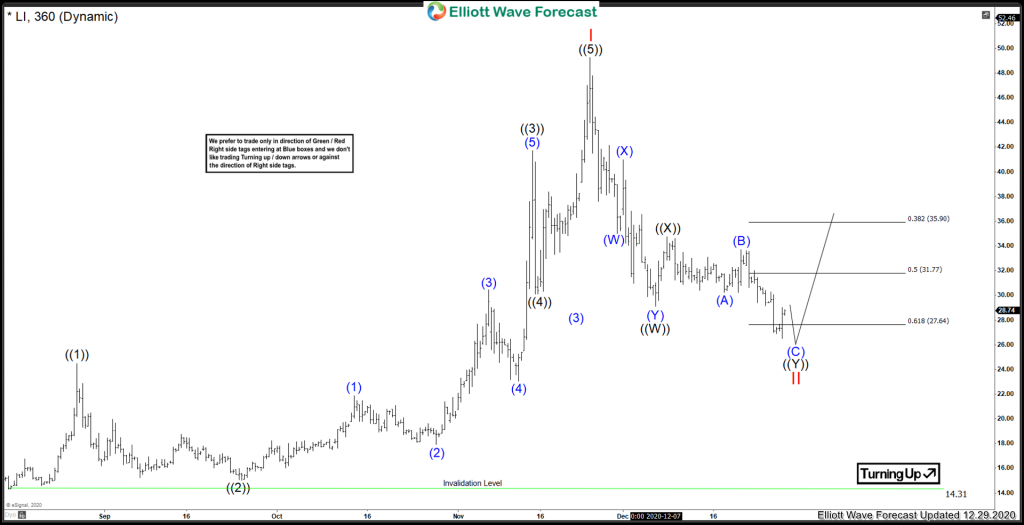 Medium term term view from the all time low in August 2020.  There is a  5 waves impulse that peaked on 11/24/2020 @ a high of 49.26.  This peak comes with divergence in momentum RSI.  This is a common occurrence with impulsive waves, and is a good indication of a move that is close to completion.  After Red I peaked, the stock has been in a steady downtrend and has managed to already reach the 61.8% retrace.
Normally we like to look for an extreme area where buyers may enter for a bounce.  Since this correction has gone so deep in the ((W)) wave the extreme area is not feasible to use.  Instead, we can keep an eye on the 61.8 retrace as an area that a bottom may occur.  Currently, one more low take place.  With this said, the bottom can be set already, if momentum starts to pick up and confirm the low.
In Conclusion, this stock has the possibility of already setting a low in Red II.  However, we are keeping the possibility open for one more low.
Risk Management
Using proper risk management is absolutely essential when trading or investing in a volatile stocks.  Elliott Wave counts can evolve quickly, be sure to have your stops in and define your risk when trading.
Improve your trading success and master Elliott Wave like a pro with our free 14 day trial today.  Get free Elliott Wave Analysis on over 70 instruments including GOOGL, TSLA, AAPL, FB, MSFT, GDX and many many more.
Back