IYR is the iShares Dow Jones U.S. Real Estate ETF that tracks a market-cap-weighted index of US real estate equities listed on the major US exchanges giving an exposure to U.S. real estate companies and REITs , which invest in real estate directly and trade like stocks .

After ending a cycle on 7/29/2016 ( 85.80 ) , IYR started correcting the cycle from February low showing 5 swing incomplete bearish sequence calling for one more swing lower after the small pullback in the 6th swing to complete a double three structure  ( 7 swings ) before resuming higher .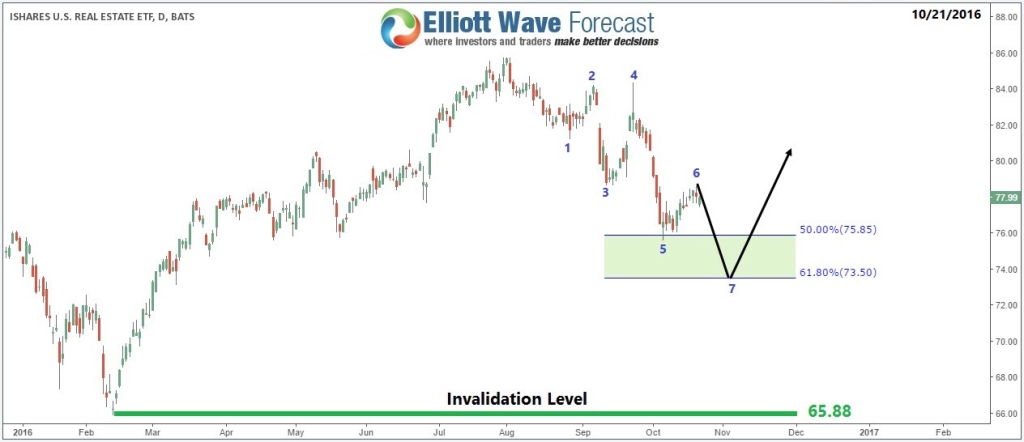 The last push lower reached 61.8% Fibonacci retracement of the 2016 rally so now IYR has the minimum number of swings to call the Elliott wave corrective structure complete and the stock can start bouncing higher in 3 waves at least toward 50%-61.8%  area ( 79.55 – 81.01 ) from the peak  , even thou another leg down is still possible to end the cycle from 10/24 peak. This bounce is what we call Elliott Wave Hedging meaning both bulls & bears agreeing that the inflection area should produce a reaction higher before deciding the new path , so depending on the speed and structure of the bounce we can later on know if IYR has really ended the correction and the pullbacks will hold above 11/4/2016 low ( 73.36 ) for a continuation to the upside or the stock still has more room to add another cycle to the downside .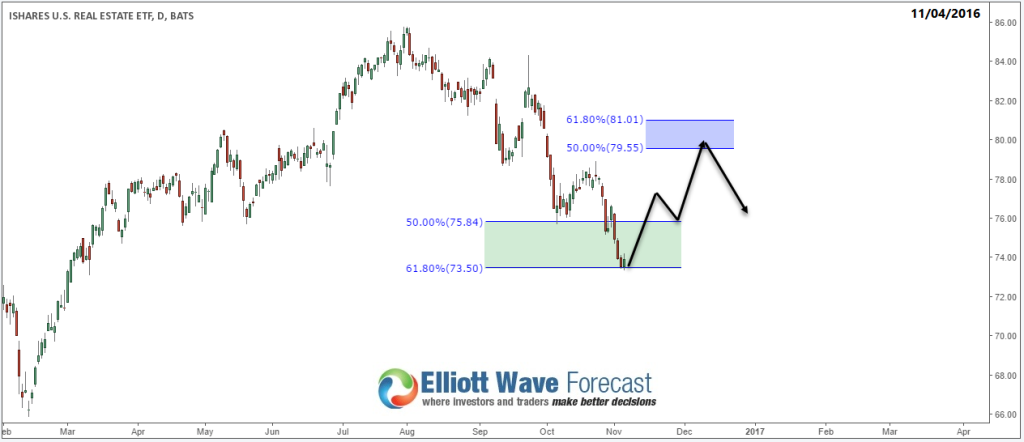 For further information on how to find levels to trade forex, indices, and stocks using Elliott Wave and the 3 , 7 or 11 swings technique,  try us for 14 days. You will get access to Professional Elliott Wave analysis in 4 different time frames, Daily Elliott Wave Setup Videos , Live Trading Room and 2 live Analysis Session done by our Expert Analysts every day, 24 hour chat room support, market overview, weekly technical videos and much more so if you are not a member yet, use this opportunity and sign up to get your trial . If you enjoyed this article, feel free to read other diversified articles at our Technical Blogs and also check Chart of The Day .
Back