The next entry in the theme of Corona Virus stocks is iBioPharma Inc.  iBio has had a steady advance during the COVID-19 spreading worldwide.  It also remains very technical as with all other stocks. Lets take a look at what they do as a company:
"iBio is an innovator biologics company developing therapeutics and vaccines for the betterment of human and animal health, including a virus-like particle (VLP) -based vaccine against SARS-CoV-2. iBio's subsidiary, iBio CDMO is a global leader in plant-based manufacturing. It's FastPharming™ and FastGlycaneering™ platforms provide contract development and manufacturing services via its 130,000 square foot facility in Bryan, Texas. The speed and scalability of FastPharming make it an ideal choice for other innovator companies who want to rapidly produce COVID-19 biologics."
iBio has had an impressive rally so far this year.  The Elliott Wave view seems to be counting technically clean. Let's take a look below at the 4H View since the all time low:
iBio 4H Elliottwave View: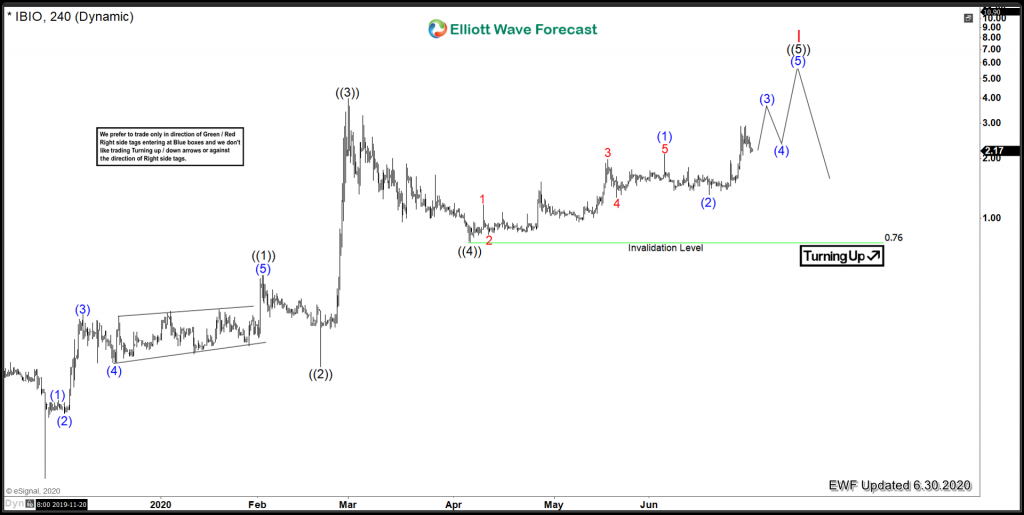 Medium term term view from 11/19/2019 lows of 0.05. Wave ((1)) is set at 0.52 on 2/4/2020 and wave ((2)) at 0.18 on 2/21/2020.  After that, a sharp increase to Black ((3)) took place, which topped on 3/2/2020 at 3.98.  After that, iBio has set a black ((4)) bottom at 0.76, and is currently working on breakout out above previous ((3)) peak.  Blue (1) and (2) of ((5)) are favoured to be set with Blue (3) in progress.
In conclusion, iBio is favoured to advance in the final ((5)) to a higher high.  If the invalidation line of 0.76 is violated, then a larger degree correction would be favoured to be in progress.  As it stands now the sequence is calling for one more high before a larger degree pullback may take place.
Risk Management
Using proper risk management is absolutely essential when trading or investing in a volatile stocks.  Elliott Wave counts can evolve quickly, be sure to have your stops in and define your risk when trading.
Improve your trading success and master Elliott Wave like a pro with our free 14 day trial today.
Back