Houston American Energy Corporation stock enjoyed the impulsive rally the rest of the sector had in early 2022.  and has recently struck a low for the next move higher.  Lets take a look at what the company does:
"Houston American Energy Corp  is an oil and gas exploration and production company. Our oil and gas exploration and production activities are focused on properties in the U.S. onshore Gulf Coast Region.  Principally Texas and Louisiana, and on the development of concessions in the South American country of Colombia.  We seek to utilize the contacts, experience, financial acumen and expertise in oil and gas geology, engineering and production provided by our management and Board of Directors to seek out and evaluate favorable drilling opportunities.
We generally seek to form partnerships and joint ventures to spread the cost and risks to us of drilling while maximizing our potential returns.  The company's fiscal discipline and debt-free capital structure offers investors a great deal of leverage and upside potential as revenue from new projects is realized."
This is a highly speculative energy producer, but the technicals are clean.  Lets take a look at the view presented in April of 2022:
Houston American Energy Corporation Elliottwave April 2022: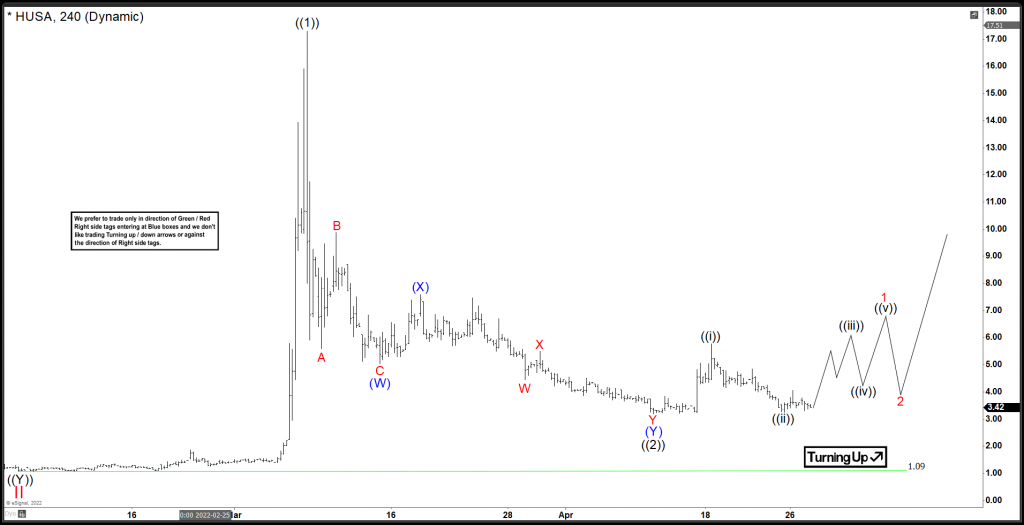 As you can see, we were favouring the next leg higher was favoured to take place.  After that, the market had other intensions, and wanted one more low before resuming the rally.  Lets take a look at the most up to date chart.
Houston American Energy Corporation Elliottwave June 2022: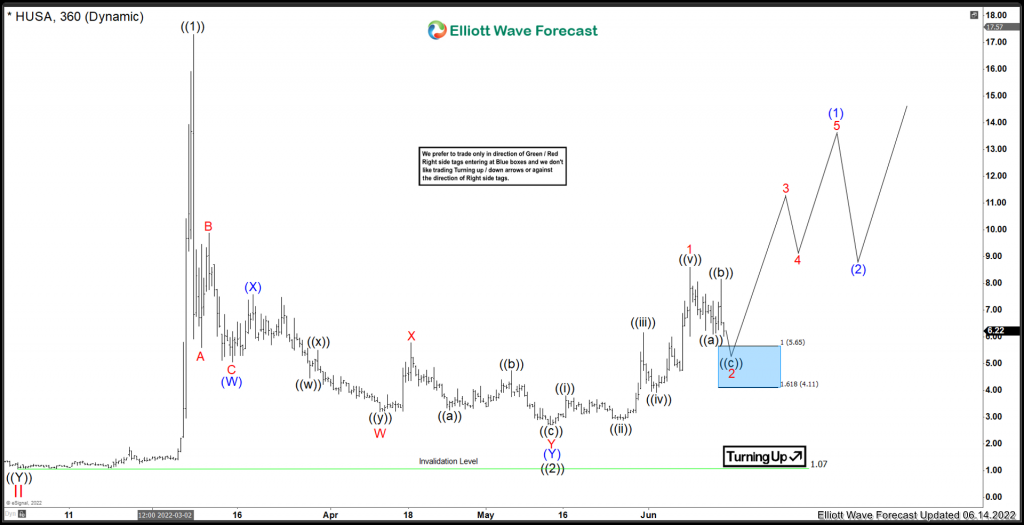 Medium term term view from the low set May 12/2022 @ $2.72.  After that, a fairly textbook advance has taken place.  A clean 5 waves up impulse from that low is clear into the recent peak.  Consequently, from the June 8 peak, set @ 8.60, the instrument is now correcting the cycle from the May low.  It has unfolded as an ABC structure, and currently the ((c)) of 2 is underway. There is a blue box that buyers may enter into the market for a bounce in 3 waves at least.  This area is from 5.65 to 4.11.  However, as long as prices remain above the May 12 low, further upside is favoured to take place.
Risk Management
Using proper risk management is absolutely essential when trading or investing in a volatile stocks.  Consequently, Elliott Wave counts can evolve quickly, be sure to have your stops in and define your risk when trading.
Improve your trading success and master Elliott Wave like a pro with our 14 day trial today.  Get Elliott Wave Analysis on over 70 instruments including GOOGL, TSLA, AAPL, FB, MSFT, GDX and many many more.
Back