Hello fellow traders. In this technical blog we're going to take a quick look at the past Elliott Wave charts of  FTSE published in members area of www.elliottwave-forecast.com. In further text we're going to count the swings, explain the Elliott Wave view.
As our members know, we were explaining that FTSE is having incomplete bullish swings sequences in weekly cycle from the 2009 low. Due to incomplete sequences we knew that Index will keep finding buyers in3,7,11 swings. We recommended our members to avoid selling the index, keep favoring the long side.
FTSE Elliott Wave 1 Hour Chart 10.24.2017
Cycle from the 7196.01 has unfolded as 5 waves structure labeled as wave (A) blue. Although it's not showing high-probability tradable sequences in lower time frame, we knew that index will keep finding buyers after completing 7 swings. Currently FTSE is proposed to be doing (B) blue pull back, correcting the entire cycle from the 1796 low. We're expecting another leg lower ( 7th swing) toward 7481.44-7431.76 area, before buyers appear for further rally ideally.  Proposed pull back is unfolding as Double Double Three structure WXY.
FTSE Elliott Wave 1 Hour Chart 10.26.2017
We got proposed push lower in 7th swing. Sellers were strong and manage to break below 1.236 Fibo Extension:7462.96. However, the price still holds above 1.618 Fibo extension:7432.25 and while it holds that level, we expect buyers to appear for further rally ideally or 3 wave bounce alternatively. Pull back is at the extreme, and about to complete as 7 swings structure (labeled on the chart below).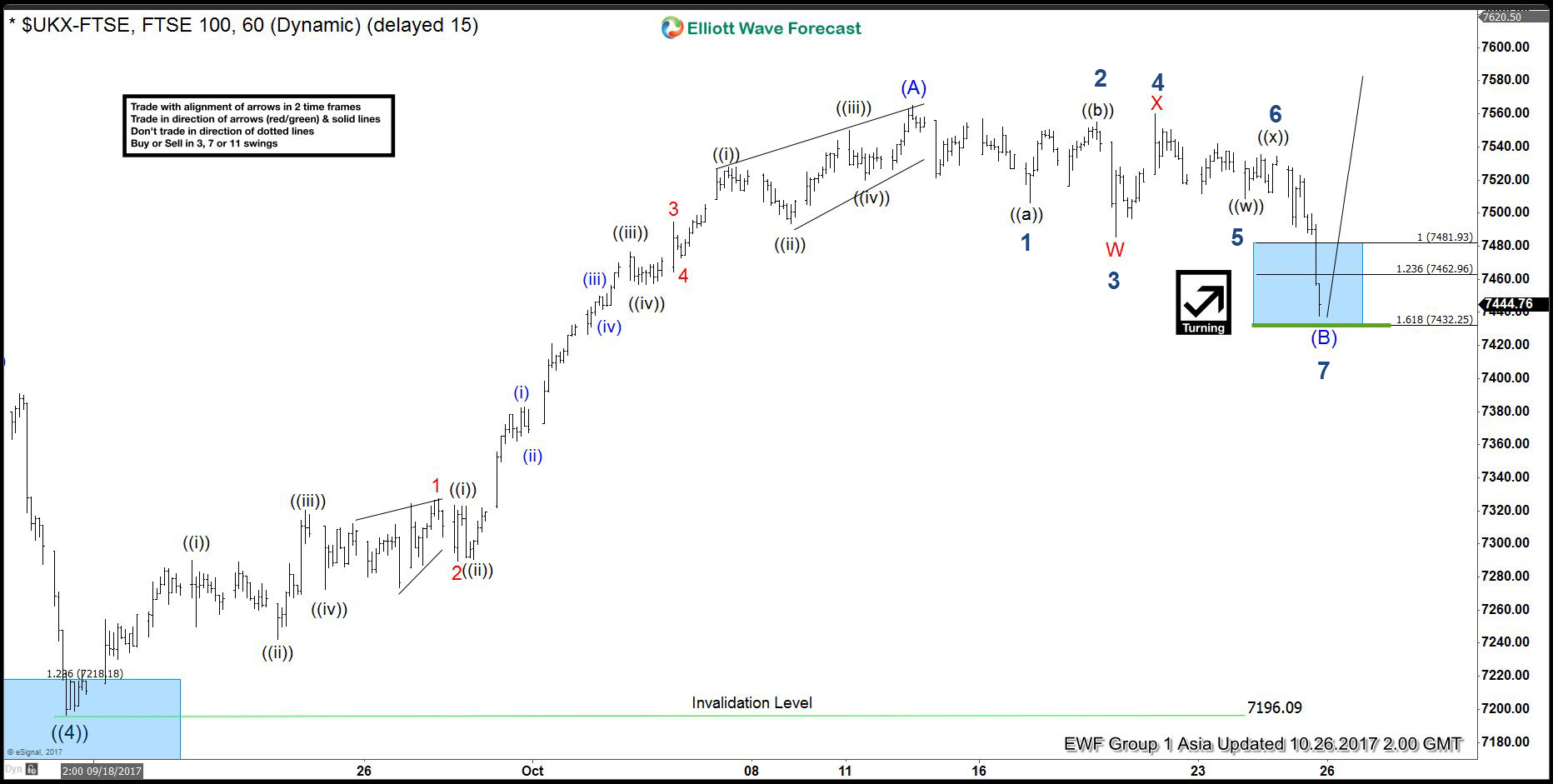 FTSE Elliott Wave 1Hour Chart 11.14.2017
FTSE held above 1.618 Fibo extension (7432.25) and found buyers as expected. After ending 7 swings correction as wave (B) blue, the index has rallied, making nice sepparation from the inflection area . Eventually FTSE has made the new peak. The price has reached short term technical area 7574.5-7596.8, which represent extreme zone in the short term cycle from the 7437.11 low. Short term traders will be taking profits and we might see pull back from there.  Current price action is interesting and believe that we're having clear path for the period of next few weeks . We have removed labels to protect our clients' priviliges. If you're interested in new Elliott Wave forecasts of FTSE , you can find them in the membership area of EWF. If you're not a member yet, all you have to do is Sign up  here for Free 14 Days Trial.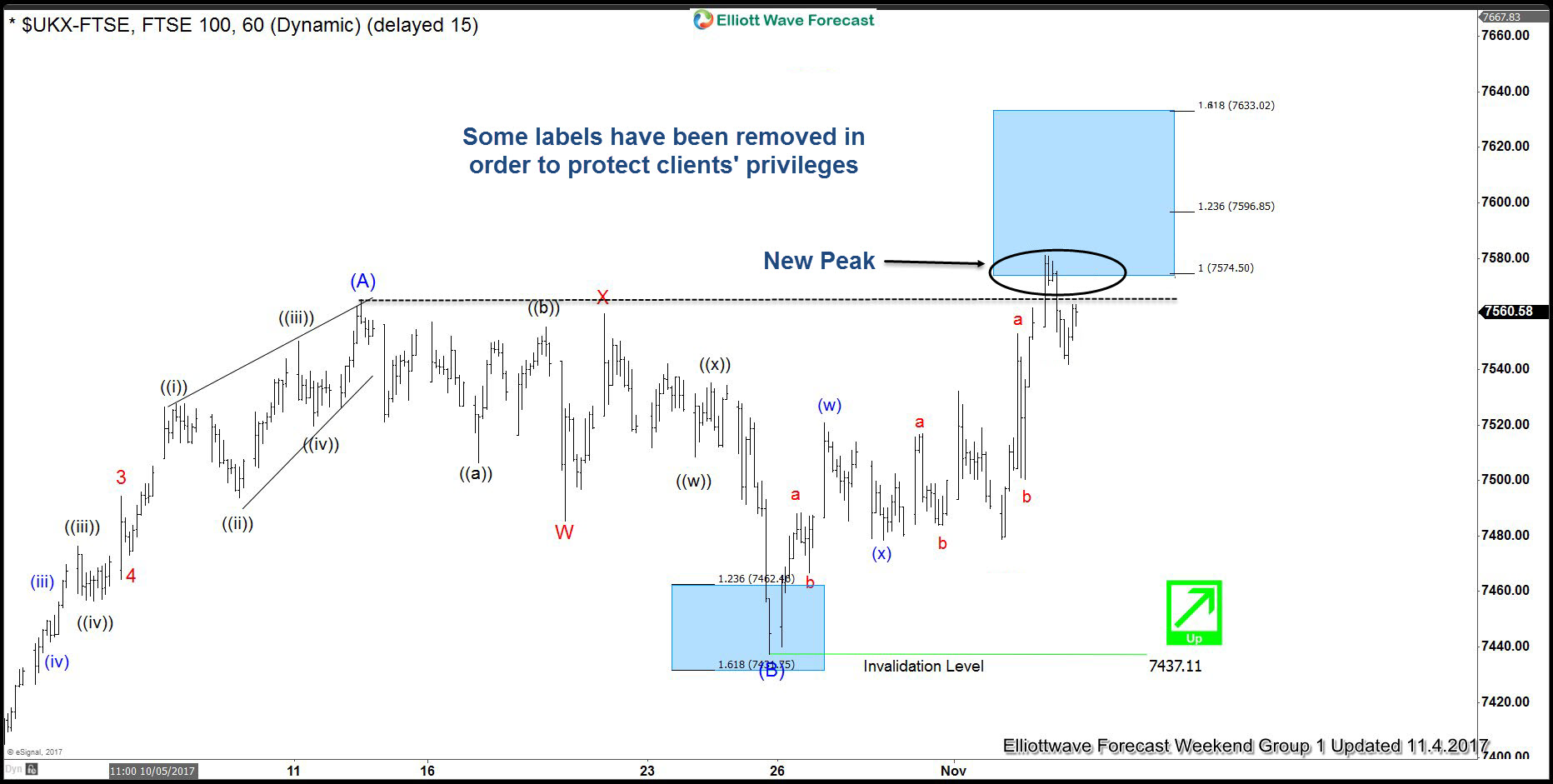 Elliott Wave Forecast
We cover 78 instruments in total, but not every chart is trading recommendation. We present Official Trading Recommendations in Live Trading Room.  If not a member yet,  Sign Up for Free 14 Days Trial Now and get access to new trading opportunities.
Through time we have developed a very respectable trading strategy which defines Entry, Stop Loss and Take Profit levels with high accuracy and allows you to make position Risk Free, shortly after taking it. If you want to learn all about it and become a professional Trader, Join Us Now !
Back