In this technical blog, we will take a look at some charts of DAX Stock Index presented to clients of Elliottwave-Forecast.com over the last few weeks. For the last few months EWF members knew that Global Indices had been in a bullish cycle and it offered some nice buying opportunities in the dips in 3, 7 or 11 swings because following this technique, even if the trend doesn't resume, we mostly get a 3 wave bounce at least which allows clients to get into a risk free position. Now let's take a look at Daily chart of DAX instrument dated October 8th 2016, which was showing incomplete Elliott wave bullish sequence from (8704) February 2016 low, i.e. index was showing 5 swings from that low & was also missing the extreme (100%-123.6% fib extension) blue box area (11015-11441) to the upside to complete the 7 swing structure from the lows. In case any of you wondering the upside cycle from February low was in 5 swings then why we were anticipating another leg higher? It was because the move from Feb lows was over lapping corrective move ( not impulsive ) & thus suggested the another extension higher in the DAX Index.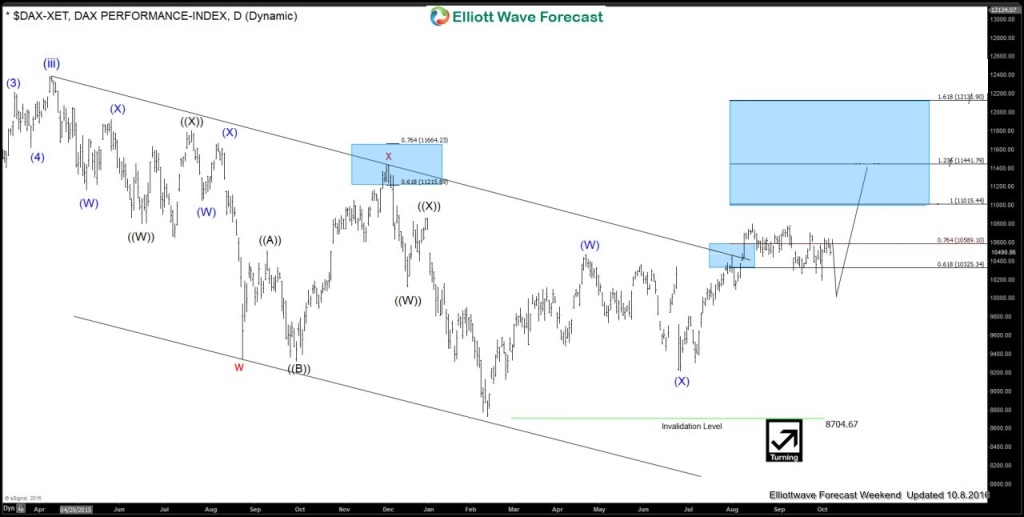 Now let's take a look at some 1 hour price action that developed in the instrument this month, below is the 1 hour chart from December 1st NY midday updated chart showing pullback happening from November 10th peak within wave X in red to correct November 9th lows (10016), Thus strategy was to buy the dips in the instrument against November 9 low (10016) in sequence of 3, 7 or 11 swings. Since then index made the pullback, as we can easily spot that pullback was in 11 swings ( which is mainly known as triple three W,X,Y,Z ), And  10481-10349 area was expected to find buyers in the instrument for continuation higher in the instrument for potential upside target at 11015-11441 to the upside or for 3 swing bounce at least.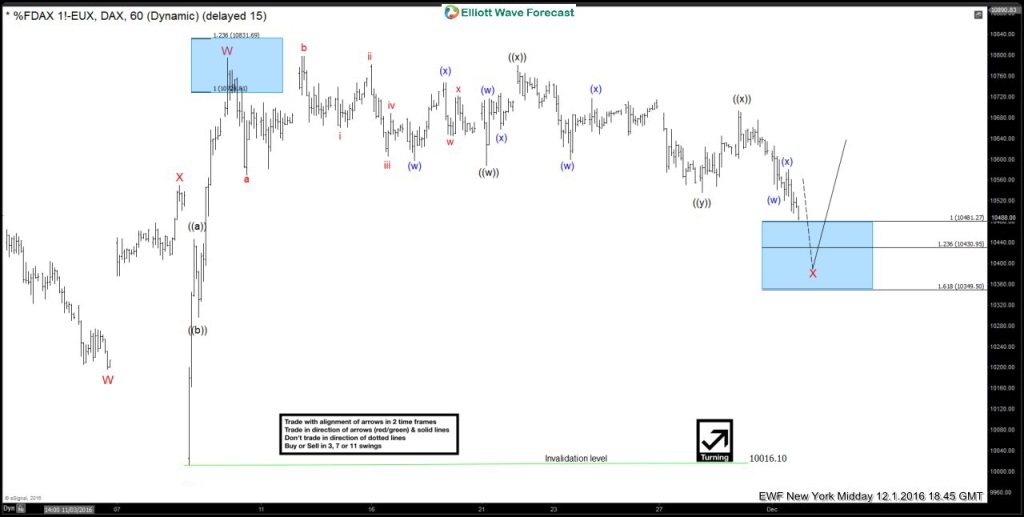 Since then index bounced from our blue box area as expected & formed the low at 10400 area, thus allowed our members to create a risk free position in the index as can be seen below. Up till today index has rallied more than 800 points in our favor & now has reached the Daily target area ( 11015-11441).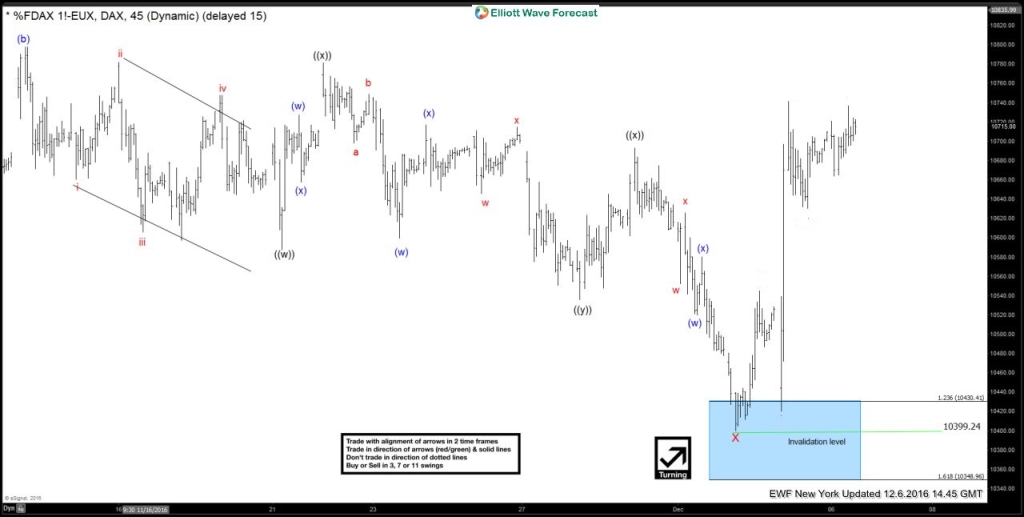 Important Note: Chasing the log side at this stage of Market can risky but keep in mind Market is dynamic and moves sometimes can extend higher, in the meantime we have developed a special skill to identify complex correction before they takes place in market based on correlations, cycles & pivots. If you want to know the future path of $DAX & other Global indices join us through Free 14 day trial.
Back