The coronavirus pandemic has been a boon to social media, streaming, and online shopping companies. As government around the world recommends social distancing and people reduce unnecessary travel, they spend more time at home consuming social media and streaming content. More people also shop their daily necessities online.
One of the beneficiaries of the Covid-19 outbreak is Facebook (ticker: FB). Late last month, the social media powerhouse introduced a new Facebook Shops which will compete directly with Amazon. It's a mobile-first shopping platform where businesses can create an online store on Facebook and Instagram for free. Facebook Shops will allow businesses to create a mobile version of their e-commerce sites directly on Facebook and other related family of services. The push to the e-commerce comes at the perfect time as retailers around the world are struggling due to the coronavirus pandemic. This push can help expand the advertising business and help Facebook compete within the booming e-commerce along companies like Amazon.
Facebook (FB) Weekly Elliott Wave Chart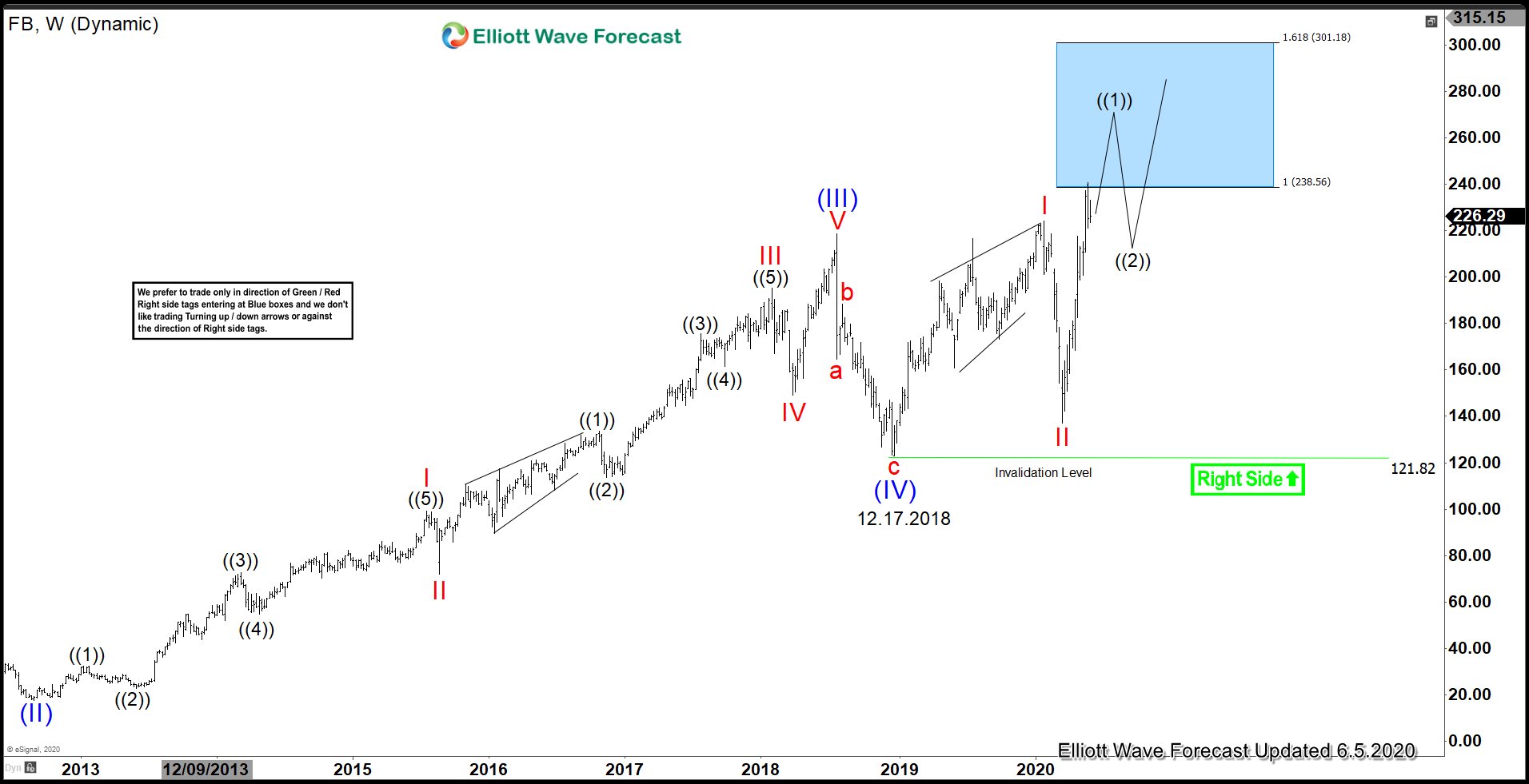 The selloff in Facebook due to coronavirus in March earlier this year failed to break below the December 17, 2018 low. Since then, it has recovered and made a new all-time high. The weekly Elliott Wave chart above suggests that the move higher is within wave (V) from 12.17.2018 low. Alternatively, the selloff to 12.17.2018 low can be wave (II) and now the stock is in wave III. Either way, it's looking for further upside.
Cycle from 12.17.2018 low now has reached 100% at 229, but unless it's a Flat from wave (III), then the stock should continue to rally. At minimum, we should be able to see 5 waves up from 12.17.2018 low to end wave (V). At present, only 3 waves up can clearly be seen. Furthermore, wave III usually can extend higher to 161.8% Fibonacci extension which comes at 301.
For further update on Facebook or other stocks, Indices, forex, and commodities, feel free to try our service for free. We provide regular updates in 72 instrument in 4 time frames, daily live session, technical video, live trading room, and more. Click here to start your trial –> 14 days FREE Trial
Back