Various sources believe that Facebook will unveil a new cryptocurrency payment plan sometimes this month. The company will allow employees working on the project to take their salary in the form  of the new currency. One year ago, Facebook has appointed former Paypal executive David Marcus to explore the blockchain technology. Since then, Facebook has developed their own crypto currency. The company calls the new initiative Project Libra and will reveal it with partners including Visa and Mastercard.
This can prove to be one of the most important initiatives by the company to unlock new revenue and market.  It can allow the company to expand its revenue stream beyond advertising to e-commerce and financial service.  As crypto currency is one of the most important and emerging trends of the future, this also positions the company very well as one of the key players. Facebook has the scale, user base, brand, and assets to become an important player in this key future technology.
Facebook likely will use crypto as a platform for payments, commerce, applications & gaming. With more than 2.5 billion users, the potential growth is tremendous. It will allow the users across Facebook, Messenger, Instagram, and Whatsapp to make digital payments. The BBC reported it will be called Global Coin. The white paper can be introduced as soon as this Tuesday while the formal launch is sometimes in 2020.
Long Term Facebook Elliott Wave Chart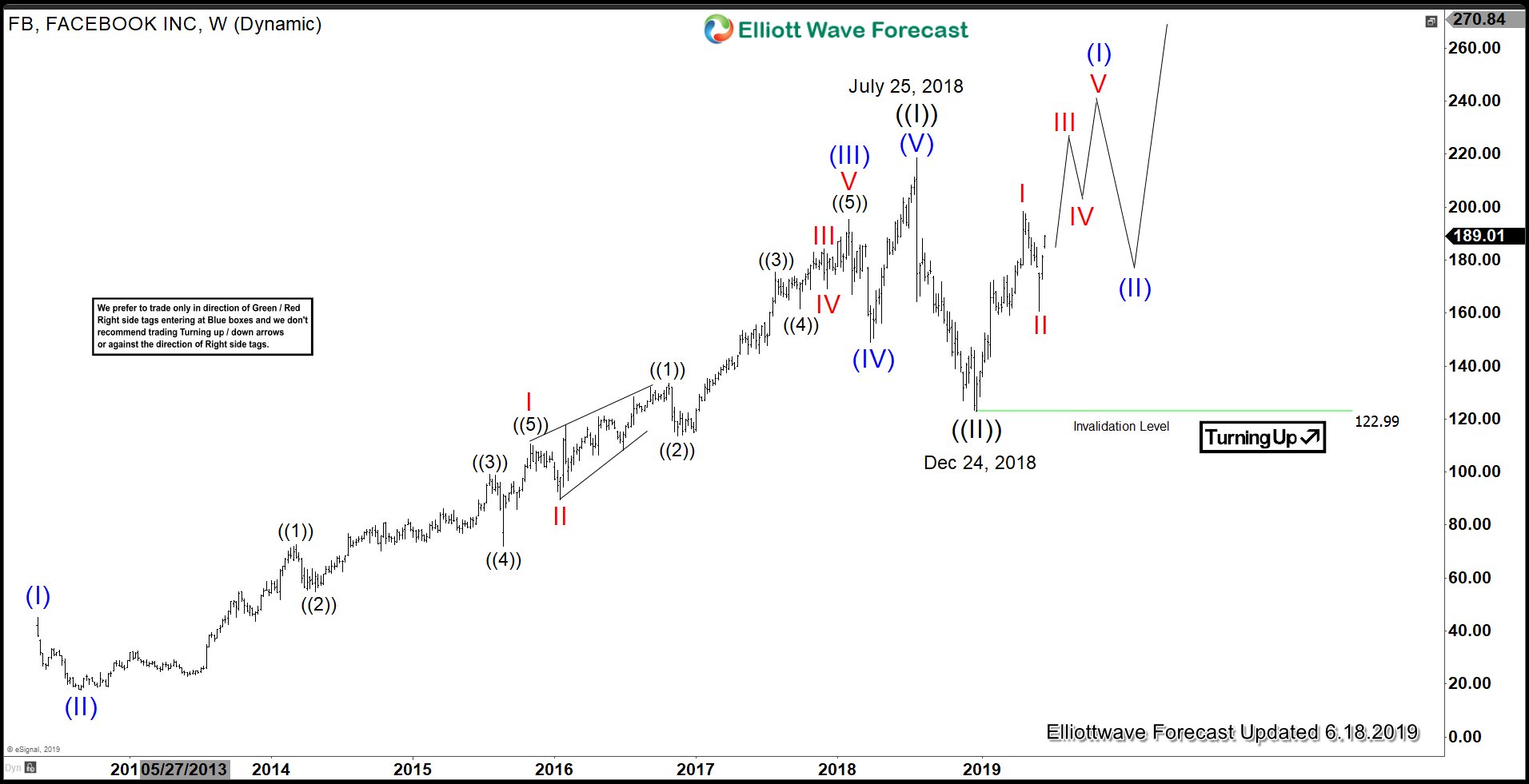 Since the Initial Public Offering in 2012 of $38, Facebook (ticker: FB) stock price has steadily increased. The rally topped out at July 25, 2018 at the price of $218.6. We label this rally as Grand Super Cycle wave ((I)) It then started a multi-months correction which saw the stock dropped by almost half and ended at $123 on December 24, 2018. We label this drop as Grand Super Cycle wave ((II)). The stock has since recovered nicely and with the new crypto currency initiative, it has the chance to take out the previous peak on July 25, 2018 high. It can do so in an impulsive fashion with Grand Super Cycle wave ((III)).
In the short term, if the stock is able to take out April 25, 2019 high ($198.48), it will increase the odds of taking out the July 25, 2018 high. A break above April 25 high will create bullish sequence from December 24, 2018 low. A 100% extension from December 24, 2018 low can see the stock reaching $236.9 which implies a new all-time high.
If you would like to receive regular update on Facebook and other stocks, as well as commodities and forex, you can try our service 14 days FREE.
Back