This is a daily Elliott Wave analysis of the aforementioned company. Firstly I will mention some of the company's past history and merger. INTL Fcstone Inc is a Fortune 500 financial services industry firm listed on the Nasdaq exchange. The company has offices worldwide and is headquartered in New York City, NY in the United States of America. This company was founded in 1978 and was known as the Farmers Commodities Corporation until 2002. The company went public with a stock offering in 2007. FCStone Group Inc. and the International Assets Holding Corporation merged in 2009 to form the current INTL FCStone Inc. There is a stock price history back until 1995 and shows a nice uptrend. In 2016 according to Bloomberg rankings it was the #1 market maker in 2016 for international securities traded over-the-counter. Also it was ranked #1 by dollar value for approximately 2,500 securities.
Secondly as for the Elliott Wave analysis shown below the focus is in the nearer term from the February 11th, 2016 lows at 24.27. The larger degree cycle highs and lows of the stock are consistent with the US indices high and low cycle troughs and peaks. I would figure as long as this company's balance sheets remain favorable it would continue to progress higher.
To conclude , from the 2/11/2016 lows, the stock is showing an uptrend still and appears ended an impulse cycle up on the 13th of December at 44.71. From there the stock has declined in three swings to 36.02 on 1/20/2017. There is a chance this is all of a correction of the cycle up from 2/11/2016 lows. However until or unless it shows it will break above to new highs again by the time it reaches the 40.30-41.34 Fibonacci retracement area, it should see one more swing lower to correct the cycle up from 2/11/2016 before continuing the uptrend.
INTL Daily Chart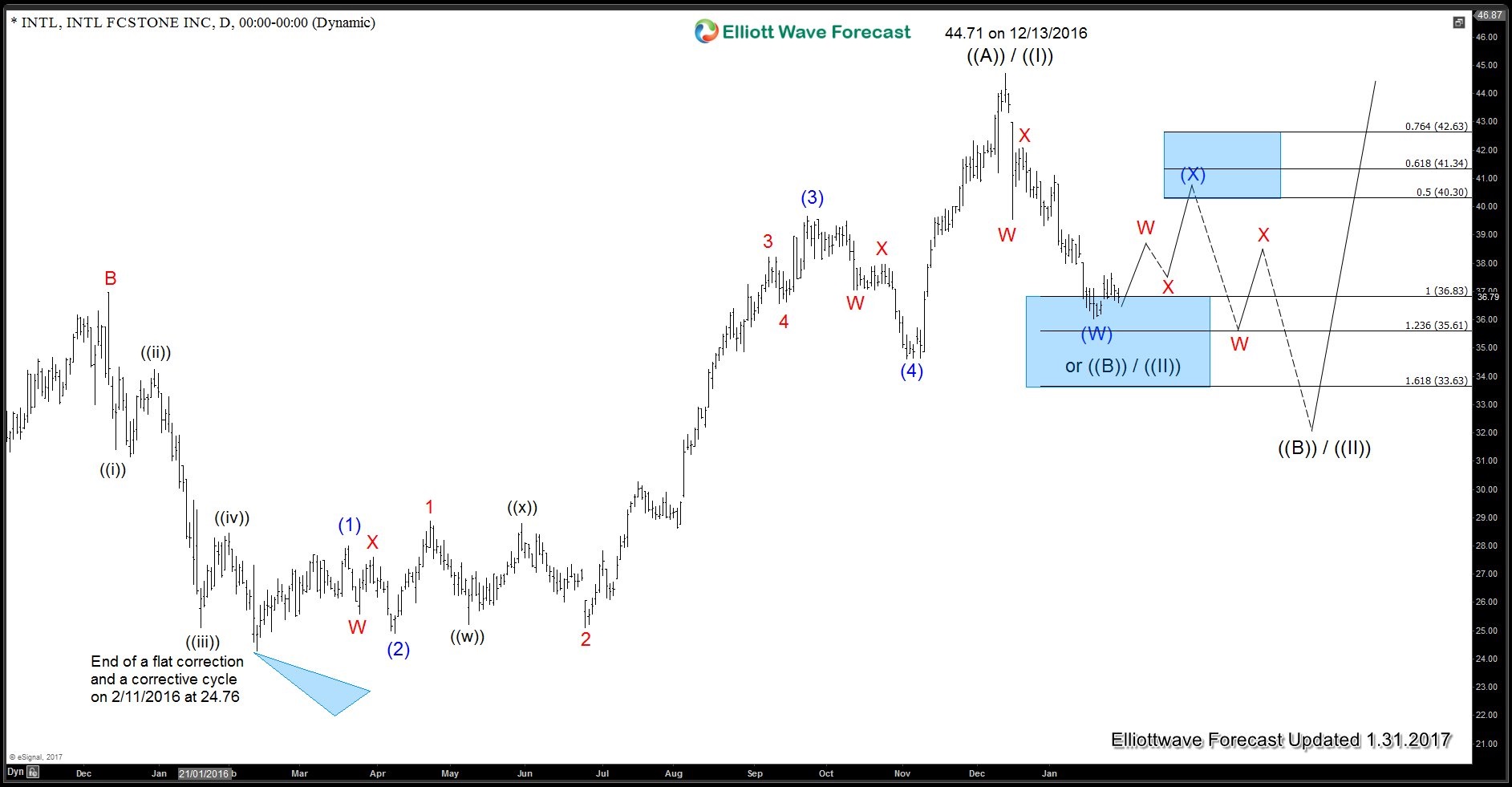 Thanks for looking and coming to the website and if you like take a trial subscription of our service and see if we can be of help in your trading. Kind regards & good luck trading. Lewis Jones of the elliottwave-forecast.com Team
Back