Nikkei Futures (NKD) shows a lower low bearish sequence from February 16, 2021 peak. The Index also shows a 5 swing bearish sequence from June 15, 2021 peak. Both of these sequence suggest Nikkei likely see further downside. Below is the chart showing a 5 swing sequence from June 15, 2021 peak.
Nikkei (NKD) 5 Swing Sequence from June peak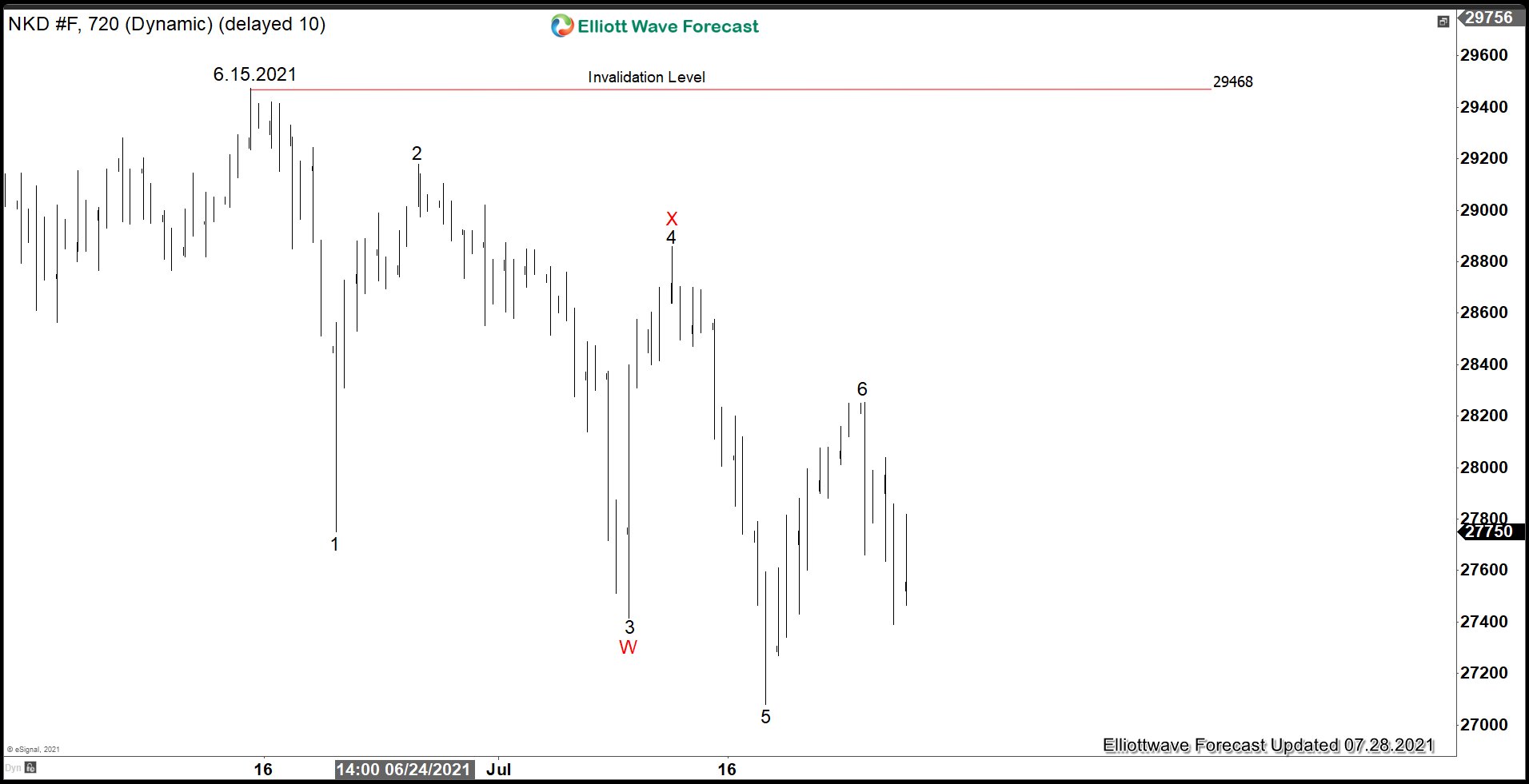 The chart above shows a 5 swing sequence from June 15, 2021 peak. Please note this is not an Elliott Wave label, rather it's just a swing count. A 5 swing is an incomplete sequence as corrective sequence always ends in 3, 7, or 11 swing. We can label this move in 2 ways, but both with the same conclusion that it is likely to see further downside. The first way to label is to treat the 5 swing as part of a 7 swing WXY double three structure. Below is the WXY 7 swing general structure
Double Three (7 swing WXY) Elliott Wave Structure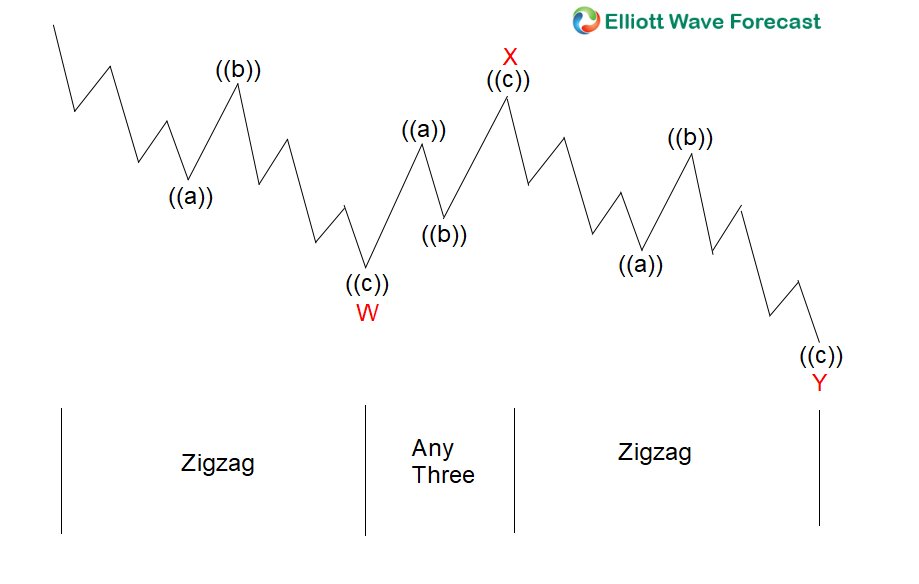 If the 5 swing move lower is labelled as double three WXY, then Nikkei should continue lower in 7th swing to end the WXY pattern. The 100% – 123.6% Fibonacci extension target in 7 swing comes at 26309 – 26797.
A second way to look at the move lower from June 15 peak is to label it as a 5 waves diagonal which ends wave A at the low as the chart below shows: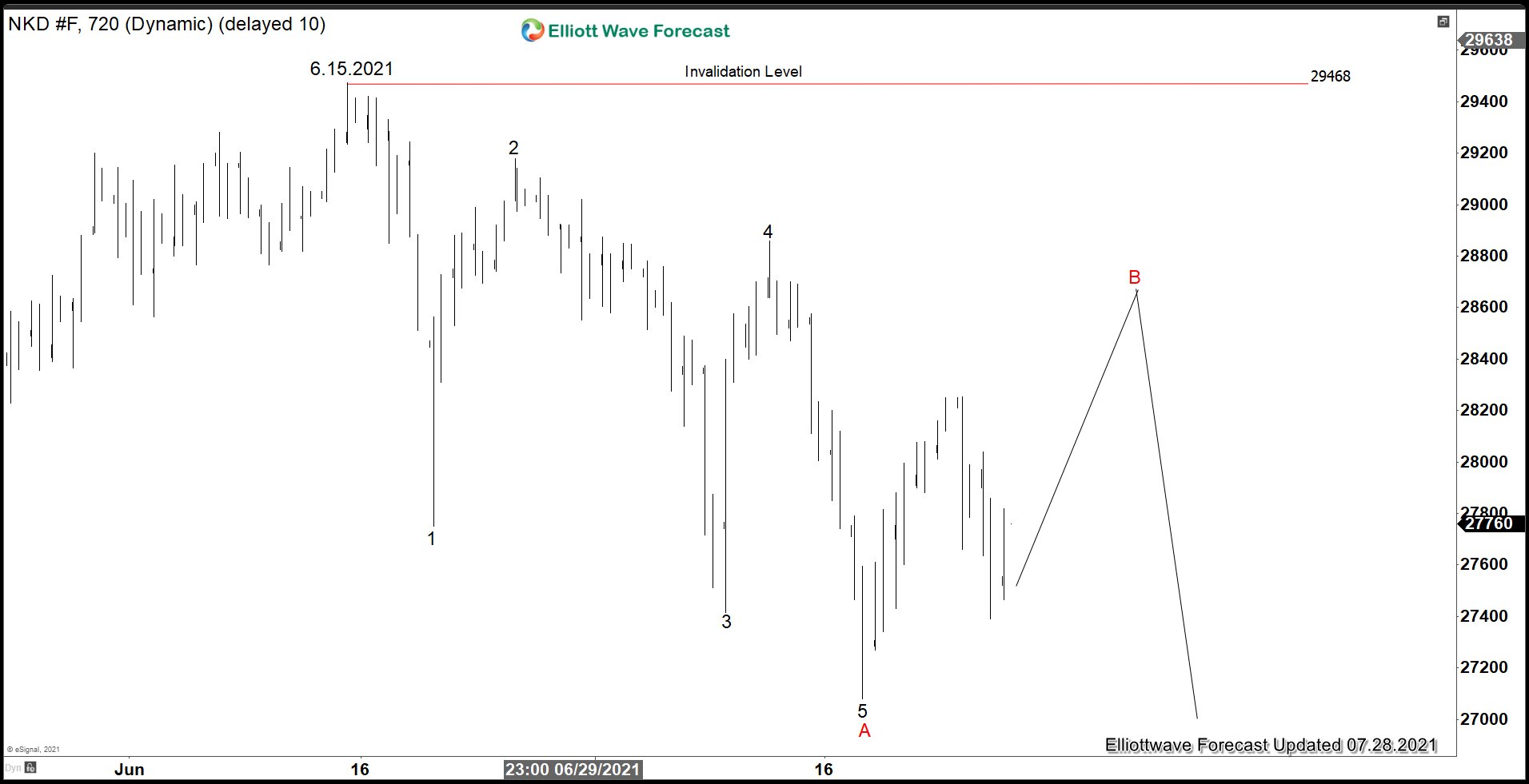 In the chart above, the Index can see a 3 waves rally to correct the decline from June 15, 2021 peak before it turns lower. Either way, more downside is expected in the Index.
If you'd like to get regular updates on Nikkei or other Indices, stocks, ETF, forex, and commodities, try our service 14 days for FREE here –> 14 days Free Trial
Back