In this technical blog, let's take a look at the $DAX instrument Elliott wave forecast we had since the beginning of 2017. Below is the $DAX 1/07/2017, 4 hr  weekend updated chart suggesting the rally in DAX from 11/9/2016 is unfolding as a Elliott wave triple three structure (also known as 11 swing sequence), where wave (W) ended at 10798, wave (X) ended at 10400, wave (Y) ended at 11487, and second wave (X) ended at 11404.3. With a break above previous wave (Y) at 11487, instrument is showing 9 swings up from 11/9/2016 low, which is incomplete Elliott wave bullish structure in the Index & needed more upside as far trading above 11404 low. Thus our strategy was to buy any dips in sequence of 3, 7 or 11 swings as far as pivot from 11404 low stays intact for resumption of the trend higher or for 3 swing bounce at least to allow our member's to create a risk free position.
DAX 4 Hour, 7 January 2017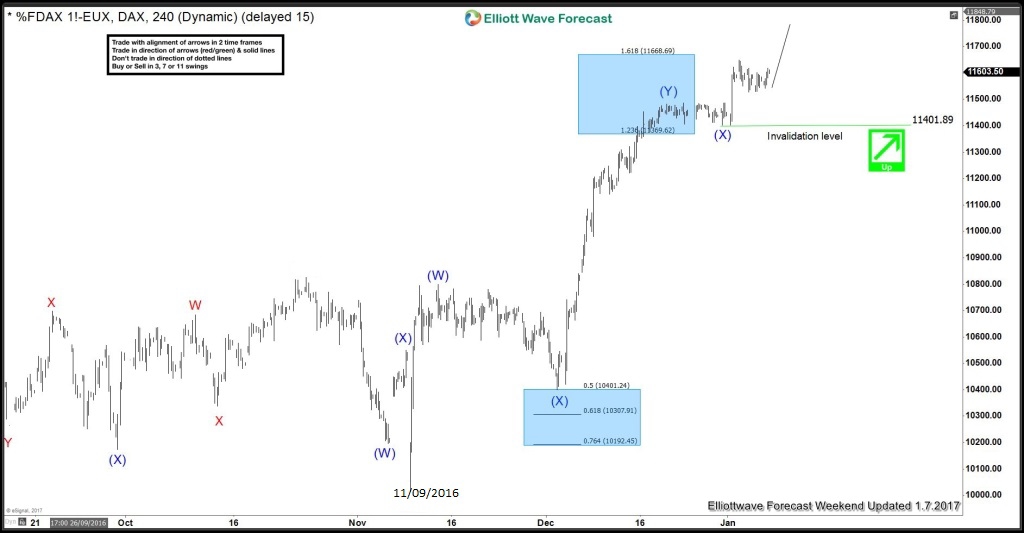 DAX 1 Hour, 9 January 2017
 Index made the 3 swing pullback within ((x)) to correct the cycle from 11404 low & our strategy was to buy the index when price reaches the 50-618% fib ret area (11525-11496).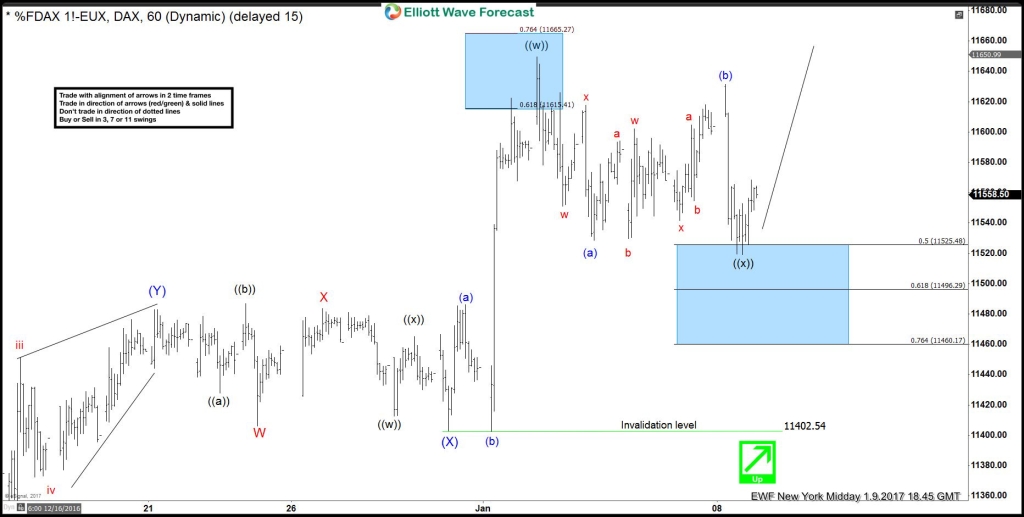 DAX 1 Hour, 12 January 2017
 Since then Index bounced strongly from 50-618% fib ret 11525-11496 (blue box) area as expected and made new high above ((w)). Break above ((w)) peak makes it 5 swings up from 11402.54 low and now Index is bullish against ((x)) low @ 11519 in the first degree. Index has pulled back in 3 waves and reached 100% extension of w-x at 11562. Ideally it should hold 11519 low for extension.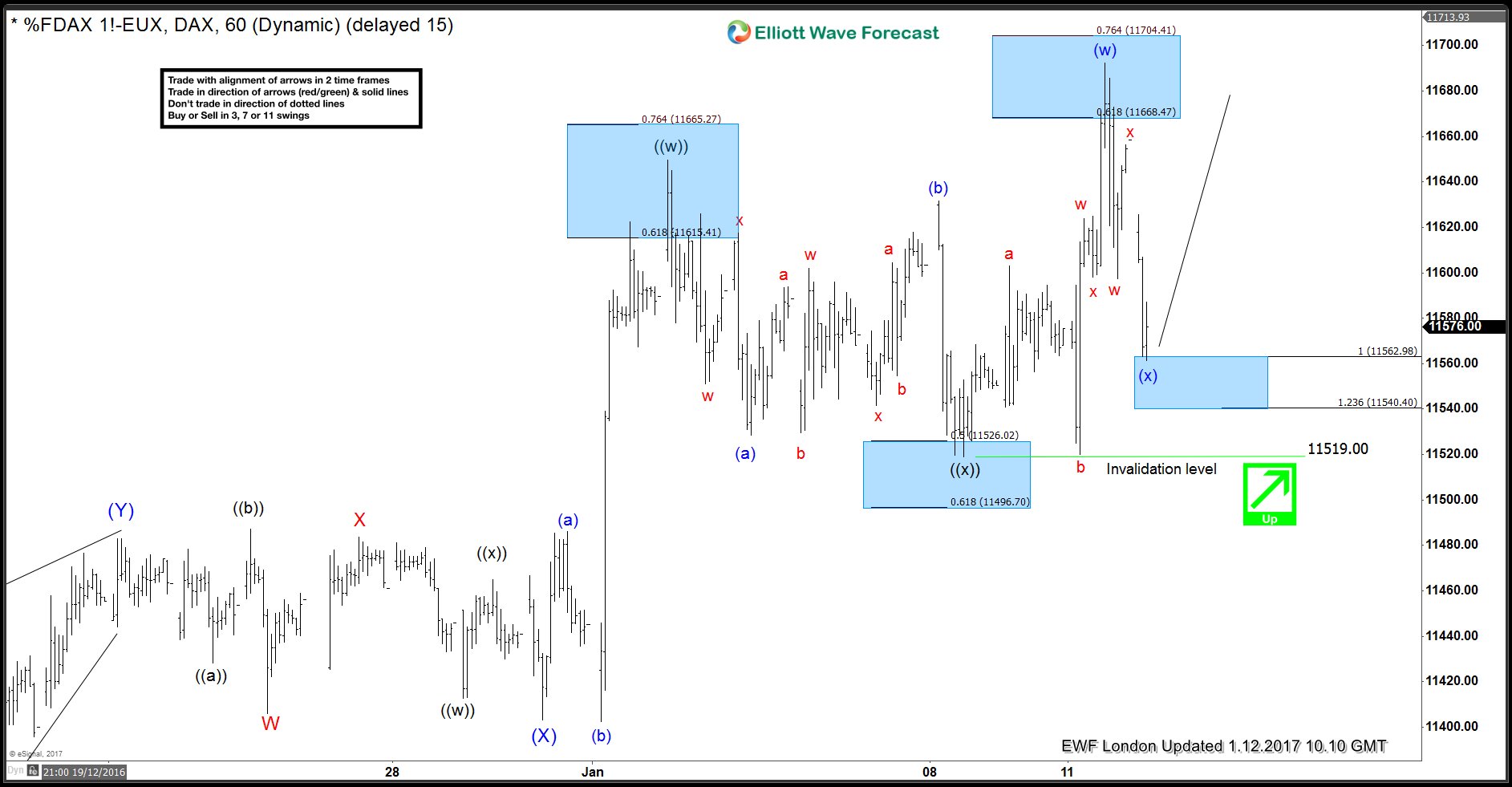 DAX FLAT wave ((x)) 
If 11519 pivot breaks, then it can become a FLAT pattern in wave ((x)) before turning higher again provided pivot at 11402.54 low remained intact. Only a break of pivot at 11402.54 low would result in a larger pull back to correct the cycle from 12.2.2016 low.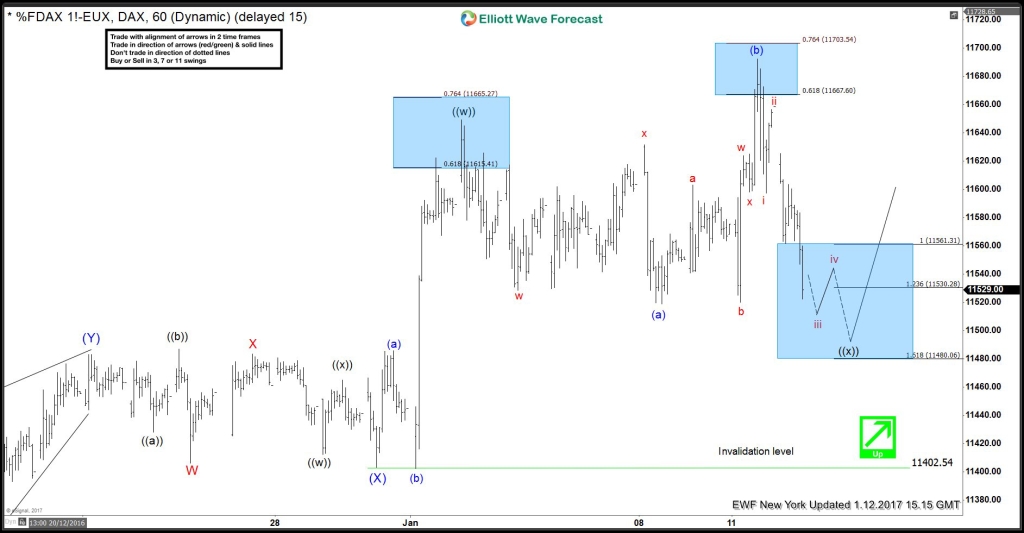 Keep in mind that the market is dynamic and the view could change in the mean time. Success in trading requires adequate risk and money management, as is the understanding of Elliott Wave theory, cycle analysis and correlation. We have developed a very sensitive trading strategy that defines entry, stop loss and take profit levels with high accuracy and allows you to take risk free position shortly after taking it by protecting your wallet. If you want to learn all about it and become a professional trader, register now and get Free 14 day trial.
Back