Deutsche Telekom AG is a German telecommunications company and by revenue the largest telecommunications provider in Europe. Formed in 1995 and headquartered in Bonn, Germany, the company operates several subsidiaries worldwide. Deutsche Telekom is a part of both DAX30 and of SX5E indices. Even though the stock is highly appreciated by investors, the stock price has seen better times. As a matter of fact, it has not recovered after a strong decline from the all-time highs in 2000 at 104.90.
Now, a closer look on the price action of the stock provides insights on the further development. Indeed, from 2012 lows one can observe a long base forming. Consequently, a breakout higher can happen soon.
Deutsche Telekom Monthly Elliott Wave Analysis 11.24.2020
The monthly chart below shows the Deutsche Telekom stock $DTE traded at XETRA. From the all-time lows, the stock price has developed a cycle higher in black wave ((I)) of grand super cycle degree towards the all-time highs on March 2000 at 104.90. From the highs, a correction lower in black wave ((II)) has unfolded as an Elliott wave zigzag pattern. It has printed an important bottom on June 2012 at 7.69.
From June 2012 lows, a new cycle in wave ((III)) has already started and should extend towards 104.90 highs and even higher.
Deutsche Telekom Weekly Elliott Wave Analysis 11.24.2020
The weekly chart below shows in more detail the first stages of the advance higher in wave ((III)). From the June 2012 lows at 7.69, red wave I has developed an impulse higher towards May 2017 highs at 18.15. Within wave I, there are 5 black subwaves ((1))-((5)). These in turn subdivide similarly into 5 blue waves (1)-(5).
From the May 2017 highs, a double correction lower in wave II has ended in March 2020 at 10.40 lows. The price has literally bounced higher in an impulsive move out of the 11.32-10.03 equal legs extension area. From the March 2020 lows, waves ((1)) and ((2)) of a new cycle higher in red wave III have ended. Currently, we see an extension higher in wave ((3)) of III. Breaking above 18.15 highs will confirm that view.
Without any doubt, current stock price at around 15 Euro does possess a high attractivity for investors. While above 10.40 lows, the red wave III can see 20.85-27.32  area and higher. In a long run, investors can anticipate Deutsche Telekom to break to new all-time highs above 104.90.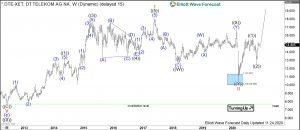 Get more insights about Stocks and ETFs by trying out our services 14 days . You'll learn how to trade the market in the right side using the 3, 7 or 11 swings sequence. You will get access to our 78 instruments updated in 4 different time frames, Live Trading & Analysis Session done by our Expert Analysts every day, 24-hour chat room support and much more.
Back